Nadine lives just down the hall from me, so I always run into her between classes or on my way out of our building. Each time this happens, I envy Nadine's daring style… even if I only get to see it for a second. Her sophisticated yet funky take on simple basics always inspires me to take another look at my own wardrobe. Finally, after admiring Nadine's outfits for months, I decided to sit down with her and talk fashion.
Nadine 101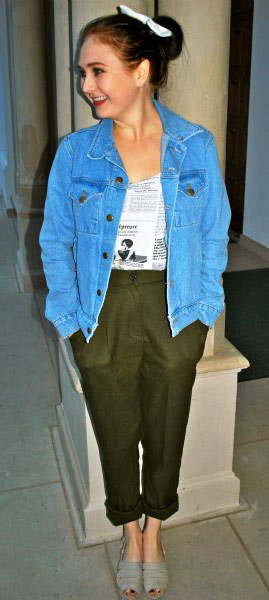 Name: Nadine
Age: 18
Hometown: Camarillo, CA
College: Loyola Marymount University
Year: Freshman
Major: English
Let's Talk Fashion
Who or what inspires your style? "My sense of style is inspired by my interests. I usually pick out an outfit based off of what's most visually appealing to me. I definitely emulate a lot of vintage styles in my outfits."
Where do you like to shop? "I usually shop at American Apparel because I like how all their products are made in downtown LA and I used to work for the company. I also get a lot of my clothes from flea markets and family members – it's cheap and practical."
How would you describe your sense of style? "I wear a lot of chiffon and lace. I like high-waisted bottoms because I think they're more classy; I rarely wear anything low-rise. I wear lots of earthy, darker tones, but in the summer I love wearing peach, pink and French blue."
What advice would you give to other students looking to improve their style? "I would tell students to make sure they complete their look. A lot of times people buy something they love, but they just wear it with jeans or something simple. There is nothing wrong with that, but sometimes it contradicts the style they were initially going for. I would advise people to look at mannequins or others with the style they love, see how they pull it off, and try to do so themselves. It feels good to dress how you ideally want to, and cheap fashion is easy to find."
What are your favorite trends right now? "For women, hair bows and headbands. For men, over-sized tank tops."
Do you have any favorite brands or designers? If so, who? "I really like the Fred Perry collections."
What do you do for fun? Do you have any unique hobbies or interests? "I do ballet, piano, figure skating, gymnastics, and I snowboard occasionally. I do graphic design for my school newspaper and I also have a radio show at school."
If you could raid anyone's closet, whose would it be and why? "If I could raid anyone's closet, it would be Zooey Deschanel's. She dresses cute."
Elements of Nadine's Outfit
1. Jean Jacket and Printed T-shirt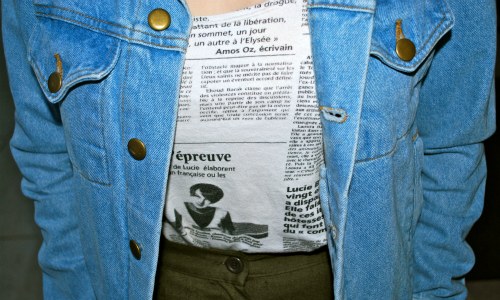 I love the way Nadine styles her jean jacket and graphic t-shirt. These are both classic pieces that most of us have owned at one point or another (I wore both in Jr. High). However, Nadine makes the pieces more "college cool" than "middle school" by paring them with more sophisticated elements, like tailored trousers, navy nails, and peep-toe sandals.
2. Peep Toe Sandals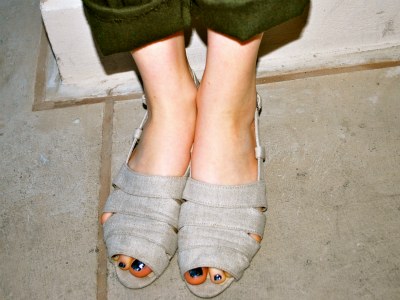 These canvas sandals are perfect summer staples: They're mature without being overly stuffy. The light beige color also makes them the perfect neutral shoe for any spring or summer outfit.
3. Simple Jewelry and Fun Bow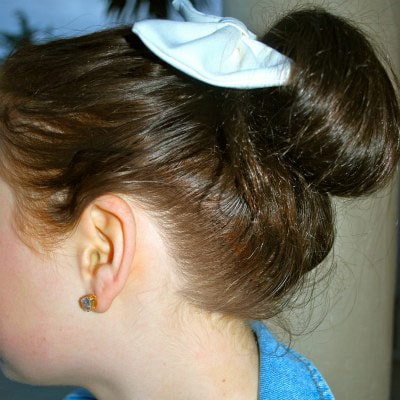 Nadine's bow not only adds a little bit of girly flare to her outfit, but also reflects her fun personality. It also gives the outfit a lighter, more spring-like feel. By keeping jewelry to a minimum, she let her white bow become her focus accessory without overwhelming the rest of her polished outfit.
Share Your Thoughts!
What do you think of Nadine's style? Do you like the combination of a jean jacket and graphic t-shirt that Nadine's wearing? Have you worn trousers similar to Nadine's? Share your thoughts with a comment!