At the beginning of the semester, everyone always dresses up. Then, as homework assignments and papers appear, so do the sweatpants (much to the frustration of this Looks on Campus contributor). However, one of my classmates consistently fought the sloppy slump, coming to class appropriately dressed and with killer confidence. Murphy's dedication to expressing herself with fashion is inspiring, and I knew I had to get a closer look at her sense of style.
Murphy 101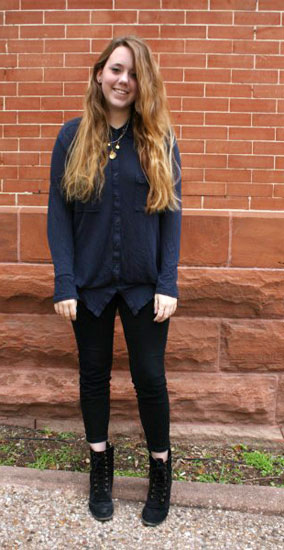 Name: Murphy Carter
School: The University of Texas at Austin
Class Standing: Freshman
Majors: Plan II Honors and English, with a minor in Urban Studies
Let's Talk Fashion
Who or what inspires your style? "I'm very inspired by my grandmother, and I spent much of my childhood looking at old photographs and watching old movies. So—I know this sounds cliché—I admire Audrey Hepburn and Lauren Bacall. Also, I look up to strong and independent women."
Where do you like to shop? "My mom's closet, the sale rack at Urban Outfitters, the Nordstrom Rack and vintage stores. I actually hate shopping; I like finding. I feel like shopping is torture – when you find something you just can't wait to wear, that's fun."
How would you describe your sense of style? "I love collars, and everything needs to be comfortable. So, I guess I have a preppy style, without actually giving off a preppy vibe."
Why did you choose this particular outfit? "It's very comfy, and I love the mix of navy and black. Everyone else seems to hate this color combination, but I just can't get enough of it!"
What fashion advice would you give to other students looking to improve their style? "I know it sounds cheesy, but have confidence! On the first day of school, I wore these frilly socks. I didn't know many people in Austin, but the socks turned out to be a great conversation starter. Also, wear things you like and have a style. Don't just fall into the abyss…"
What are your favorite trends right now? "I actually prophesied the uprising of Peter Pan collars, so I'm incredibly excited about that trend. I'm also beginning to warm up to pastel colors, but that's a slower process."
Do you have any favorite fashion designers? If so, who? "Well, my mom is kind of a designer. She's a seamstress, so I admire her work very much. I also love Chloé and Chanel, and I wish I had more pieces from their collections."
What do you do for fun? Do you have any unique hobbies or interests? "I just got into photography, and I'm really enjoying that. I also am an avid movie watcher and book reader. (I practically eat books!) I like to just walk around the city sometimes, observing everything; I'm very interested in urban studies and design. Oh, and I work on the literary magazine and publications here on campus."
If you could raid anyone's closet, who would it be and why? "I like the idea of going into each of my friends' closets and taking one article of clothing. That way, you have a little bit of something from all the people you care about."
Elements of Murphy's Outfit
1. Delicate Details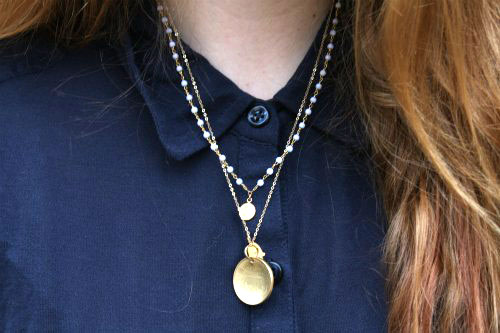 The beauty in Murphy's outfit is in the details: Nothing seems outlandish or distracting from the overall look (and really, that's the ultimate goal of an outfit) and her necklaces showcase her mastery of unexpected combinations. The dark color palette of her look is highlighted by the dainty addition of gold and periwinkle, and the sentimentality — she never takes her necklaces off — softens the harshness of her menswear-inspired ensemble.
2. Sweet Simplicity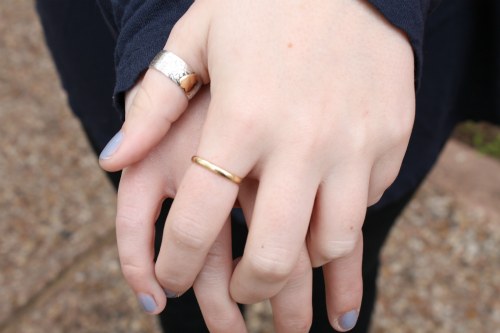 Murphy's rings, an expert pairing of mixed metals, highlight her "less is more" style approach. Like her necklaces, these cool rings add interest and dimension to her outfit. The imbalance of rings from the left to the right hand causes the eye to linger, placing greater importance on the often-overlooked accessories and their unique sizes, shapes and textures.
3. Unconventional Elements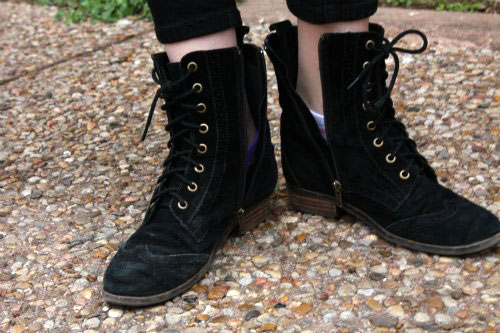 "I'm usually too lazy to zip them up, so I tend to just walk around campus with them left open," Murphy admitted as I turned my attention to her totally rad high-tops. I love how her hemline accentuates the shaft height of the boots, giving a subtle edge to her classy look. Also, her personality really shines through this aspect of her outfit; her honesty with herself and others — like admitting why she leaves her boots unzipped — is a top priority and is preserved in her sense of style.
What do you think?
What do you think of Murphy's outfit? Do you like the subtle details of her outfit like her necklaces, rings, and unzipped boots? What do you think of her pairing of navy blue and black? Let us know with a comment!