Do you remember Alexa from my last University of Florida fashion post? Well, meet her best friend Morgan.
I found these two in the student union straight from a photo shoot for a public relations class. They'd come off a week long conspiracy-theory binge, and walked onto campus in professional mode.
The most surprising thing about Morgan's outfit is: it's entirely thrifted. Morgan makes her own rules, scavenging thrift stores in search of her next look.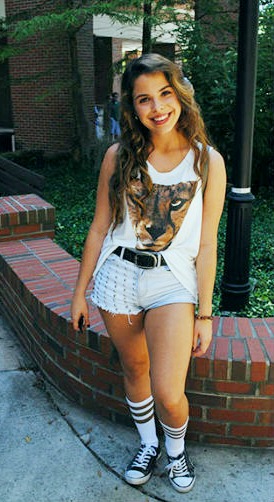 Morgan 101
Name: Morgan
College: University of Florida
Year: Senior
Major: Public Relations
Hobbies: Watch movies about conspiracy theories
Let's Talk Fashion
Who or what inspires your style? "Whatever I can find!"
Where do you like to shop? "There's a dumpster behind Outreach Thrift Store: I'm not lying…it's literally a dumpster full of clothes, and I've found some really good things in there."
How would you describe your sense of style? "Morticia – but I don't want people to think I'm gothic. Pretty granny – frumpy chic, that sounds more fashion."
Why did you choose this particular outfit? "Photo shoot, and I just got this skirt so I wanted to wear it."
What are your favorite fashion trends right now? "Leather, except it's summer so you can't [wear it]"
Do you have any favorite designers? "I like Miu Miu."
If you could raid anyone's closet, who would it be and why? "What's the model with the blond pixie? – Agnyess Deyn."
Elements of Morgan's Outfit
1. Vintage jewelry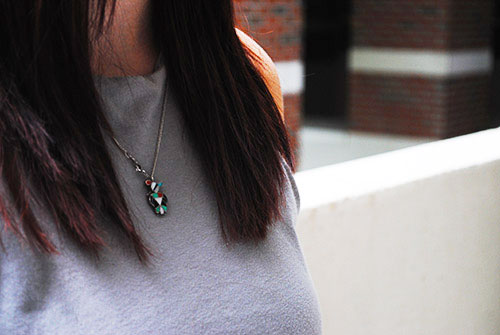 Morgan's necklace caught my eye immediately. When I asked Morgan about her clothes, she didn't initially mention her necklace. Later, Morgan revealed that grandmother passed away last year, and she inherited her old jewelry.
This gorgeous necklace not only has sentimental value, but shows how one simple piece of jewelry can pull together a whole outfit.
2. Thrifted gems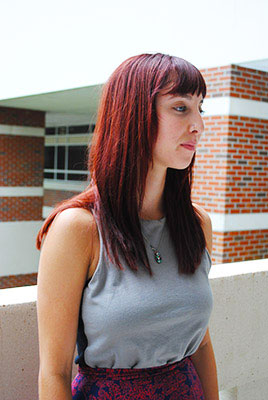 I've never had someone tell me, in an interview or otherwise, that they go dumpster diving for clothes. While I have admittedly done the same for throw pillows, dumpster diving for clothes sounds like it's as hipster as it gets.
It takes skill to find good gems in thrift stores. Morgan manages to pull her outfit together in pieces from across the country: Morgan's skirt is from Cecile's (a Gainesville consignment shop), and her blouse is from a thrift store in New York called Tokyo 7.
3. Vintage-style heels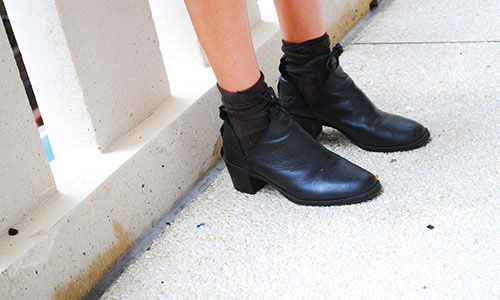 Morgan's Steve Madden heels were purchased from a Jewish thrift store in south Florida. Socks worn with heels is a trend I haven't seen often since the heat arrived in Gainesville, and it was nice to see it return.
The pairing of dark brown socks with the black heels added one more shade of color to Morgan's outfit, and allowed for the details of the vintage-style shoes to stand out.
What do you think?
What do you think of Morgan's outfit? Is frumpy-chic the new geek-chic? Let me know your thoughts in the comments.