It's finally winter break! Most students have returned home for the holidays, so campus is pretty dead this time of year and there tends to be no motivation for anyone to dress to the nines. However, today was beautiful outside for early January and I happened to run into Morgan at the bus stop. She decided to take full advantage of the weather and dress comfortably chic.
Morgan 101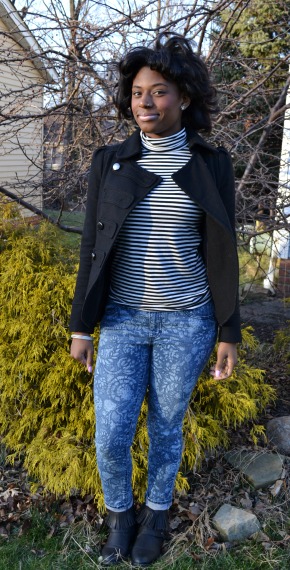 Name: Morgan
School: Kent State University
Year: Sophomore
Major: Child Development
Hometown: Shaker Heights, OH
Let's Talk Fashion
Who or what inspires your style? "The weather, fashion magazines, and mainly my attitude of the day."
Where do you like to shop? "American Apparel, Avalon Exchange [a local consignment shop], thrift shops, and Forever 21, but really anywhere I can find a great deal on really cute clothes."
What do you do for fun? Do you have any unique hobbies? "I love to spend time with my friends, watch music videos, and dance on my dance!"
What are your favorite trends right now? "Women wearing menswear, dressing tomboy-ish, and anything high waist[ed]."
What fashion advice would you give to other students looking to improve their style? "Be yourself and create no limits. Always keep it classy."
Do you have any favorite designers? If so, who? "I actually don't have one. I respect everyone's creativity and I'm very open with what I wear."
How would you describe your style? "I don't really have a specific style; I just like to wear what's cute and comfy."
Why did you choose this particular outfit? "I wanted to look nice because I am heading home to visit my extended family later on today."
If you could raid anyone's closet, who would it be and why? "Beyoncé! She's always switching it up and always remains classy."
Elements of Morgan's Outfit
1. Floral Print Jeans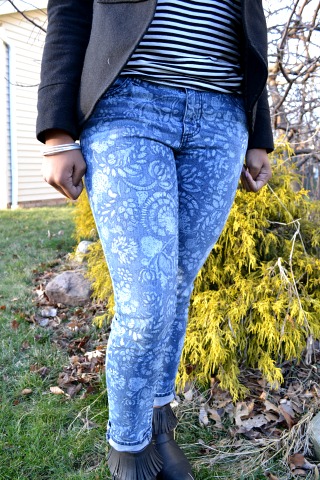 I love the way Morgan paired together both stripes and floral to create a fashion-forward mixed prints look. These trendy floral jeans are what elevate this otherwise classic winter ensemble into an eye-catching outfit.
2. Peacoat + Striped Turtleneck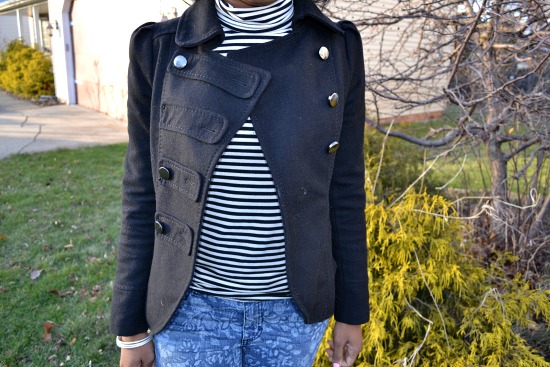 Morgan's chic coat was both weather-appropriate and on-trend. This peacoat is super-unique with its double-breasted buttons and structured shape, yet the black hue means it can be paired with virtually anything.
Morgan styled her coat with a black-and-white striped turtleneck, which kept her neck warm while adding a serious pop of pattern.
3. Fringe Booties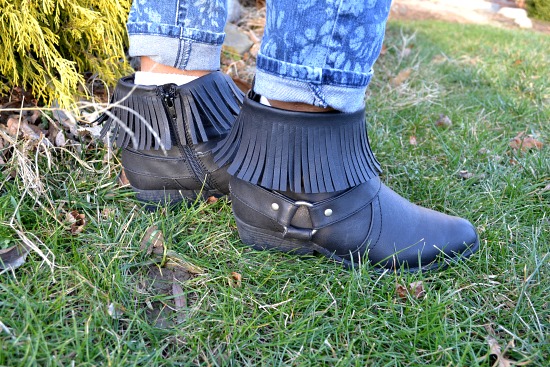 Black booties can be spotted on college campuses everywhere, but this fringed pair stands out. These comfy yet trendy boots also pair perfectly with Morgan's black coat.
What do you think of Morgan's travel look?
Would you wear mixed prints? Do you love her patterned jeans? What do you think of her booties? Comment below and let us know your thoughts!