I spotted Monica walking through our large lecture hall during a break in class and her unique maxi skirt immediately caught my eye. Spring has finally sprung in Oregon and Monica was wearing an outfit to match.
Monica 101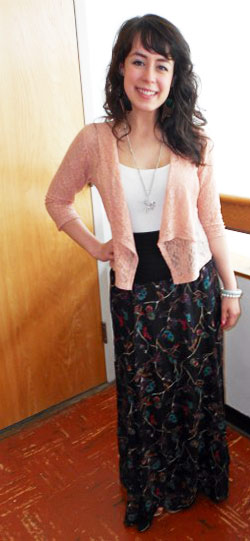 Name: Monica
College: Oregon State University
Major: Apparel Design with minors in Merchandising Management and Music
Year: Junior, class of 2013
What do you like to do for fun? "I love to do fashion writing on the side so I have my own blog. I also am a music Minor at OSU and love to sing! I sing with an all female a capella group on campus and just came back from LA where we competed at semi-finals for an international a capella competition. I'm also currently in the Opera "The Magic Flute" at OSU.
Let's Talk Fashion
Who or what inspires your style? "My style is a collection of classic vintage and modern trends. I like to be up-to-date with my look but also keep it unique. At the moment I would say that the romantic styles that are coming back in for women have served as an inspiration for me. However, I always try to mix it up and throw in an edgier style with feminine pieces to keep things interesting."
Where do you like to shop? "I normally shop at Nordstrom Rack and Nordstrom, American Eagle (for basics), and a place called Francesca's Collections (which is a reasonably priced boutique near my hometown). I also frequent 23rd Street in Portland because it has many unique shops with vintage inspired pieces."
Why did you choose this particular outfit? "I am absolutely in love with maxi skirts simply because they are so romantic without being 'girly.' I found this skirt and loved the colors and pattern and thought it would be an excellent and versatile piece for my closet. I am also trying to expand my color palette, so I chose to pair it with a rose-colored sweater. I am a huge fan of accessories, so I added in feather earrings and a cool bird necklace."
What fashion advice would you give to other students looking to improve their style? "Combine personal flair with your favorite trend (new or old). If it looks good for your shape, wear it. If it makes you feel good, wear it. I think the biggest mistake young people make when trying to find a style is copying what their friends wear. More than 50% of the time you will NOT be the exact same size as your friend, therefore clothes that may flatter her figure may not flatter yours. When you dress yourself in the latest trend, ask yourself 'Am I wearing the trend? Or is the trend wearing me?' If it is the latter, then maybe that isn't the look for you!"
What are you favorite trends right now? "Maxi skirts and the high-low skirt are two of my favs. Oh! and of course the color of the year…Tangerine Tango!"
Do you have a favorite designer? "I love Marchesa's red carpet gowns!"
If you could raid anyone's closet, who would it be and why? "Blake Lively. She takes so many fashion risks and looks great in all of them. She is classic, yet chic and modern. I give her props for her eclectic taste!"
Elements of Monica's Outfit
1. Printed Maxi Skirt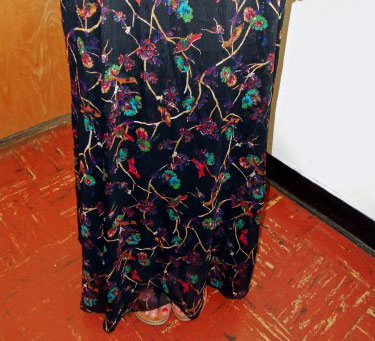 Again with the maxi skirts! They are starting to pop up around campus but still are few and far-between, making this the perfect time to try one out. I especially love the nature print on Monica's skirt, with its tree branches, birds, and flowers – it's incredibly unique and fun.
2. Lace Cardigan and Bird Necklace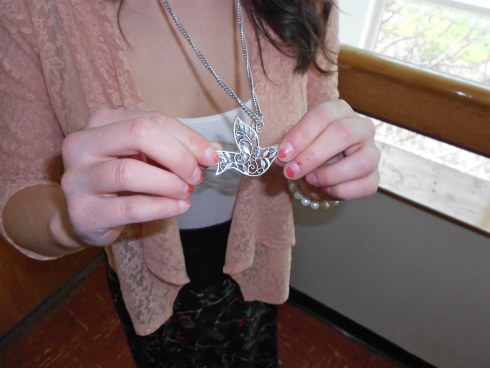 Cardigans are a perpetual campus favorite, but Monica's pale rose lace one has an interesting drape front and sheer texture that make it unique. And of course her sweet little birdie necklace, perfectly complementing her skirt's print, pulled the outfit together.
What do you think?
What do you think about Monica's style? Would you wear a fun printed maxi skirt or just stick to solids? What's your opinion on bird necklaces and other nature-inspired trends? Let us know with a comment!