While out for the night in Cadiz, I spotted a girl in a unique color combination that attracted my attention: I never thought caramel brown could look so amazing with modern cobalt and teal. Then, I noticed all of the bohemian elements that completed her unique look and decided to approach Monica and quickly snap a few shots of her outfit.
Monica 101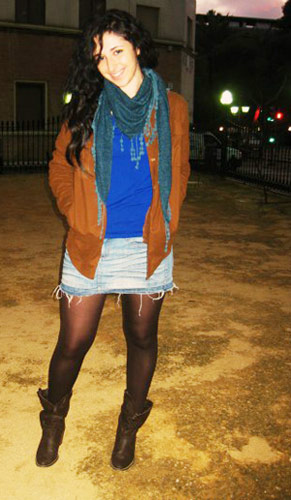 Name: Monica
College: La Escuela de Bellas Artes, Cadiz
Year: Freshman
Major: Art
Interests: Photography and Design
Let's Talk Fashion
Describe your style in 3 words: "Informal, casual, sporty."
Who's your favorite designer? "Karl Lagerfeld."
Who or what inspires your style? "The truth is I don't get inspired from anyone. Every once in a while I change my style depending on the season or my mood."
Where do you like to go shopping? "Mango and Zara."
What advice would you give to other students looking to improve their style? "Don't follow everything 'trendy' in clothing shops, above all you have to be faithful to your style and feel comfortable with what you wear. It's important to have personality and know that it's not necessary to dress up according to what the majority wears."
What are the essential items in your wardrobe? "Black raincoat, short dresses (both tight and loose)."
Elements of Monica's Outfit
1. Oversized Shirt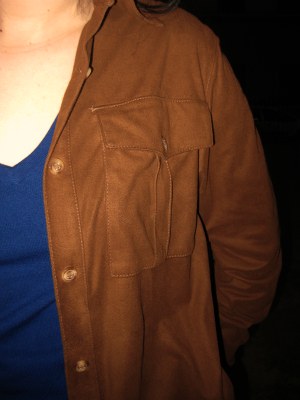 I love how Monica wears her oversized shirt as a jacket – it creates a very casual, relaxed look, with a subtle touch of vintage and boho style.
2. Short Cowboy Boots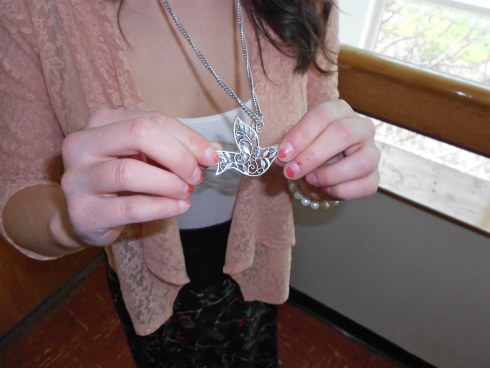 As cute as cowboy boots are, many of us still feel challenged to rock them without looking too old-school. If you are in the same boat, why not start with a shorter and darker pair like Monica's? I love their subtle bohemian style, and they basically go with anything.
3. Bracelet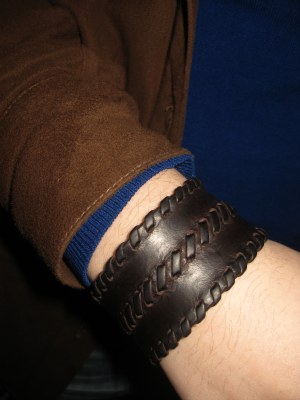 Another one of her vintage elements! Monica said she doesn't own a lot of accessories but she always tries to at least put on a necklace or a bracelet to complete her look. This pretty leather cuff bracelet goes with everything and adds to her outfit's boho-vintage vibe.
Share Your Thoughts!
Did Monica's color combination catch your eye, too? What unexpected colors do you like to wear together? And do you own many vintage pieces? Let us know with a comment!