Molly is a second-year nursing student at Indiana University Bloomington. Though she spends most of her days dressed in scrubs, she still finds time to spruce up her look during her free days.
Molly 101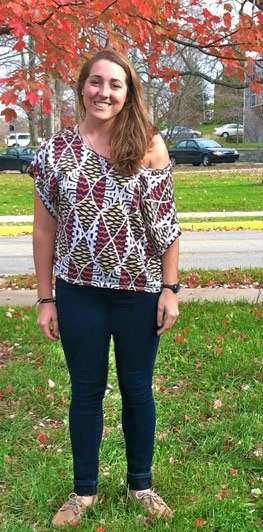 Name: Molly
College: Indiana University Bloomington
Year: Sophomore
Major: Nursing
Hometown: Indianapolis
Age: 19
Hobbies/Interests: "Hanging out with friends, volunteering, playing volleyball, and running."
Let's Talk Fashion
Who/what inspires your style? "I have five sisters and I'm the middle child, so my style is a mixture of all my sisters' styles."
Where do you like to shop? "J. Crew, Gap, and TJ Maxx."
Who is your favorite designer? "I don't really have a favorite designer. I just buy the clothes that I like."
What are your favorite trends right now? "Scarves, off-the-shoulder shirts, and sweaters."
What fashion advice do you have for other students looking to improve their style? "Be yourself and be different, don't let other people's judgments change your style."
How did you design your outfit today? "I just threw on my jeans and then picked up a top that was comfortable, it matched nicely."
Elements of Molly's Outfit
1. Boat Shoes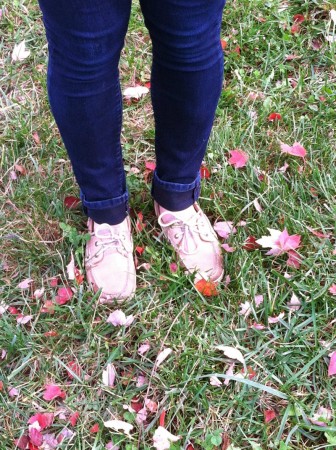 Wearing a good pair of walking shoes is always a good idea when you attend a large university and definitely helps you feel confident in your look. Here, Molly uses her footwear to mix two different styles together; she wears preppy boat shoes that contrast with her wild top.
2. Geometric Patterned Shirt
The shirt displays crazy and funky patterns that are trendy right now. Molly pairs this geometric, "tribal" print shirt with simple blue jeans and neutral shoes.
What do you think?
Do you like to pair bold pieces with simple basics like Molly? What are you wearing this fall? Have you tried out the geometric print fashion trend yet? Let us know with a comment!