Learning how to transition your style between seasons is always a tricky – especially when the weather is shifting from winter to spring. Miya does a good job of easing her way into the season by opting for contrasting styles and going all-out with statement pieces.
I love Miya's style. She has a wide range of looks that she rocks on the daily, and she's not afraid to take risks. This ensemble is a prime example of how her city girl style bridges the gap between chilly and warm weather.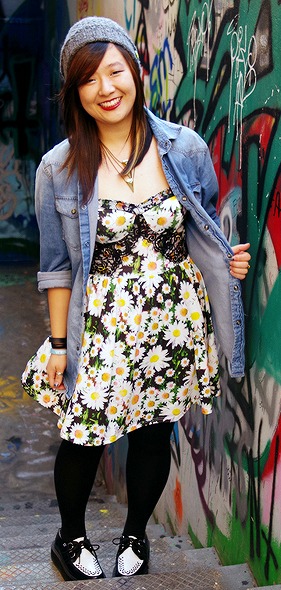 Miya 101
Name: Miya
Year: Sophomore
Major: Chemistry
Hometown: Deer Park, Illinois
School: Macalester College
Let's Talk Fashion
Who or what inspires your style? "For fashion bloggers, I am a huge fan of Luanna from le-happy.com. I love her grungy yet chic style and I take a lot of style cues from her. I also like Jenn from clothesencounters on Youtube. I think she's great. I also get style inspiration from musicians such as Hayley Williams of Paramore and Jenna McDougall of Tonight Alive."
Where do you like to shop? "Urban Outfitters, H&M, Pacsun, and Topshop (but only when there is a blowout sale!). However, I feel like I don't have to shop anywhere specific… I will buy whatever I like at whatever place I end up going to."
How would you describe your sense of style? "I have two spectrum[s] that I always end up aiming for. I sometimes go for a really girly style with bows, florals, and lace. But I also really like a more masculine, darker, and grungier look as well. Most times I do a mix between the two, so there is some balance to my looks."
Why did you choose this particular outfit? "I chose this outfit because I think it's a nice transition outfit between winter and spring. The daisy print [is] bright and playful, [and] brings the outfit into the spring, while the chambray shirt and my beanie [are good for cooler temperatures]. And like I just mentioned, I think pairing the daisy print with something edgy, such as my creepers, balances out my style."
What fashion advice would you give to other students looking to improve their style? "If you want to wear a statement piece, or something that you don't normally wear, make sure that you are comfortable wearing it. Look for something that you think looks good and feel good wearing it!"
What are your favorite trends right now? "I like creepers. I think they are fun, and they add some height, which is good for me. I also like daisy print and how it's clean and chic. I really like studded pieces, such as sweaters [and] shirts. Chunky sweaters are definitely a personal favorite of mine, and I also like the black and white trend."
Do you have any favorite fashion designers? If so, who? "I don't really follow any designers, but I do appreciate Anna Sui – I think her line is really fun. Also, Betsey Johnson."
What do you do for fun – do you have any unique hobbies or interests? "I am a major concert geek. I love music, so I go to a lot of music shows, concerts, and festivals. I take part of DJ Club here at Macalester, so I DJ at events and parties. I also love exploring urban settings, such as the city, downtowns, and museums."
If you could raid anyone's closet, who would it be and why? "Luanna from le-happy. Taylor Momson in Gossip Girlduring the era when she was transitioning between her teenage, girly self to the rocker and musician type of person."
Elements of Miya's Outfit
1. Daisy Print-Statement Dress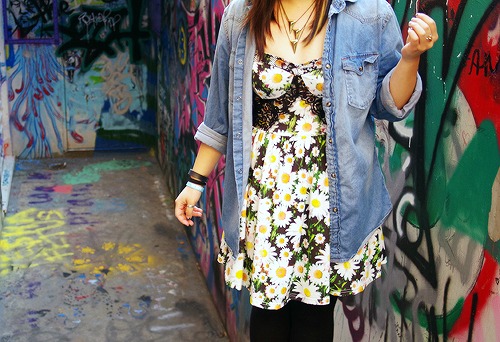 Miya's daisy print dress from Topshop has black lace details that give an otherwise playful dress some edge. Wearing an open denim shirt over the dress is a great option for transitioning into spring. The overall look is casual, but still very trendy.
2. Tuxedo Creepers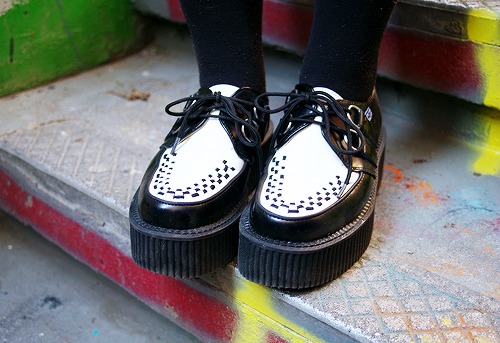 Fashion-forward creepers are the perfect way to add some height without the heels. These black-and-white TUK creepers make a major statement, and give Miya's outfit a unique twist.
3. Tiered Necklace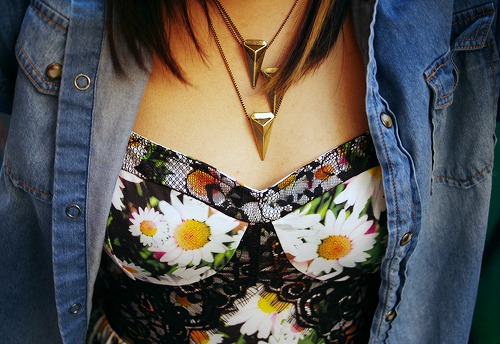 This brass-toned necklace from H&M pulls Miya's entire outfit together. The tiered look adds visual interest, while the spiked pendants play up the edgy vibe found throughout her ensemble.
What do you think of Miya's outfit?
Do you love the way she wore a daisy-print dress with a bold necklace and chambray top? What do you think of her bold footwear choice? How have you been dressing during the winter-to-spring transition? Let us know by leaving a comment below!