College style is all about balance: You want an outfit that is comfortable, cute, and trendy but won't get in the way of an on-the-go lifestyle. For students in Chicago, this is even more important – with the city as your campus, you never know when a commute to class will turn into an impromptu sightseeing expedition. In other words, it's good to be prepared for anything.
This is why I was drawn to Missy's look: She perfectly balances style and practicality, without looking like she's trying too hard. This outfit could work for class, a study group, a breakfast with friends or wherever she is heading on campus or in Chicago. Read on to find out more about her style!
Missy 101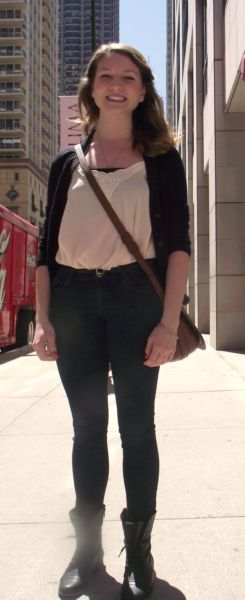 Name: Missy
Major: Psychology and Human Services
Year: Sophomore
School: Loyola University Chicago
Hometown: Buffalo, NY
Hobbies/Interests: "I love to volunteer. I love to be with other people and I like to be outside. I really love reading outside, especially in the summer."
Let's Talk Fashion:
Why did you wear this outfit today? "Overall I like to go for a feminine kind of look but I like to spice it up a little bit with pieces that are more edgy. These boots are kind of more edgy but I like to pair them with tops that are a little more feminine."
Where do you like to shop? "I shop at a wide variety of places, but mostly JCrew and Urban Outfitters. Knee Deep is an awesome vintage store in Chicago, but because it's kind of a hike, so I don't get there as often as I'd like."
How would you describe your sense of style? "My style is simple and I like to be comfortable in what I'm wearing. I like gentle tones and probably do not experiment with color as often as I could. I love jewelry and I think it makes any outfit unique."
What fashion advice would you give to other students looking to improvetheir style? "I would say dress however you want. Put pieces together that you don't think would normally go together and try to tie them in with one thing that could bring the whole outfit together."
What are your favorite trends right now? "I don't really follow too many trends, but I'm really into boots lately and how you can pair them with virtually anything. I'm excited to start pairing boots with summer dresses. I'm also really into high-waisted shorts and pants – most of the time they can be dressed up and dressed down."
Do you have any favorite fashion designers? If so, who? "Not really. [However] I do model my style a lot after one of my friends; I really look up to her sense of style. It's really simple but she wears a lot of unique pieces that make her outfits eye-catching."
If you could raid anyone's closet, who would it be and why? "I would really rather raid a few of my friends' closets than anyone else's but if I had to pick someone else, I would choose Aria, from my guilty pleasure show, Pretty Little Liars. She wears lots of fun dresses and tights and always looks classy."
Are there any unique stories about the pieces you are wearing? "My necklace is from an antique shop in Syracuse and it is from the 1840s! It is a locket and I like wearing it and picturing who wore it before me. I really like antique jewelry and I think that is something that is unique about my sense of style."
Elements of Missy's Outfit
What I really like about Missy's outfit is that she accents her feminine style with edgier pieces in a way that looks perfectly pulled together. The simple details keep it all looking effortless and appropriate for any situation.
1. Feminine Details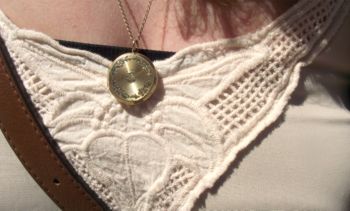 The antique gold necklace is absolutely stunning and has a fantastic story behind it. It also looks perfect with the floral neckline of the top.
2. Functional Bag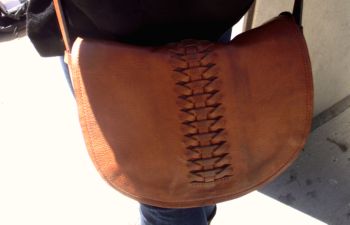 Every girl needs a cross-body leather bag and I love Missy's because of the lace-up detailing. Plus, it is also a little bigger than your average bag, which allows for extra items you may need during the day.
3. Edgy Boots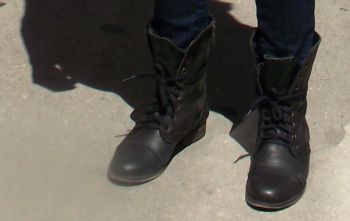 Boots are definitely huge for this summer and Missy shows that pairing these with a feminine top can create the perfect style juxtaposition. I also like how she tied the laces around her ankles, making the trend her own. Plus, boots like hers are perfect for protecting your feet from the dirt and grime of city sidewalks!
Thoughts?
Do you like to mix feminine and edgy pieces as much as we do? Do you have a cross body bag? Will you wear boots this summer? Do you own any vintage jewelry? Let us know with a comment!