Known for her bubbly personality, Miros never shies away from colors and sparkles when it comes to fashion. I know that many of us believe "the key to style is to focus on one aspect only," but I beg to differ after seeing Miros's stunning outfit today. In this post, you will see how Miros adroitly makes fashion don'ts into do's and introduces us to some new fashion concepts.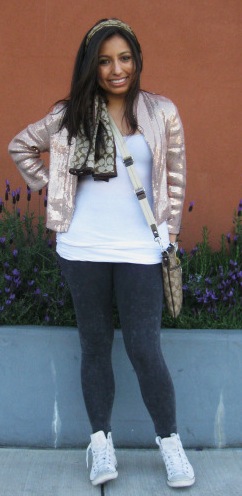 Miros 101
Name: Miroslava
Major: Pre-med
Originally From: Bolivia
Hobbies/Interests: "Belly dance, music, and chocolate!"
Let's Talk Fashion
How would you describe your style?
I like to mix styles, and it also depends on my mood. I love to look young and girly, and I can't resist small details like flowers.
Who or what inspires you in terms of fashion?
My mom. She has always had a good sense of fashion, and her friend Augusta who has a boutique in Germany always tell us about the new trends in Europe!
Where do you like to shop?
I love Zara, Bebe, Forever 21 and Club Monaco.
Any fashion tips?
Be creative with accessories, leggings are your best friends when you don't know what to wear, and choose shoes wisely because they can either make you or break you!
What motivates you to dress up?
I simply enjoy spending time choosing my clothes and doing make up with music on! This is an important part of my day and helps me to feel good all day long.
Elements of Miros's Outfit
What I love the most about this outfit is how Miros incorporates many disparate elements into her outfit but still manages to look oh-so-chic and put-together. Let's look at her outfit in a little more detail!
1. Sequin Jacket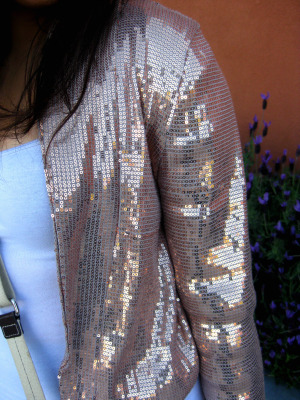 Sequins have been a huge trend since last year, but many of us limit them to nighttime-wear only. But look at how beautiful this pink sequin jacket looks under the sunlight! It definitely pulls together the whole look.
Also, as Miros shows us, contrary to what we'd normally think, it's actually not too challenging to pull off sequins during the day. If you want to bring your style to another level and are not satisfied being just-another-trendy-chick-with-a-leather-jacket, try a sequined one instead!
2. Mix & Match: Three colors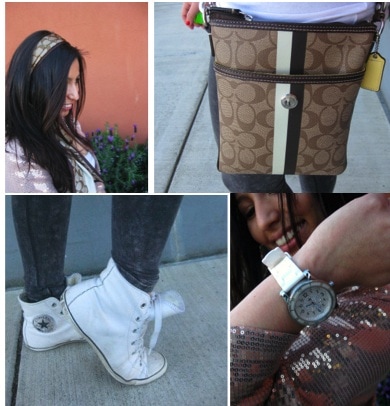 Do you think incorporating three main colors into one outfit is tough? Well, it's certainly not for Miros. Here she shows us a simple yet practical way to mix and match. Instead of randomly putting colors together, she matches her "hair band" with her bag, and her tank top with her watch and shoes. Finally, she leaves the pink jacket to stand out as the focal point.
On a side note, I was never a huge fan of watches and Converse shoes (as they may be too "casual" for a trendy look,) but Miros has me rethinking them!
3. The Varied & Versatile Scarf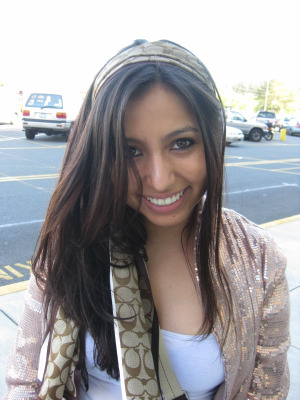 If you are wondering why I wrote "hair band" in quotes in the last paragraph, now you know! It's because Miros's "hair band" is actually a scarf. This is a great fashion trick to try yourself; as the weather gets warmer, why not convert your warm scarf into a stylish hair band? There are so many ways to play around with it, just be creative and have fun!
Get Inspired
Want to get Miros's fabulous street style look for yourself? Here are the two looks inspired by Miros for different styles and occasions! Can you see yourself in these outfits?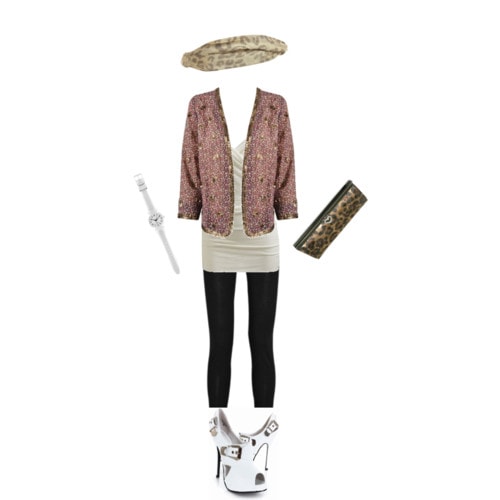 Products: Hair Band- Top Shop, Sequin Jacket- Forever 21, Top- Arden B, Wallet- Styles For Less, Leggings- The Outnet, Watch- John Lewis, Shoes- Ami Clubwear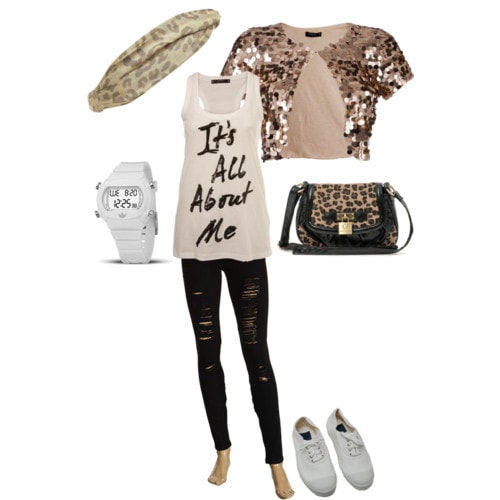 Products: Hair Band- Top Shop, Watch- Adidas (through Bloomingdales), Bag- ASOS, Shoes- Mick Margo, Sequin Jacket- Oli (UK), Top- Miss Selfridge, Jeans- Joe's Jeans (available through Zappos)
Celebs Rocking Scarves
If you have a favorite scarf you want to wear more creatively, here are some more ways to utilize your scarf, as shown on runways and by celebrities.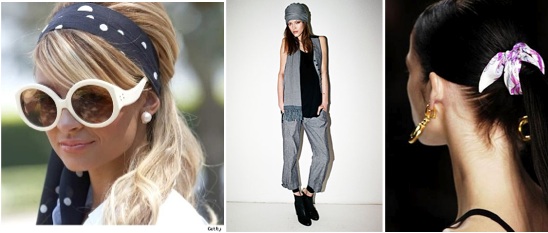 Picture Sources: Style.com, I Am Fashion, Zimbio, Miss Tina, The Insider
More of Miros
I thought I'd end this post with some more pictures of Miros and her style. Thanks to Miros for kindly providing us with her personal pictures! Hope you guys enjoyed reading this post. 🙂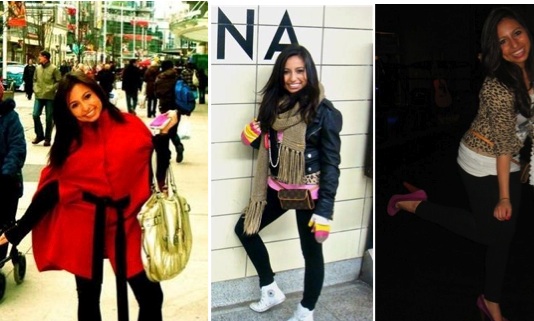 Share Your Thoughts!
So what do you think about Miros's fashion techniques? What's your favorite way to wear your scarf? And are you ready to let your sequin jacket shine in the sun? Let us know with a comment!