Mike and I are in a History of Photography class together, and I'm always noticing his unique sense of style. After our recent midterm, I snapped a few pictures, and after interviewing him, I learned that there is a lot more to this modern day Renaissance man than meets the eye.
Mike 101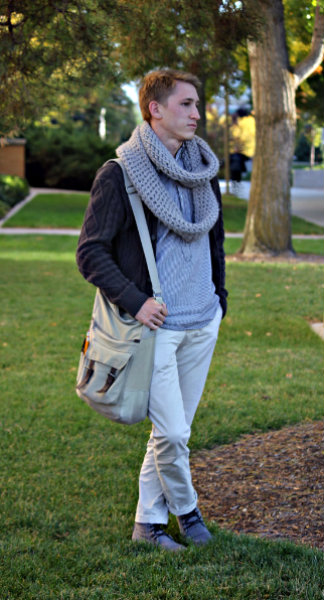 Name: Mike
College: BYU
Year: Junior
Major: European Studies
Hometown: Brooklyn Park, MN
Let's Talk Fashion
How would you describe your style? "I don't like to put labels on it – I like to try new things. I did realize this summer that my style tends to be very monochromatic, so I tried to buy some different things [to diversify my wardrobe]: yellow shorts, fun things like that."
Where do you get style inspiration? "Any time H&M comes out with new things, I like to check them out. I also really like street style photographers, especially European ones."
Where do you like to shop? "H&M. Forever 21. And I actually crocheted this scarf."
Do you make a lot of your clothes? "I like to crochet scarves and mittens. My sisters got me into Project Runway, so I've been watching that. I've tailored some of my clothes, but I'd love to do more."
What are your hobbies? "I really like photography. I like to crochet. I love to go hiking, anything outdoors. I'm really into sports, especially volleyball. And I really like music."
What music have you been listening to? "This week I was listening to Bat for Lashes' new album. It's really great! And I've been getting excited about the seasons changing, so I've been listening to a lot of Christmas music, especially Jazz: Duke Ellington, Ella Fitzgerald."
Elements of Mike's Outfit
1. DIY Scarf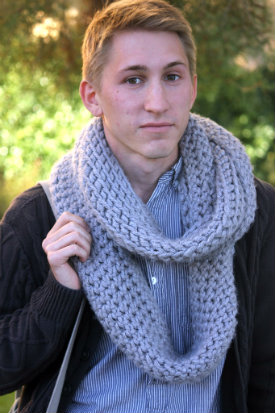 Mike clearly understands that one's style should reflect their personality. Oftentimes, students comb through thrift stores, trying to find pieces that stand out while staying under budget. Mike's scarf offers another solution: he crocheted it himself. It is a great testament not only to his unique style but also to his craftiness.
2. Cool-Weather Colors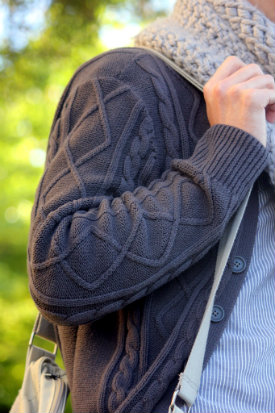 With his cable-knit cardigan and grey shirt, Mike's outfit practically screams winter. The monochromatic color scheme brings a simplicity and elegance to the overall look, while looking completely season-appropriate.
3. Canvas Shoes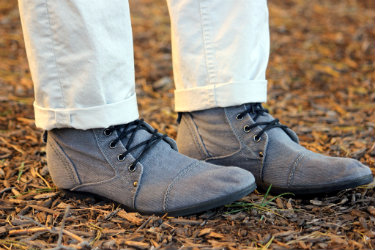 Mike's shoes are a great twist on the average sneaker. The canvas fabric is both unique and practical, and, as Mike explained, the thin laces make these shoes appropriate for both work and school. Mike also attested to their comfort, making them ideal for long treks across campus.
Your Thoughts?
What do you think of Mike's look? Do you crochet or knit? How do you incorporate winter colors into your fall looks? Let us know with a comment!