Now that I'm back home in California, I'm ecstatic to become reacquainted with sunny skies and warm temperatures. I am also excited that one of my best friends, who also happens to be enrolled in Syracuse University, is back in his natural fashion element — the spring/summer season.
Born and raised in the tropics, Miguel is the type of person who loves anything involving the sun, the beach, or 80-degree weather. His outfits always include bright and pastel colors to complement his favorite season, and he's never without a great pair of shades. In fact, I can attest to his vast sunglasses collection – I've never seen him wear the same pair twice!
When it comes to men's clothing, Miguel is the go-to guy for his friends and relatives. This fashion-forward college man practically lives and breathes fashion, so I knew I had to feature him in Looks on Campus.
Miguel 101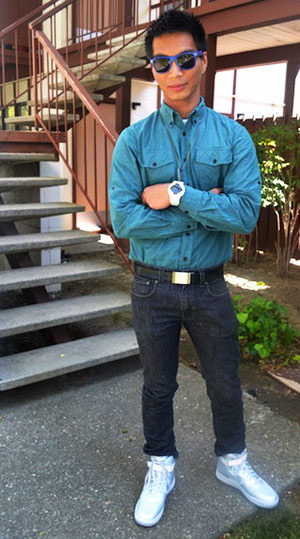 Name: Miguel
College: Syracuse University
Year: Junior
Major: International Relations
Let's Talk Fashion
Who or what inspires your style? "I'm inspired by Kanye West. He's very versatile with his clothing choices. He looks good in anything he wears, from street style to formal wear, you can count on him to be really fabulous and stylish."
Where do you like to shop? "I like shopping at H&M. I live right across from the mall so I'm always buying clothes from H&M. They have good styles and affordable prices. I also love shopping at Nike stores. Their sneakers can be paired with just about anything — I even once wore a pair to a semi-formal event and I think I nailed it."
How would you describe your sense of style? "I'm very eclectic. I mix and match different pieces from variety of sources. I'm influenced by a lot of things and my style isn't dictated by any one fashion icon. One day I'm wearing all-white, the next I'm wearing blue and yellow. I like watching people's reactions when they see my outfits."
Why did you choose this particular outfit? "I chose this particular outfit because teal is great for summer – my sister has been wearing aqua blue all month long and I think that rubbed off on me, so I chose a button-down in a similar color. [As for my watch,] I'm a G-shock collector and I never leave the house without wearing one. Since I wore my new white/gray sneakers, I immediately pulled out my white watch to match it. And sunglasses are very important for summer – I'm back in California so I have to keep my eyes extra protected from the sun."
What fashion advice would you give to other students looking to improve their style? "Don't be a slave to your fashion idol. Find your identity and be original. You can get ideas from celebrities, magazines, television, but you should create your own style. It's crucial that you are able to think for yourself. You'll never develop your own creativity if you just copy everyone else's looks."
What are your favorite trends right now? "I've seen a lot of guys wearing brightly colored shorts/pants and I think that style looks great. It adds color to any outfit and is very suitable for the season."
Do you have any favorite fashion designers? If so, who? "Does J.Crew count? I just found some striped shorts there – at first I thought they would be too shocking, but once I tried them on, I found them to be very comfortable and fun. It got me inspired to try to printed clothes. Now I'm looking into purchasing J.Crew's printed floral shorts. They would look good on me, right?"
What do you do for fun – do you have any unique hobbies or interests? "I like organizing parties and events for friends and colleagues. Basically, I like anything that's related to socializing and dressing up! I live for all those exciting nights when I get to show off my style and mingle with new people."
If you could raid anyone's closet, who would it be and why? "Hands down, Kanye West. He can dress up anytime and anywhere. Plus, he always chooses clothes that are classy and different. He inspires me to try new things with suits, like adding a bow tie or choosing a brightly-colored one."
Elements of Miguel's Outfit
1. Teal Button-Up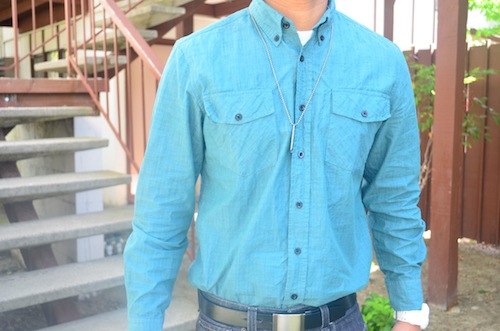 Teal/aqua blue is a great color for the season since it's so bright and bold. Despite the hot sun, Miguel decided to rock a long-sleeved shirt – this is common for guys in CA, since it can get really windy here in spring. His top is perfect for any guy due to its versatility; it works for daytime shopping, afternoon strolling, and night partying, and adds color to any look.
2. Nike Sneakers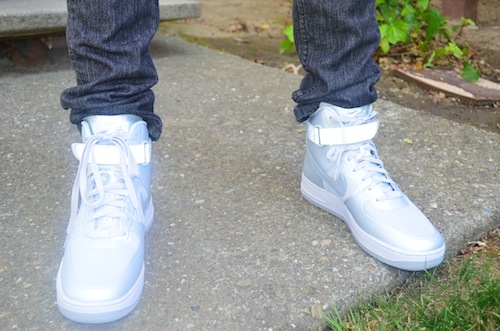 It's impossible not to notice Miguel's white and silver Nike high-tops – they add style and polish to his look while making a big statement. Plus, it's so refreshing to see a guy who isn't afraid to rock metallics.
3. Yet Another Pair of Sunnies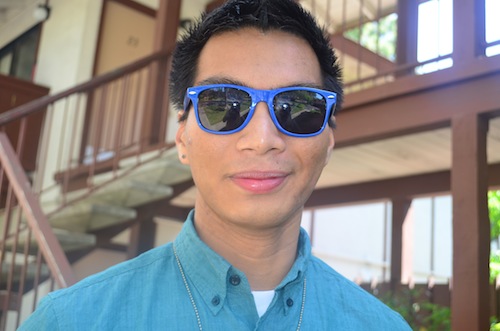 As we all know, sunglasses are essential during the spring and summer months to keep your eyes protected. Miguel opted for colorful wayfarers (in a shade that worked with his ensemble, of course), which are still super popular for guys and girls alike.
Share Your Thoughts!
What do you think of Miguel's style and perspectives on fashion? Which aspect of his outfit do you like most? How many pairs of sunglasses do you own? Let us know with a comment!