It's finally the end of the semester. After suffering through brutal finals and stressful dance juries (a.k.a. dance finals), I can relax at last. The dance department at VCU had an awesome end of the semester party full of funny skits, dances, free t-shirts, and cookies! We also got the opportunity to wear "real" clothes, which meant we got to see each other's personal styles.
As always, Michelle had an amazingly crazy outfit and I knew I had to snap a few pics. Her outfit is a shining example of Richmond's/VCU art's eclectic style.
Michelle 101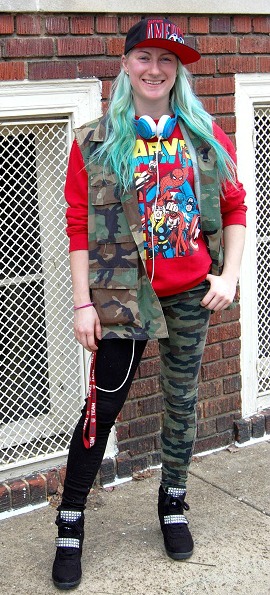 Name: Michelle
Major: Dance and Choreography/Pre-Physical Therapy
Year: Junior
University: Virginia Commonwealth University
Let's Talk Fashion
Who or what inspires your style? "Everyone's clothing style inspires me, whether they're my friends, people I see walking down the street, or even celebrities on TV. If I see something on someone else that I think would look good on me I keep that in mind the next time I go shopping. Sometimes I just see something in the store and make a spur-of-the-moment purchase. Then pray I can pull it off."
Where do you like to shop? "Target is one of my all-time favorite places to shop. I also love PacSun, Tilly's, Hot Topic, Zumiez, Charlotte Russe, and sometimes Forever 21."
How would you describe your sense of style? "Well, my style is very eclectic. I don't think I can pinpoint any specific way I dress. I wear what I feel comfortable and confident in. I do like color, so I guess my style could be described as colorful and vibrant."
Why did you choose this particular outfit? "I chose this particular outfit because it's kind of out there and not something many people would traditionally want to wear. It has multiple colors and themes, but I figured out a way to make them all work together in my own way."
What fashion advice would you give to other students looking to improve their style? "My advice to other students would be to take note of all the different outfits people wear, and gather ideas, then take what you like and personalize it; make it your own. Just make sure you wear something you feel comfortable in. And remember fashion is a form of expression, so express yourself."
What are your favorite trends right now? "I don't really know if I have any favorite trends because I am usually the last person to realize a trend has been started, but I do like combat boots, colorful scarves, and all types of hats… if those are even considered trends."
Do you have any favorite fashion designers? If so, who? "I don't have any favorite fashion designers. If I see something I like then I buy it if I have money, but I don't seek out specific designers."
What do you do for fun – do you have any unique hobbies or interests? "For fun I love going to professional soccer games. I am a huge fan of the U.S and Canadian Women's National soccer teams! The sport is so beautiful to watch with all of the intricate plays and precise passing. All of the players inspire me because they hold nothing back and leave it all on the field."
If you could raid anyone's closet, who would it be and why? "I would raid the closets of Sarah and Cosima from the show Orphan Blackfor normal everyday wear. I just love their unique styles! I would raid Carrie Underwood's closet for formal wear, because everything she wears is literally stunning. Her designer[s] know exactly what they're doing."
Elements of Michelle's Outfit
1.Studded Wedge Sneakers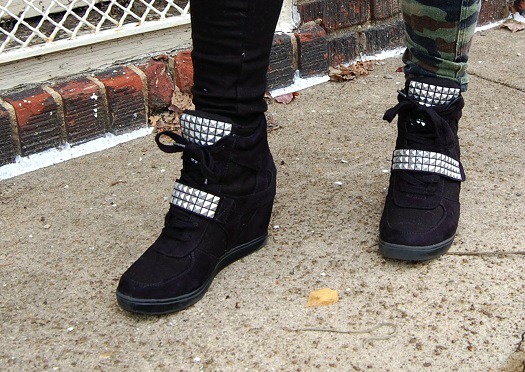 Michelle has a hip-hop sense of style and these sneakers showcase it. Wedge sneakers are popular, but this silver-and-black pair speaks to her own personal taste. The pyramid studs have a grungy vibe, which works perfectly with the rest of her outfit.
2. Superhero Graphic Sweater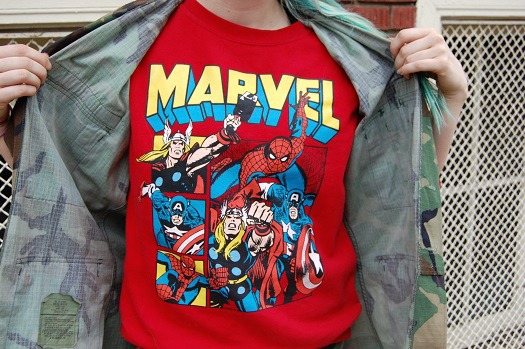 All of Michelle's sweaters are pretty awesome. In fact, they're so awesome that I would love to raid her sweater drawer! This graphic sweater is bright and rambunctious, just like her personality. It pairs well with her cool hat, plus the red plays off the camo and black accents found throughout her look.
3. Two-Toned Leggings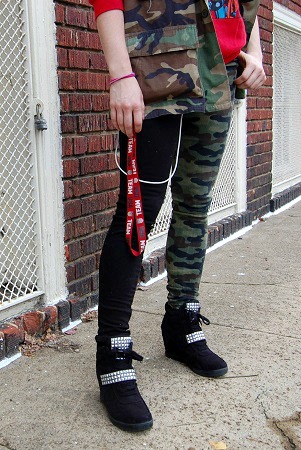 This look is one of a kind and let's face it: it is super-hard to pull off. Michelle somehow does it with funkiness and grace. With one side of her leggings matching her vest and the other a solid black, she definitely works the heck out of this eclectic ensemble.
What do you think of Michelle's street style?
Do you dig her grunge look and studded kicks? Would you wear her outfit? Do you ever wear camo? Comment below and let us know what you think!