When I spotted Michelle on campus, she was not wearing anything elaborate or distinctive; however, she caught my eye with the simplicity and execution of her style. There is a reason why Leonardo Da Vinci said "simplicity is the ultimate form of sophistication" – because sometimes, less is more.
Michelle emphasized the importance of practicality and versatility while incorporating the trends she enjoys. I think her style is perfect for any college girl who wants to look put-together while staying comfortable.
Michelle 101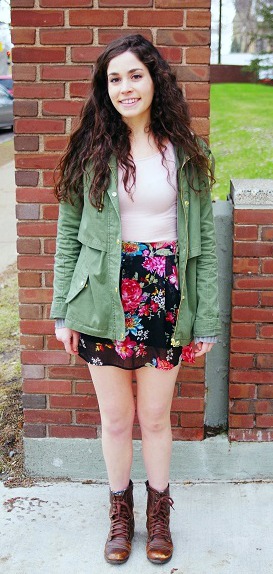 Name: Michelle
Year: Senior
Major: Geography
Hometown: Los Angeles, CA
School: Macalester College
Let's Talk Fashion
Who or what inspires your style? "I definitely get inspiration from my friends. I don't really read magazines or blogs, but I do like Pinterest a lot. I have also learned to gain inspiration from practicality since we are in Minnesota. I have learned how to manage my style and keep it weather-appropriate."
Where do you like to shop? "I really like Nordstrom; I often shop at the sales rack. I also like H&M and sometimes Target. I go thrift shopping sometimes as well, but I get pretty impatient so I only do that once in a while."
How would you describe your sense of style? "I would say my style overall is pretty feminine. I like wearing skirts and dresses, soft fabrics, and lace. Like I have said before, I really like pieces that are versatile, so I can wear them to several different occasions."
Why did you choose this particular outfit? "I chose my skirt first because it is floral and fits the season well. I basically just paired everything around that. The jacket matches basically anything and it keeps me warm. My boots makes the outfit a bit more casual."
What fashion advice would you give to other students looking to improve their style? "I think college is a great opportunity to change your style and try out different things. No one knows what you wore before or what kind of style you had, so you can basically wear what you want to. I think it's important to be confident and try out whatever style you would want."
What are your favorite trends right now? "I want to try wearing high-waisted shorts; I think those would look really nice. I also really like chiffon maxi skirts."
Do you have any favorite fashion designers? If so, who? "I don't really have a favorite designer, but a more expensive line I appreciate is Anthropologie."
What do you do for fun – do you have any unique hobbies or interests? "I write for the humor magazine on campus – called The Hegemonocle – and I have really been enjoying that. I am also into graphic design, layout, and things along that line."
If you could raid anyone's closet, who would it be and why? "My mom's cousin. She's in her 70's, but her closet consists of many vintage and very cool-looking pieces, and I think she has a really cool style."
Elements of Michelle's Outfit
1. Floral Skirt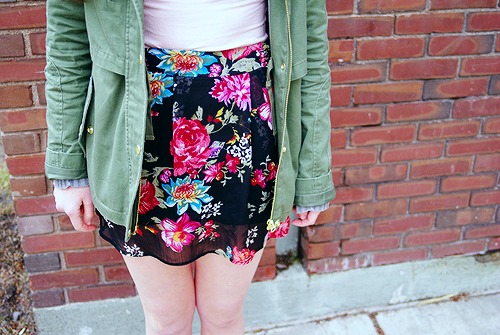 Michelle's floral skirt, from Forever 21, really makes her look pop. The dark background creates a great base for the colorful flowers, and the combination is very on-trend this season. We can see this skirt being worn so many different ways!
2. Plaid Accented Military Jacket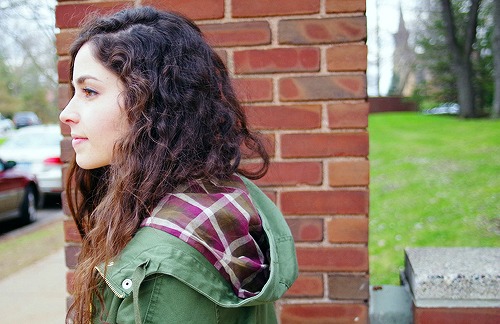 The plaid accent on the inside of Michelle's hooded jacket is so unexpected! It really elevates the look, plus it allows for her military jacket to stand out among the many others I have seen around campus. This jacket is fun and youthful, but still chic.
3. Brown Combat Boots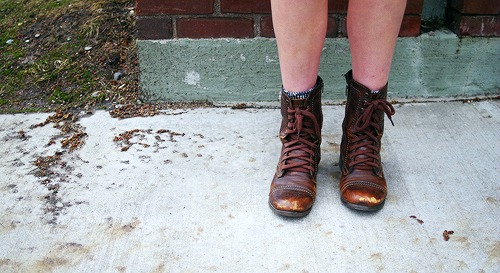 These boots are the most practical form of footwear here at Macalester. Combat boots can be worn between the seasons and they are comfortable enough to walk long distances. These brown laced boots also make Michelle's ensemble more casual and classroom-friendly.
What do you think of Michelle's cute classtime combo?
Do you love her military-style jacket? What do you think about her bold floral skirt? Would you wear a similar look to class? We want to know what you think, so leave a comment below!