This is the best time of the year. Honestly, if you ignore those pesky bees, the gross pollen, and the ever-noticeable PDA… Spring is an absolutely gorgeous season. The weather is great, coats are off, and we can all dress how we want to without worrying about the weather!
And to celebrate spring fever, this week I bring you not one, not two, but THREE beautiful and stylish ladies from my campus. They're perfect inspiration for everyday college fashionistas!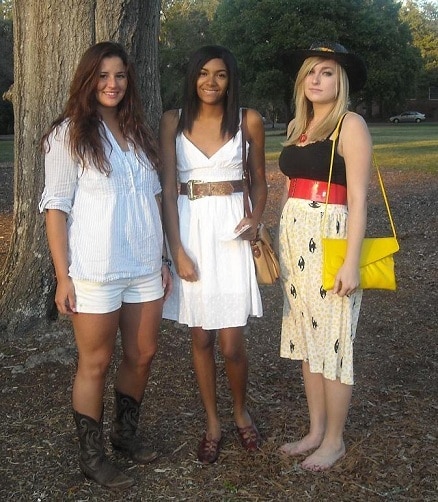 From left to right, this is the gorgeous Michelle, the stunning Dominica, and the beautiful Kayla!
I met these three ladies at the park, relaxing, and these thrifting divas really made my day, because ALL of their outfits came straight from Goodwill! None of the items on their lovely bodies cost more than 10 bucks. Is that impressive or what?
Here is some more info on each girl's style, followed by an outfit inspired by each of these three fashionistas.
Michelle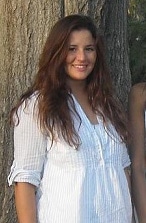 Age: 19
Classification: Freshman
From: Colorado
Major: Biology/Pre-Med
Favorite places to shop? Goodwill, Forever 21
Inspiration: "All of my outfits are based around my shoes. I have an amazing shoe collection."
Elements of Michelle's Style:
Cowboy Boots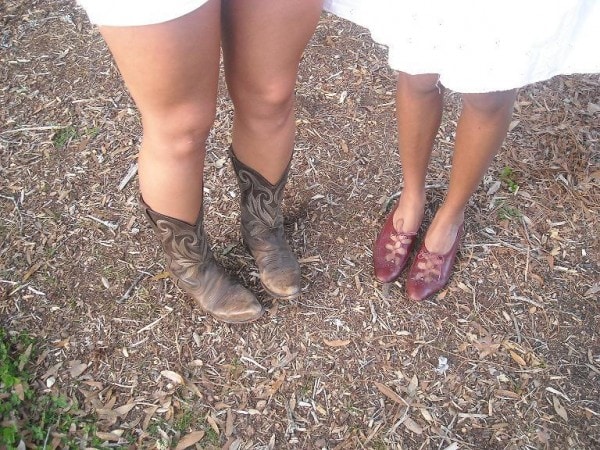 Michelle's boots are on the left, Dominica's cute shoes are on the right.
Michelle said herself that she bases her outfits around her awesome shoes. And why not? These vintage cowboy boots go so well with her ensemble, and add a cute Wild, Wild Western flair to her outfit. Who wouldn't base an outfit around those boots?
Eclectic Jewelry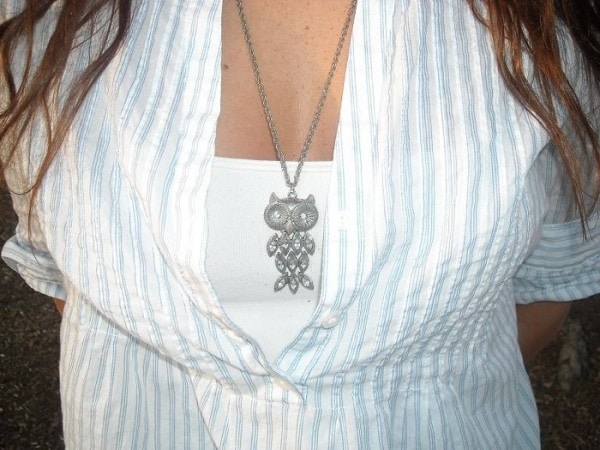 A gorgeous statement piece of jewelry is essential to ANY outfit, and Michelle's Owl necklace does the trick beautifully.
Dominica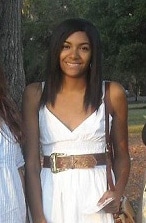 Age: 21
Classification: Sophomore
From: Originally from Connecticut
Major: Psychology
Favorite places to shop? Different consignment shops.
Inspiration: "My mother. She worked in fashion marketing in New York, and my cousin is a stylist. Her shop is called L'Amoire Du Styliste."
Elements of Dominica's Style
Vintage Accessories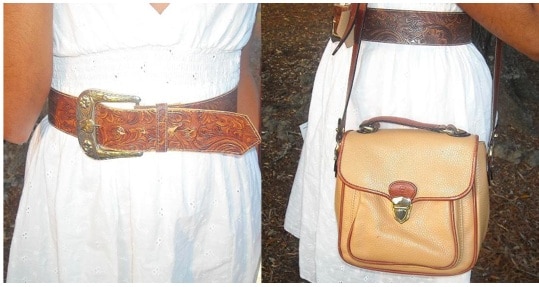 Dominica's vintage brown belt really adds excitement to her simple white summer dress, and her satchel is the icing on the cake! Even more impressive, both of these gorgeous pieces are Goodwill finds! Check out our article about thrifting, so the next time you go to Goodwill, you'll gain gorgeous vintage treasures like these!
Kayla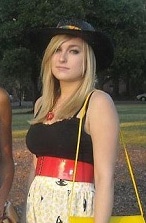 Age: 19
Classification: Sophomore
From: Macon, GA
Major: Graphic Design
Favorite places to shop? Goodwill, Urban Outfitters
Inspiration: "I don't really know, from everywhere, I suppose."
Elements of Kayla's Style
Bright Purse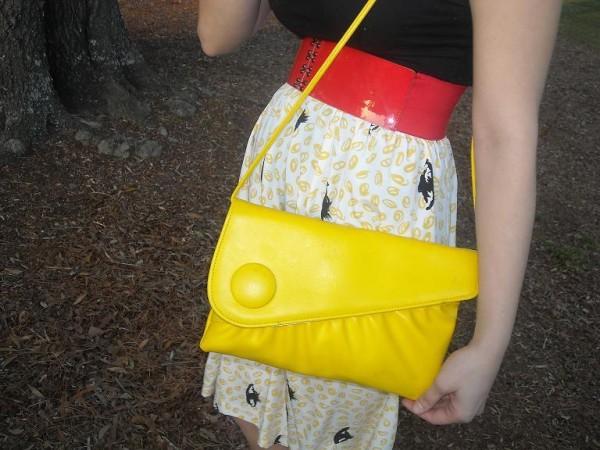 Spring is the time for colors! From soft pastels, to bright yellows like Kayla's bag, don't be afraid to add some excitement to your look with colorful pieces!
Stylish Hat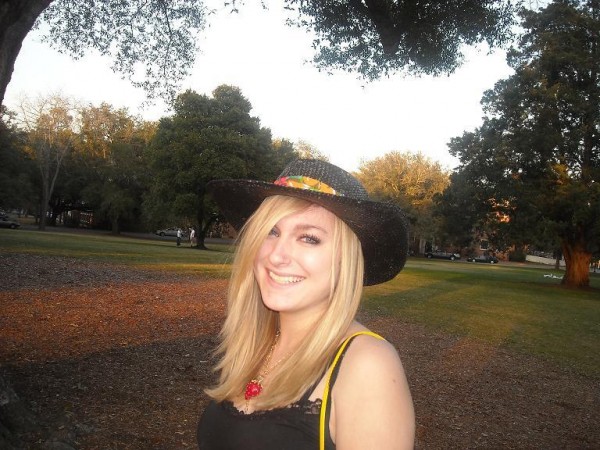 Kayla's vintage wide brimmed hat will keep Kayla cool during the Georgia sun, while keeping her fashionably hot. Even better, a wide-brimmed hat will protect your skin from sun damage, something we can all agree is important!
Outfits Inspired by Michelle, Dominica, and Kayla
Michelle:
Using Ms. Michelle as a guide, this look features cute black cowboy boots, a chambray button down, white shorts, and gorgeous jewelry.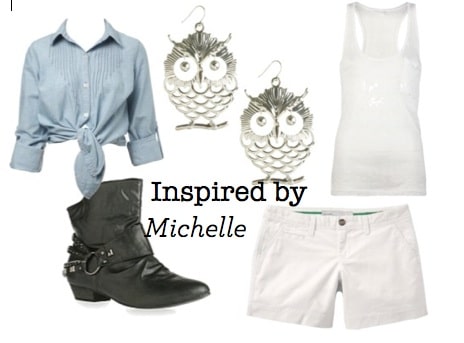 Product Information: Button-Up- Miss Selfridge, Earrings- Wet Seal, Tank- Tilly's, White Shorts- Old Navy, Boots- Mandee
Dominica:
This set features two different dresses, one floral (if you're feeling more daring) and one simple white dress, like the beautiful Dominca is sporting above. A vintage fedora and belt will really add oomph to the outfit, so check out that thrifting article above and find some timeless treasures!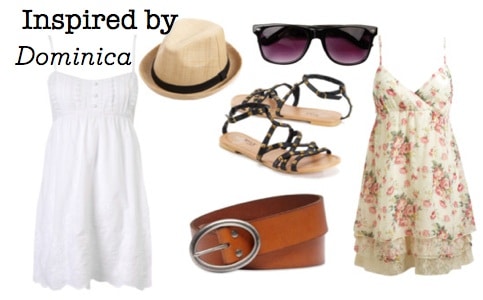 Product Information: White Dress- Forever 21, Floral Dress- Wet Seal, Sunglasses- Garage, Hat- Fred Flare, Belt- American Eagle, Sandals- Walmart
Kayla:
Though a little different from Kayla's outfit, this set features both a stylish hat and a bold purse, mirroring the pieces found in Kayla's example.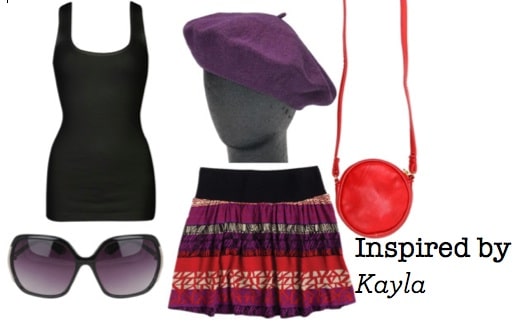 Product Information: Tank- Forever 21, Sunglasses- Forever 21, Skirt- Delia's, Hat- Yes to Style, Purse- Hot Topic
What do YOU think?
Which of the three looks do you like the best? Which girl's style is closest to your own? Are you a thrifter? If so, share your tips on how/where to thrift!