When heading to class, I often seeing people dressing for comfort: Think sneakers, jeans, and sweatshirts. The term "polished" would rarely describe the average student on campus, so when I saw Michaela looking so sharp on a late afternoon, I couldn't pass up the opportunity to take her picture and ask about her sense of style!
Michaela 101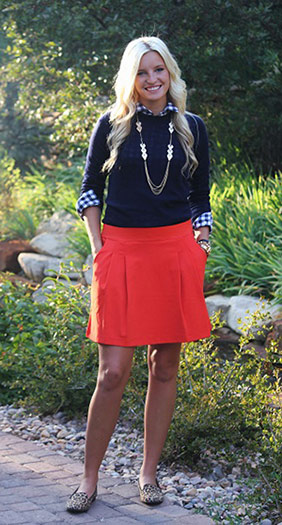 CLICK PHOTO TO ENLARGE
Name: Michaela
College: BYU
Year: Junior
Major: Earth and Science Education
Hometown: Boise, Idaho
Let's Talk Fashion
Why do you dress up? "I like to dress for success. When you are dressed up, you feel good, like you could conquer the world. But I still like to add some edge, or some quirky accessories, like geometric shaped pieces."
Where do you like to shop? "I really like Gap; they have cute, classic pieces that build your wardrobe, but they're not crazy expensive. And I really like J.Crew and Forever 21. And I like PacSun for accessories."
Who are your favorite designers? "I love Michael Kors for watches and jewelry. And I love Steve Madden boots."
Who is your style icon? "I really like Lauren Conrad. She's always classy and put together, but she still looks youthful and beautiful."
How has your style evolved? "My style totally changes with the seasons. During the summer it's laid-back, with a boho, beachy-type feel. All natural. And then when fall comes, I like to be more pulled together in bold, bright colors. I love collars and button-ups."
What would you consider your statement pieces? "I'm a big cheetah print girl. And I think anything with studs is cool."
What do you like to do for fun? "I like to run! I did a marathon this summer. I like to play sports like soccer, and I love to ski in the winter. And, of course, I love to hang out with my friends and go shopping!"
What fashion advice would you give to other students looking to improve their style? "It's okay to get inspiration from your friends or magazines. Also, be true to your style: whatever you like and feel comfortable in, that's what you'll look and feel best in."
Elements of Michaela's Outfit
1. Sweater and Plaid Shirt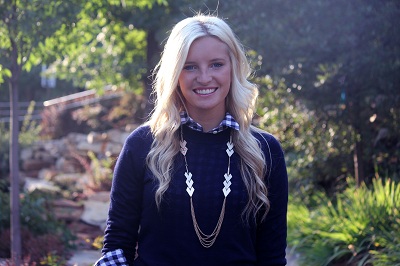 As the seasons begin to change, sweater weather draws closer. Michaela's sweater is versatile enough to dress up or down, and creates a neutral base, allowing her skirt to really pop. The plaid shirt underneath makes the outfit look extra crisp.
2. Playful Accessories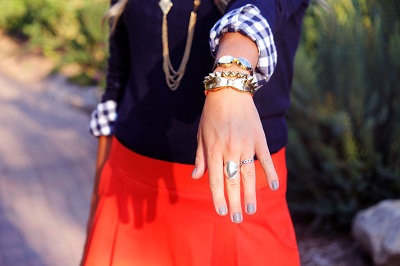 With spikes, a watch, and a bow on her wrist, Michaela's accessories are fun and playful. The mixed metals make the look more modern, and the spikes bring a little edge. Also, Michaela's grey nail polish is the perfect complement to her two silver rings.
3. Leopard Print Smoking Slippers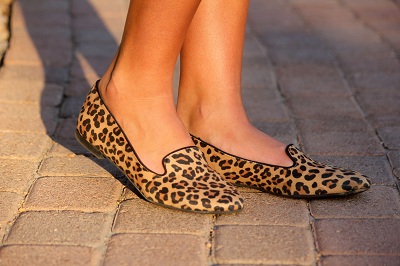 As we all know, flats are perfect for running around campus in comfort. This season's alternative to the ballet flat, the smoking slipper, is everywhere right now, and is ideal for campus wear. I love Michaela's leopard print pair – they're loud enough to make a statement, but subdued enough to go with everything. Plus, when paired with her plaid shirt, they provide a hint of the print mixing trend.
Your Thoughts?
What do you think of Michaela's look? Are you loving smoking slippers right now? Which of Michaela's accessories is your favorite? Let us know with a comment!