The 3rd Street Promenade in Santa Monica, CA attracts fashion-savvy college students from all over the world. As an avid people-watcher, I love seeing the plethora of styles passing through the shopping center.
I spotted Mia walking though the outdoor mall with a few of her friends. Her quirky beach style drew my eye, and I was pleasantly surprised to meet a tourist from Shanghai. Mia's wardrobe consists of no-name brand clothing from her adventures around the globe. I love the eclectic mix of style from this world-traveler.
Mia 101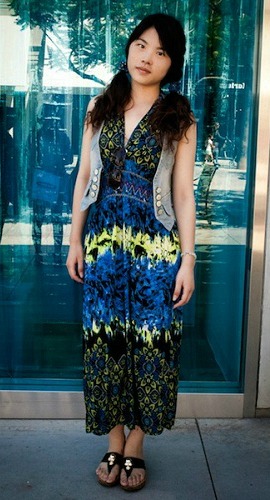 Name: Mia
College: Shanghai International Studies University (Shanghai, China)
Major: Management of International Information Systems
Let's Talk Fashion
What inspired this outfit? "I like to dress casually and suit myself to the environment. For example when I am on holiday, I like to wear long dresses and sandals. When I'm in college, I dress a little more formally, I think."
Where do you like to shop? "I like to shop wherever there's a sale."
How would you describe your sense of style? "I'm not sure if I'm a fashionable person, but I like to dress in my own way."
Why did you choose this outfit? "I'm wearing it to go to the Santa Monica beach! Actually, I bought this dress in Sri Lanka, where there are also beaches."
What are your favorite trends? "Anything in navy."
What do you do for fun? "I do films and music, and I swim."
If you could have anybody's closet, who would it be? "Avril Lavigne."
What brands are you wearing? "No brands. I just got them from traveling to Sri Lanka."
Elements of Mia's Outfit
1. Denim Vest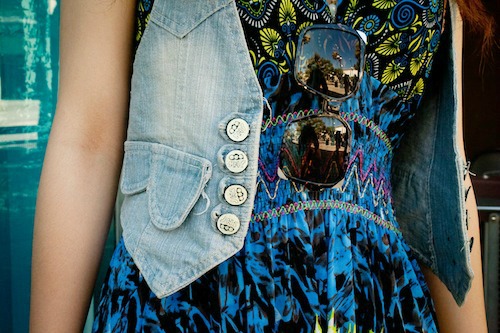 Mia's denim vest adds an extra layer to her beachy look. It gives her outfit a retro feel, keeping her look casual, but still fashionable. The unique buttons are also a cute addition!
2. Pigtails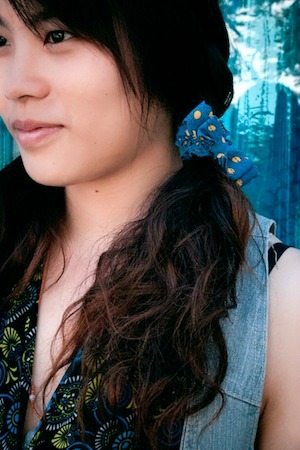 Mia's long, wavy, beach hair fits perfectly with her pigtails. The bows are an artistic detail that add to her quirky style, while the pigtails frame her face nicely and go perfectly with her long tie-dyedmaxi-dress.
What do you think?
What do you think of Mia's outfit? Does your style change like Mia's based on the situation or atmosphere you're in? What do you wear when you're travelling? What are you wearing to the beach lately? Let us know in the comments!