Last week I saw Meriem strutting on the runway that is our Peace Quad and just knew she would be perfect for Looks on Campus. I have long admired her adorable, quirky, and put-together style. It's a shame that everyone doesn't look so fabulous while walking from class to class! Read on to learn her thoughts on how to stay comfortable while fashionable on campus.
Meriem 101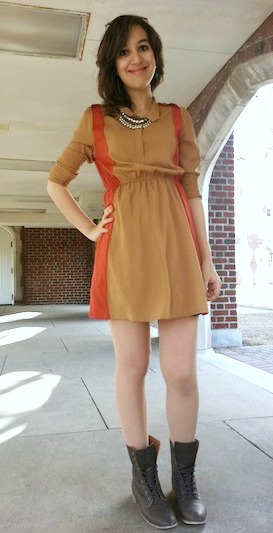 Name: Meriem
Year: Sophomore
Major: Psychology
Let's Talk Fashion
Who or what inspires your style? "Anything around me – books, film, art. I like to travel and see how different cultures express themselves through their clothing. My mother has really good taste in clothing. I like to steal her clothing."
Where do you like to shop? "Mainly H&M, Fossil, J.Crew, and Aldo. I also like to go to local boutiques and Magazine Street. I do not like shopping at malls. They give me anxiety."
How would you describe your sense of style? "I like vintage stuff, [so I would describe my style as] vintage-chic, I guess. I really like the past, the 1920s. I like how fashion repeats itself and so [I] like 1920s fashion with a modern twist."
Why did you choose this particular outfit? "It's a beautiful day and after the cold weather we have been experiencing in New Orleans, I decided to pull out my dress. Today I was influenced by earth elements, which is why I am wearing a dark orange dress and a turquoise ring. With spring rapidly approaching, it's nice to start wearing colors again. "
What fashion advice would you give to other students looking to improve their style? "Dress [in] whatever makes you happy. If you are happy with what you're wearing, you express confidence."
What are your favorite trends right now? "I haven't really been following the trends lately but so far, I am really liking the bold florals coming for this spring. I also like the asymmetrical cuts; I think that's a bold move to do but being adventurous is fun."
Do you have any favorite fashion designers? If so, who? "I am absolutely in love with all things Valentino. I also love, love, love Zuhair Murhad and Yves Saint Laurent. Very sophisticated and classy."
What do you do for fun – do you have any unique hobbies or interests? "I love going out to eat with friends. It's amazing to just bond with food and laughter. I also love going to flea markets and going to music festivals."
If you could raid anyone's closet, who would it be and why? "The two Emmas of Hollywood: Emma Watson and Emma Stone. They are very classy individuals; they could make jeans look dressy."
Elements of Meriem's Outfit
1. Loosely-Tied Combat Boots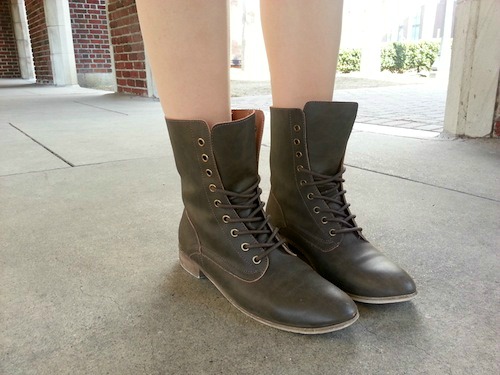 Mixing masculine elements with feminine pieces is a great way to add dimension to an outfit, and Meriem did just that by pairing her dress with these lace-up combat boots. Not only do these boots make a stylish statement, but their flat soles mean they're comfy enough for walking across campus all day – even while lugging heavy textbooks around!
When testing out this look for yourself, wear similar boots with tights and a dress to retain that feminine feel, or play up the menswear-inspired vibe by pairing them with skinny jeans and a blazer.
2. Faux Ostrich-Leather Bag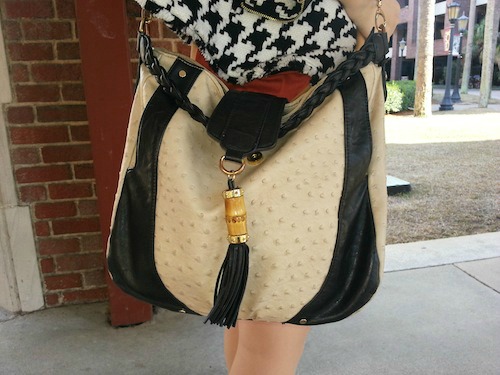 Meriem's bag is fantastically trendy. The perfect combination of fashion and function, it is large enough to hold everything she needs for class, but also looks so chic. The neutral coloring means Meriem will be able to use this bag for years to come, plus the faux ostrich leather adds such great texture to any ensemble. This bag is a must-have for any college student who wants to look professional yet on-trend.
3. Jeweled Necklace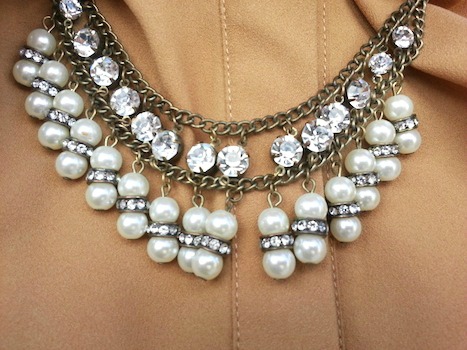 I love Meriem's vintage-inspired necklace because it is a timeless piece. If you want a simple way to add a little glam to an everyday outfit, just wear a sparkly necklace underneath a collar, like Meriem did here. It is an easy way to give your outfit a fashion-forward feel without looking like you are trying too hard.
What do you think?
Do you like Meriem's spring-transition outfit? Do you wear bold necklaces under buttoned collars? What are you favorite spring trends? Let us know by leaving a comment below.