It's midterms week at the New York Film Academy in Los Angeles, and while most people are wearing sweats and
sweaters, it was refreshing to spot Melissa looking super-stylish.
Her chambray shirt, along with hints of
spring florals and gold detailing, was the perfect combination of trendy and comfortable. It came as no
surprise when she told me she used to be a fashion major!
Melissa 101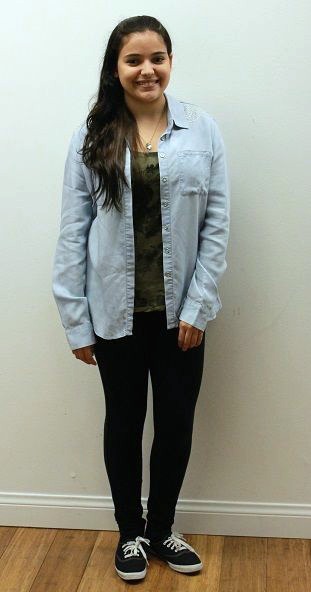 Name: Melissa
Home Country: Peru

Year: Freshman
Major: BFA in Acting
Let's Talk Fashion
Who or what inspires your style?
"I personally love brands, but who truly inspires me is
Coco Chanel. I don't have a fashion icon in particular,
but I love getting inspired by her collections. I like the
jackets, the more neutral palettes, and the overall sweet [and] elegant look."
Where do you like to shop?
"Living here, I like to shop at H&M, but I also don't have a favorite store. I take notes of the things I want
to buy and go searching for them in many stores. I
tend to find them at H&M and sometimes at Forever 21."

How would you describe your sense of style?
"Sweet and relaxed with a hint of gold."
What fashion advice would you give to other students
looking to improve their style? "First, wear things that make you feel comfortable.
Also, know your body and the things you want to
enhance. It's important to know what works for your
body type. Oh, and colors! It's good to know what
colors complement your skin tone or your hair color. You can even look it up online."
Why did you choose this particular outfit?
"Well, I bought this t-shirt last weekend and was just dying to wear it. I also hadn't worn this jean-inspired shirt in a while and thought it went well with the t-shirt. On Tuesdays I also like wearing black, I don't
know why."
What is your favorite trend this spring?
"Rompers and dresses! I feel a lot more comfortable in rompers than in shorts and a t-shirt. It just feels
more like me. I also love florals. I like to wear it year-round, but particularly in the spring."
What do you do for fun?
"I use to study fashion design, so during my free time I like to search for pictures and looks that have
been all over the runway. I also love drawing."
What would be your dream job?
"Being an actress and a fashion designer."
Elements of Melissa's Outfit
1. Gold Studded Detailing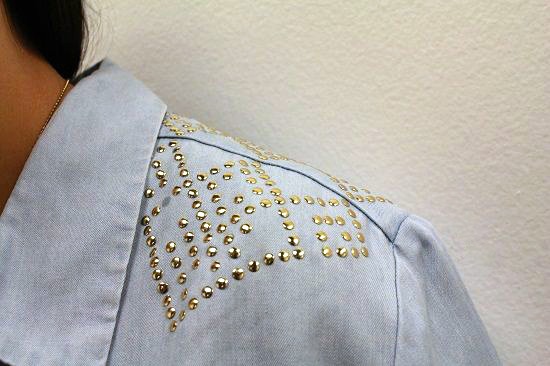 Melissa loves gold and knows how to work it into any outfit. The gold studs on the shoulders of this chambray top add a bit of edge to an otherwise classic button-down. We love how it adds texture and visual interest to her look.
2. Gold Jewelry and Floral Tee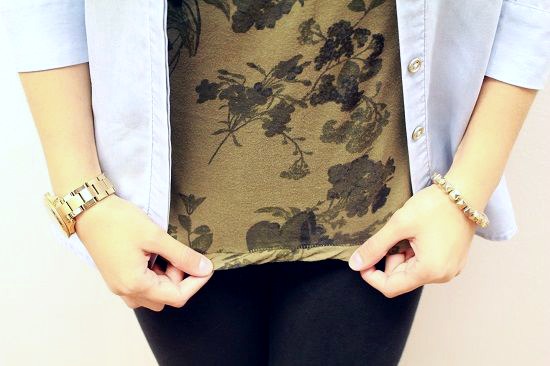 What might look like your average camouflage shirt from afar is actually a floral print. The olive green backdrop grunges up this otherwise girly print, but it still looks right on-trend for spring.
Melissa also opted for a gold wristwatch and bracelet, both of which tie back to her gold studded top.
What do you think of Melissa's studded top?
Would you wear this look? Are you more of a silver or gold girl? Comment below and share your thoughts on this look!