Spring is slowly approaching in DC. After two record-breaking snowfalls that brought the city to the standstill, temperatures are warming and melting the residual snow and ice. Likewise, at Georgetown, students are melting away the layers, trading in their winter coats for stylish blazers and jackets. I ran into one of these chic "Hoyas" lounging in between classes. Meet Melissa, a trendy junior making a very fashionable start to Spring.
Who I Spotted: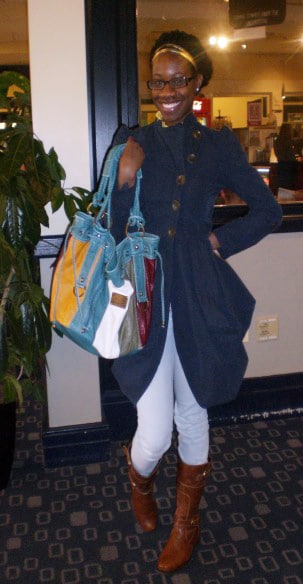 Name: Melissa
Hometown: New Haven, Connecticut
Major: Double Major in Government and Japanese
Year in College: Junior
Hobbies and Interests: "Anything government related. I love being involved with community issues. And I'm also Co-President of Georgetown University Women of Color."
Describe your style in 3 words: "Classic. Loud, color-wise: I love bright colors. And simple. I would say I'm a simple dresser."
Who or what inspires your style: "I read a lot of 'Glamour' Magazine. I have a monthly subscription so pretty much anything they recommend."
Where do you like to shop? "Forever 21, of course; I love Urban Outfitters; and Asos, a European website with a lot of European styles. British fashion is the bomb!"
Why did you choose this particular outfit? "Yellow is my favorite color, so that explains the shirt. As for the jacket, it's really light and I like the way it floats from my body. It gives the illusion that I'm bigger since I'm really tiny. The boots? I love boots. I'm from Connecticut and it gets pretty cold out there so boots are kind of the go-to thing."
Elements of Melissa's Outfit
1. Strong Shoulder Top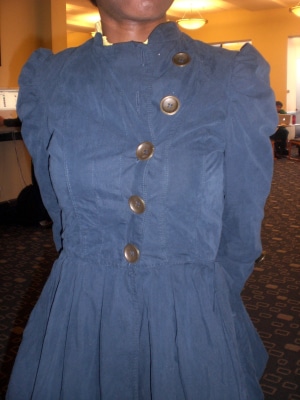 I LOVE Melissa's Jacket. The shoulder detail is amazing and I was really inspired by it. This look reminded me of the military-inspired look Rihanna rocked in her "Hard" video. Melissa's jacket mixes the hard and masculine military elements with feminine and romantic details for a completely unique look.
2. Riding Boots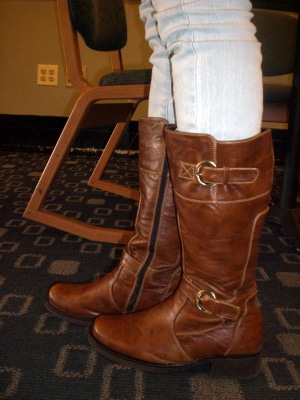 The diva came on horseback! Riding boots are a staple this season. Even if you aren't an equestrian, riding boots bring a more regal and classic aesthetic to a rather simple outfit.
Looks Inspired By Melissa
This look focuses on the detail in Melissa's outfit and mixes the strong shoulder aspect with a vibrant color scheme.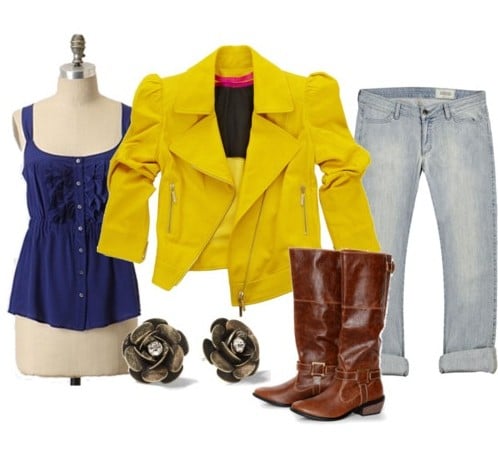 Product Information: Blouse- Anthropologie, Earrings- Piperlime, Boots- ShopRuche, Yellow Jacket- Net-a-Porter, Jeans- Bunny Hug
This is another variation of Melissa's outfit, focused more on her style of boot. I also wanted to focus on her accessories, her glasses and headband in particular.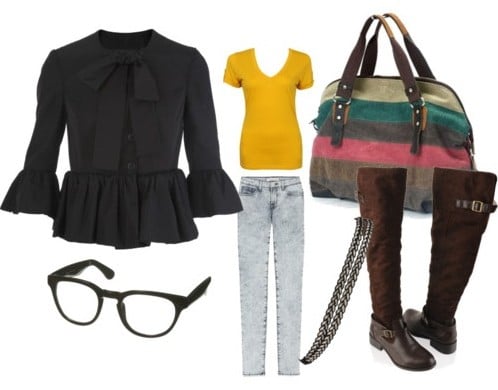 Product Information: Jacket- Jules B, Glasses- TopShop, Jeans- Net-a-Porter, Boots- Forever 21, Yellow Top- Forever 21, Bag- Yes Style, Headband- Forever 21
What do you think?
Do you admire Melissa's attention to detail as much as we do? How do you add edge to a more classic look? Post a comment and tell us what you think.