Boston winters force fashion-minded students to be creative with their outfits. Melanie, a third year Boston University student, has found a way to battle the cold without sacrificing her sense of style.
Melanie's outfit caught my eye because she managed to wear a skirt in the freezing weather and still look effortlessly cozy. Though she can't wear this ensemble to her research assistant position at the biology lab, it is perfect for her day spent between lectures and the library.
Melanie 101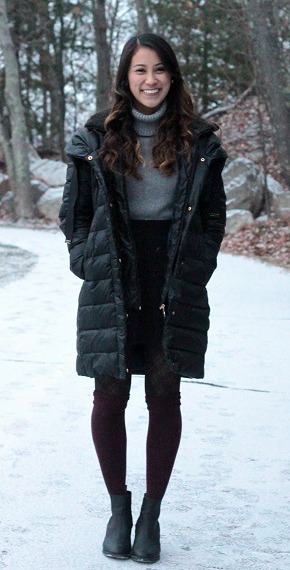 Name: Melanie
Major: Biology
Year: Junior
College: Boston University
Let's Talk Fashion
Where do you like to shop? "I shop everywhere, but mostly H&M, Forever 21, Urban Outfitters, Old Navy, Brandy Melville, and occasionally J. Crew or Nordstrom if there's a sale."
How would you describe your sense of style? "Simple [and] feminine. I tend to wear a lot of earth tones and florals."
Why did you choose this particular outfit? "I've always thought turtlenecks looked weird on me, but I decided to give it a try. I wear a lot of scarves, so this lets me mix it up a bit but still stay warm walking to class. I love skater skirts because I feel like you can wear them in so many different ways. I'm also a big fan of knee-high socks. I usually cover them with tall boots, but I thought they worked with these short booties as well."
What fashion advice would you give to other students looking to improve their style? "Look around you! I think it's easier to know if you like something when you see it on someone else rather than on a rack amongst a million other clothes. I've gone up to plenty of people and asked them where they got their boots or something."
What are your favorite trends right now? "I love shift dresses. I prefer loose clothing, so I like the flowy material compared to bodycon. I also like jumpsuits and rompers; they're very comfortable and easy to dress up or dress down."
Do you have any favorite fashion designers? If so, who? "I'm a broke college student, so I'm not really into high fashion clothing. I do invest in some designer bags and watches, so I'd say Michael Kors and Kate Spade."
What do you do for fun – do you have any unique hobbies or interests? "I'm on the figure skating team at school. I don't really compete anymore, but I've skated for so long and I don't want to lose it."
If you could raid anyone's closet, who would it be and why? "I love Lauren Conrad's style. She is always so put-together. She has a natural and feminine style."
How do you maintain your style during these cold Boston winters? "I always wear my long black coat because it goes with a lot of my clothes. I also layer with a cardigan or big sweater. Winter accessories are also cute, too. I have scarves and wool headbands that I wear occasionally."
Elements of Melanie's Outfit
1. Turtleneck Sweater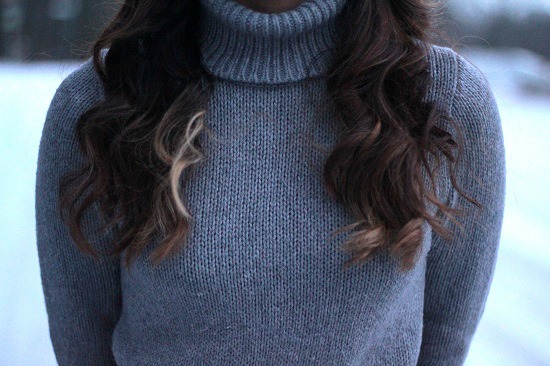 Turtlenecks are often mistaken for being difficult to wear, but Melanie demonstrates how anyone can pull of this look. Although she is wearing a skirt and tights, this gray turtleneck keeps her warm up top.
2. Patterned Tights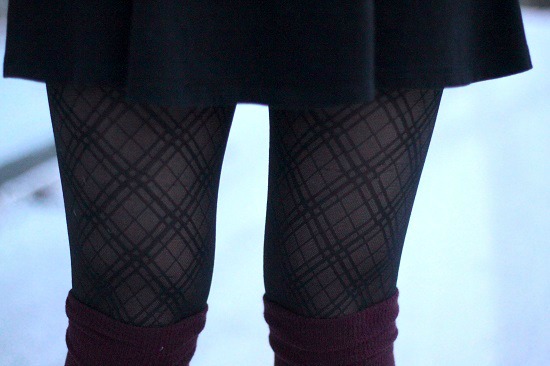 Tights are cute, but patterned tights are on a whole other level. The grid pattern on Melanie's tights add a little bit of decoration to her legs, plus the texture works with her simple outfit. Pulling knee-high socks up over her tights ensures that her legs don't get too chilly!
What do you think of Melanie's cozy outfit?
Would you wear her look? What do you think of knee-high socks over tights? Do you ever rock turtlenecks? Comment below and let us know what you think!