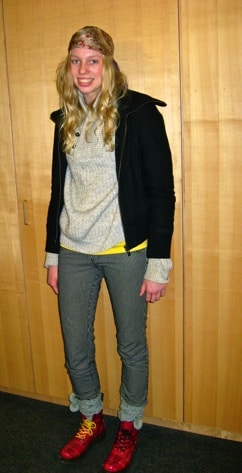 As I was walking into class, I couldn't help but notice Megan's plaid Dr. Marten's, which made a huge fashion statement. Not only that, but the laces were even different colors! I could tell Megan had a really unique sense of style, so of course I had to stop her and ask her all about it.
Meghan 101
Name: Meghan
School: Guelph-Humber University
Major: Journalism
Hometown: Toronto, Canada
Some more details…
Year in School: First Year
Hobbies/Interests: "Music – writing and playing the guitar"
Describe your style: "If I had to pick a style for myself, it would be bohemian."
Who/what inspires your style? "Jimi Hendrix inspires me; I really like the colors and scarves that he wore. I also like buttons."
Where do you shop/find clothes? "I like the go to second hand stores (Salvation Army) and thrift stores. I also like this independent store in Kitchener called 'Out of the Past.'"
Elements of Meghan's Outfit
1. Boots
Since it's winter time (and it's cold here in Canada), boots are a must! I liked the colors of Meghan's Doc Martens and how she added a fun twist with different shoe laces that complement the colors of the plaid. Dr. Marten's boots are hot right now, and Meghan wore them effortlessly in this outfit. I also loved her cute leg warmers which added a little extra protection from the cold air.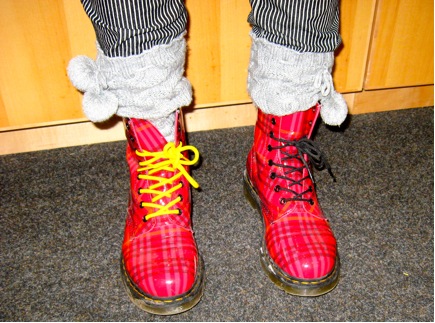 2. Scarf
I like how Meghan took this lovely silk scarf and wore it as a nice hair accessory. This scarf incorporates two hot trends: bright colors and bold patterns. The pattern itself is kind of girly and feminine, yet Megan found a way to add a little edge to the scarf by tying it the way she did.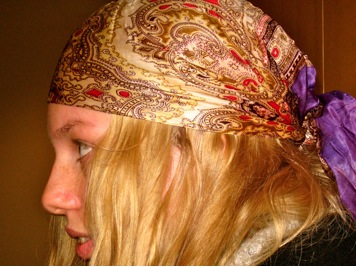 Looks Inspired by Meghan
Outfit 1:
Meghan's outfit was very eclectic and boho-chic with a foundation of street smart style. Meghan taught me it's about not being afraid to mix-and-match bold prints and colors together because taking a risk is what fashion is all about! Here's an outfit that emulates this fashion philosophy…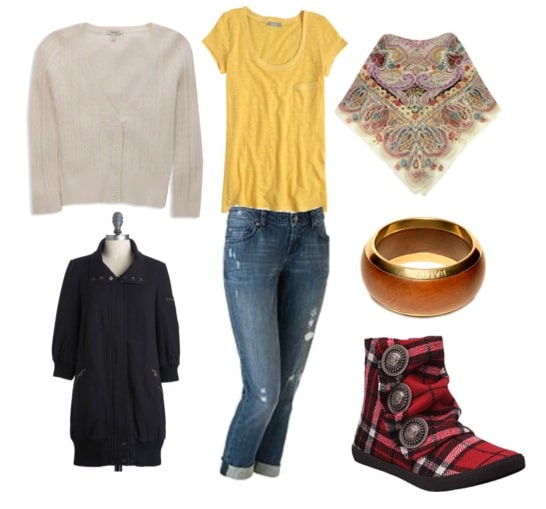 Product Information: H81 Cable Knit Cardigan- Forever 21, Knit Top- Delias, Mod/Retro Jacket- Modcloth, Blowfish Hiroshi Red Plaid Boots – Jildor Shoes, Oriental Print Chiffon Silk Square Scarf – Fozieri, Bangle- Luis Aviaroma, Lauren Conrad Boyfriend Jeans- Kohl's
Outfit 2:
This is another causal outfit inspired by Meghan. Here, we've featured a mixture of prints and fabrics. Additionally, there is a focus on layering and keeping warm.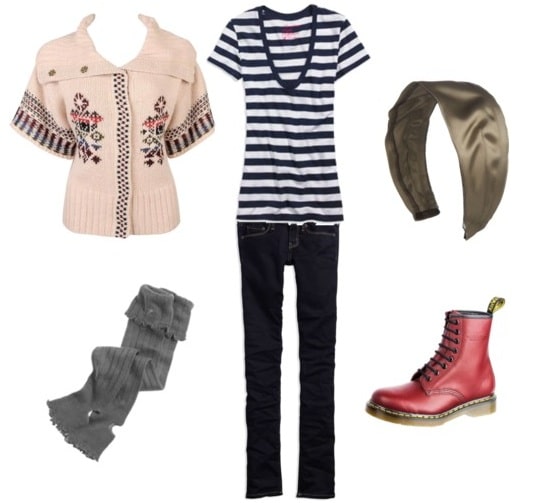 Product Information: Camille Sweater Cardigan- Forever 21, Striped Top- American Eagle, Skinny Jeans- American Eagle, Doc Marten's- DM USA Drugstore, Legwarmers- American Eagle, Headband- Barney's
What do YOU Think?
Meghan's style is definitely unique; do you agree? What aspects of her outfit make you the most inspired? Anyone else here sport Doc Martens? If so, how do you wear them? Let us know with a comment!