I was waiting in line at the school Starbucks one gloomy Monday morning when I spotted Megan, a dancer and a sales representative intern at Juicy Couture. Megan's pretty outfit really stood thanks to her accessories, which provided the right amount of color to add pop to the ensemble. Ready to learn more about her wardrobe choices? Read on!
Megan 101

Name: Megan
Year: Senior
School: University of Texas at Arlington
Major: Marketing
Let's Talk Fashion
Who or what inspires your style? "Jennifer Lopez."
Where do you like to shop? "I like to shop at H&M and Forever 21."
How would you describe your sense of style? "I like a lot of earth tones."
Why did you choose this particular outfit? "I had an interview this morning but I chose the accessories for a pop of color."
What fashion advice would you give to other students looking to improve their style? "Always wear three layers of clothing and accessories."
What are your favorite trends this season? "I love wedges and pops of color."
What are some of your favorite brands? "Steve Madden and Jeffrey Campbell."
What do you do for fun? Any unique hobbies or interests? "I love dancing, shopping, and hanging with friends."
If you could raid anyone's closet who's would it be and why? "Jessica Biel. She is classy chic, very put together, and always looks like she is going somewhere important."
What is one thing you can't leave the house without? "Bangles."
Elements of Megan's Outfit
1. A Pop of Color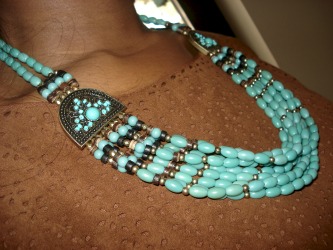 Megan's necklace is what initially caught my eye. The beautiful and vibrant color really stood out against the neutral colors of Megan's outfit while remaining true to her earthy and chic style.
2. An Everyday Accessory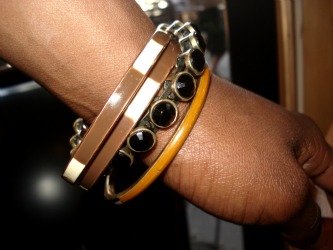 As Megan said in her interview, she never leaves the house without bangles – and with good reason! Bangles are an easy way to dress up an outfit. They can be fun or classy and can tie an outfit together. Megan's bangles tied her look together thanks to their complementary colors.
3. Subtle Shoes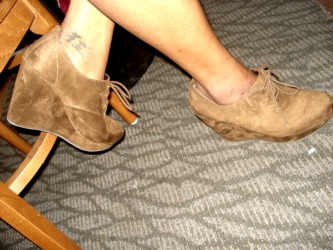 At first glance, Megan's shoes are subtle, but when you look again, you realize how amazing they are! A pair of neutral-hued suede wedges like these are a perfect choice for fall and offer an easy way to transition your wardrobe from summer to fall.
What do you think?
What do you think of Megan's style? How do you incorporate earth tones into your wardrobe? If you are wearing a neutral outfit, how do you accessorize with pops of color? Are you wearing wedges this fall? Let us know with a comment!