I met Megan just before school started at Resident Assistant training. From the first glance I knew her style was something special. She finds the perfect balance between comfortable, confident, and chichi in this European-inspired outfit. I just happened to catch her in the student union on Sunday where we were both avoiding the pouring summer rain!
Megan 101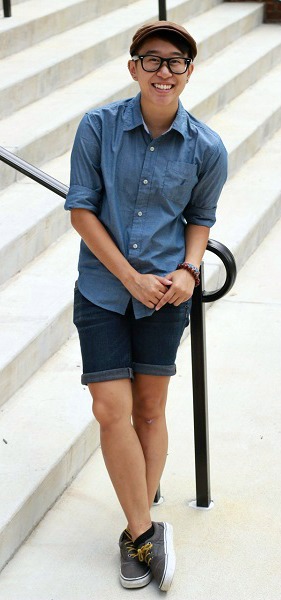 Name: Megan
School: University of Georgia
Class: Junior
Major: Marketing and International Business
Let's Talk Fashion
Who or what inspires your style? "When I was living in Spain this summer, I noticed lot of the Spanish women wore brightly-colored, printed, comfortable pants. While I was there I wanted to wear what the locals were wearing. Now, being back home, I try to make them a part of my style."
Where do you like to shop? "Normally I shop at Kohl's and I get a lot of my jeans from Delia's, H&M, and Express. For more professional clothes, I love going to White House Black Market."
How would you describe your sense of style? "I don't really have one particular style. Mostly I just get a bunch of random pieces that are unique and that I like. If I had to pick a label for it though, I'd say it would be a fusion of classic and bohemian."
What fashion advice would you give to other students looking to improve their style? "Always be comfortable and wear clothes that showcase your personality! Why would you want to blend in when you could stand out? Don't try to wear what everyone else wears, be unique."
What are your favorite trends right now? "I absolutely love it when girls wear dresses with Converse or Keds and throw a leather jacket over it to tie the outfit together. It really plays off the sweet and tough vibes from each piece."
Do you have any favorite fashion designers? If so, who? "Michael Kors because he keeps it classy and his entire collection is just really pretty. Also, Rock and Republic [at Kohl's] because it has classic pieces that have an edge to them. Betsey Johnson's jewelry because she incorporates a lot of nature and colors and every piece is crazy and fun! Minnetonka moccasins as well, because they go with my bohemian style."
What do you do for fun – do you have any unique hobbies or interests? "Yoga, painting canvases, and cooking international cuisine – but my favorite thing to do is travel."
If you could raid anyone's closet, who would it be and why? "I would definitely steal Anne Hathaway's closet from The Devil Wears Prada. I love all of her edgy business outfits because I love dressing up like that! But definitely after she gets the job, not the frumpy ones she wore before."
Elements of Megan's Outfit
1. Silver Accents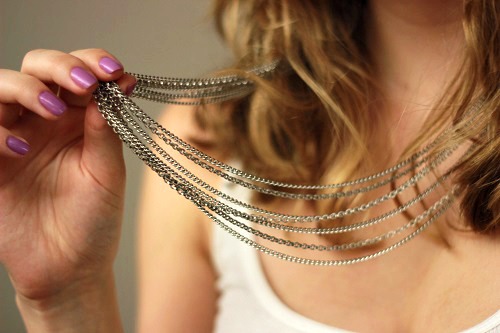 The tones of Megan's shimmery necklace complement the silver accents in her pants. This necklace was passed down from her grandmother and, depending on the vibe Megan is going for, it is a piece that can add both edge and sweetness to any outfit. The necklace's simplicity also leads the eye to her phenomenal black-and-white pants.
2. Cinched Waist and Pockets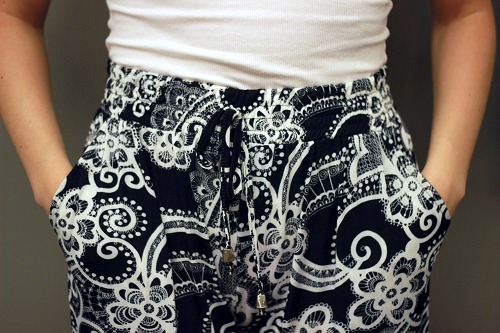 These pants, found in a small boutique in Spain, pack both a huge style punch and disguised comfort. The high, fitted waist highlights Megan's slender frame and draws attention to her slimmest part. Having pockets is simply a plus; Megan can be comfortable and casual wherever she goes and doesn't need a purse to distract from the rest of her outfit.
These pants truly match her bohemian vibe, but with a classic twist. They are loose and flowy with a bold pattern, yet the timeless black-and-white coloring keeps them from being too loud.
3. Classic Sandals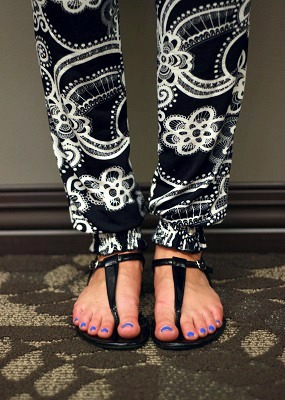 Megan once again keeps her look classy with these strappy sandals from Kohl's. Leaving her feet exposed, these sandals almost give off the impression that they are an extension of the pants. We think they give the entire outfit a cohesive, put-together look.
What do you think of Megan's bold pants?
Do you love Megan's classic yet bold style? Do you ever wear patterned pants? What do you think of her necklace? Let us know your thoughts in the comments section below!