As one of the many Bucknell students who hail from California, Megan travels several thousand miles to share her fashion sense with her fellow Bucknellians.
I remember receiving my roommate assignment prior to the start of freshman year, reading her name, and immediately seeking out her social media profile. When I learned of her west-coast roots, move-in day became substantially more exciting – I desperately hoped that she would share her closet full of summery, effortless clothes with me. Four years later, I still borrow Megan's clothes regularly (and vice versa), and I could not be more grateful for her friendship… or her open closet policy!
Megan 101
Name: Megan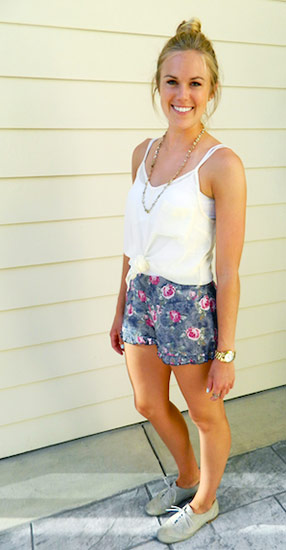 College: Bucknell University
Hometown: Westlake Village, CA
Majors: Economics and International Relations
Activities on Campus: Varsity Soccer and Microfinance Initiative of Bucknell
Hobbies: Running, yoga, hiking, traveling, eating
Year: Senior
Let's Talk Fashion
Where do you shop? "I often shop online, since there aren't many places to go near school. Two sites I especially like are Asos and NastyGal. At home, I like shopping at little boutiques around my town, as well as at Nordstrom and Urban Outfitters. Also, I pretty much love anything from Free People."
Who or what inspires your style (celebs, bloggers, designers, friends)? "I love Pinterest! It's such a great way to find whole outfits from people with differing personal styles. I'll admit to looking to celebrities for inspiration as well, especially since so many live in the LA area, where I'm from."
How did you choose this outfit? "It was based on a desire for something loose and flowy, since it's so hot out right now. The sheer top was perfect for this. I love all the sheer garments that are so plentiful in stores right now. I bought these shorts on winter break – they're a fun piece because they actually incorporate two different prints: polka dots and florals. I thought they would pair nicely with the gauzy top without looking baggy or unkempt."
How would you describe your personal style? "My personal style is pretty casual in general – I think that has to do with being brought up in Southern California, where it often feels like summer year round and people are pretty laid back. Aside from that, I just wear what I like!"
What are your favorite trends for the summer? "I love maxi skirts, cutoff shorts, and flowy tanks for summer, especially when paired with eclectic jewelry. I have a long string of turquoise beads someone brought from Brazil for me that I love. I also love mixed patterns."
What is the biggest fashion faux pas you've committed? "During freshman year, I had a habit of wearing my Bucknell Soccer gray sweatshirt with gray man-sweatpants. I did that gray-on-gray combination a little too often!"
Favorite item in your closet right now? "I have this loose knit tan pullover sweater from Willow & Clay that I wear all the time — it's light, so it's perfect for summer and goes with just about anything."
If you had a blank check to buy one fashion item, what would it be? "Probably a pair of black patent pointed Louboutin heels. I'd want to spend it on something I could use forever."
What fashion advice would you give other students looking to develop their style? "If you keep your eyes open – even just walking around your hometown or your campus – the people around you can provide inspiring examples of many different styles. I'd also urge people to think outside the box! Don't rely on what seems comfortable or usual in putting outfits together – take a risk."
Elements of Megan's Outfit
1. Knotted Silk Pocket Tank & Chain Necklace
Megan's pocket tank is a great wardrobe basic, an easy choice for layering or standing alone. The knot at the bottom adds a little extra character, giving the sense that the wearer casually threw on the top and tied it up for a quick stroll on the beach. Gathering the fabric this way also exposes the high-waisted rise of the shorts, while showcasing their trendy details.
Megan chose a linked chain necklace from J.Crew to accent the top and bring attention to her face. The links alternate between circular and rectangular shapes, with small, clear stones at the center of each link, providing eye-catching glimmer.
2. Ruffled Tap Shorts & Grey Oxfords
The ruffled hem is a darling addition to these shorts, amplifying the feminine vibe of the floral print. Also, the loose cut of Megan's tap shorts makes them a great way to show some leg without veering into trashy territory.
Megan's grey leather oxfords were a purchase from Spain, bought during her study abroad session. Grey is a perfect neutral that complements many different color palettes, especially the blues and pinks in Megan's shorts. Oxford flats or brogues are a great alternative to sandals in the summer, adding a classic, tailored quality to an outfit.
3. Marc Jacobs Watch & Mint Nail Polish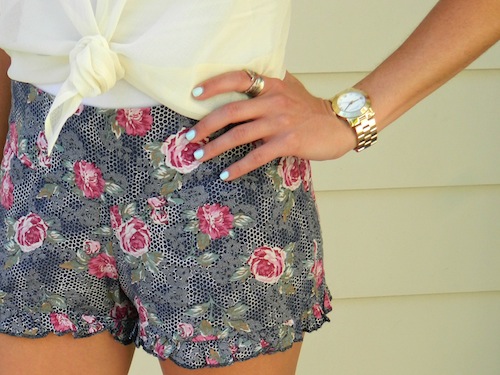 Megan's go-to accessory is her gold wristwatch. If your favorite watch is gold like Megan's, don't be afraid to wear it with silver jewelry as well. Mixing metals creates an intriguing, eclectic look.
Megan finished her outfit with a mani in mint green, a hue that pairs well with the soft, feminine colors of her clothing. To copy Megan's nail color, try Essie's "Mint Candy Apple."
Share Your Thoughts!
What do you think of Megan's outfit? Are you drawn to her laid-back California style? Are you rocking mint green nails this summer? What about lace shorts? Let us know with a comment!