As part of my constant search for fashion inspiration (a.k.a. the best procrastination from summer classwork), I'm always on the lookout for new personal style bloggers to follow — especially those from around my area. I stumbled across Sealed With Style and after scrolling through the first few images, I knew this blog was an immediate favorite of mine and that I have definitely seen the face behind those sassy, cat-eyed sunglasses before. After clicking the about page, I found that the writer was Meaghann, one of the girls I used to dance with in high school!
After years of having seen her in a leotard and tights, I was completely blown away by her natural ability to turn everyday pieces into spectacular outfit combinations. So, not only did we get the chance to catch up, but I got the chance to show you guys one of the most trendy girls I know, who always accessorizes with a vibrant smile.
Meaghann 101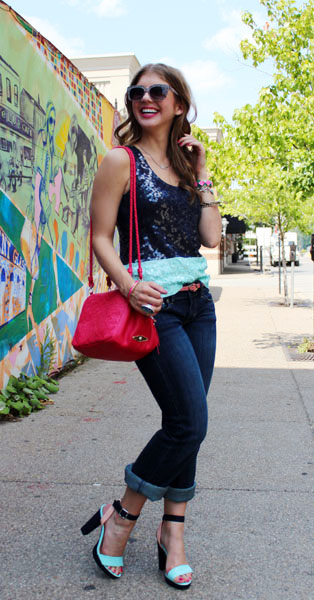 Name: Meaghann
School: Pennsylvania State University
Year: Junior
Major: Business Marketing and Management
Hometown: Pittsburgh, PA
Favorite hobbies & interests? "You can catch me almost every day shopping, hanging with friends and family, taking morning runs, or posting and writing for my personal fashion blog titled Sealed With Style. I love all things fashion and starting a fashion blog has really changed my life in the best ways! I am always searching for things that inspire me, especially in the city of Pittsburgh."
Let's Talk Fashion
What sparked your interest in fashion? "Ever since I was a little girl, I have always been fascinated with fashion, whether I was dressing my Barbies in gorgeous gowns or designing my own clothes. I wore a uniform in grade school and high school, so fashion was something I wanted to do the minute I came home from school. Throughout the years, fashion has become a part of who I am, and my love for it continues to grow."
Describe your personal style: "Where to begin? My personal style is a little bit of everything in one! I would say it is mostly classic, but with a little edge. The cool thing about fashion is that you can wear a classic, preppy look one day and the next morning you could wake up wanting to wear an edgy spiked necklace and black booties. It's like playing dress up every day for me, and that makes it all the more fun!"
Favorite places to shop? "Oh, this list could go on for pages! I love American Eagle Outfitters, H&M, ModCloth, Asos and Forever 21 when I need a cute, inexpensive necklace or pair of colored jeans — college girl on a budget. When shopping for more long-lasting, staple pieces, I look to J.Crew; they have the most gorgeous knits and prints. Macy's and Anthropologie are also perfect when I am looking for shoes and accessories."
What would you say is a wardrobe essential, something every girl should have in her closet? "For a college girl, boyfit crops, like I am wearing now, are perfect because they are comfy for sitting in class, (no sweats!) but also on trend and fashionable! Also, jobs and internships are very important at this time, so it is very handy to have a well-fit pencil skirt and blazer in your closet."
Who or what inspires you to wear what you do? "As a personal style blogger, I look at many other bloggers for inspiration and ideas. However, I am most inspired by the city of Pittsburgh and people on the street. I look for the details that people have on, and try to create my own look from them. My family and friends also inspire me every day. My two adorable sisters are also so stylish so it's fun to collaborate and create looks that we love."
What are your favorite trends right now? "I love color blocking! I used to always wear black, white, and grey, and now I can't get enough color! I also love colored jeans, crazy prints and peplum. Peplum shirts are a girl's best friend when enhancing curves. And ikat print is super in for summer right now, too; so bohemian. I love it!"
What fashion advice would you give to students trying to develop their own looks? "The best fashion advice I can give to anyone is to be true to yourself and wear what you love! I've learned throughout the years that you have to feel comfortable and confident in what you are wearing. Wear what you want, not what others tell you to wear. Start your own trends; and a smile is always fashionable!"
Elements of Meaghann's Outfit

1. Statement Sunglasses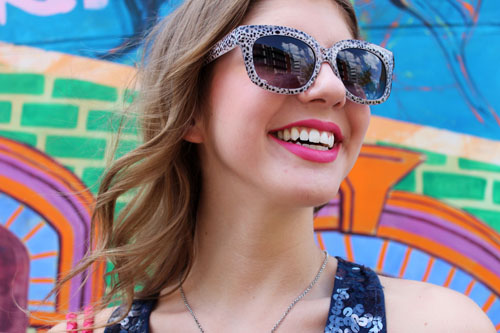 In the hot summer sun, you're not going to want a big statement necklace or chunky earrings to weigh you down. Play up your sunglasses with a funky shape or print like Meaghann's leopard for a practical and fun way to pull focus to your face.
2. Mixed Match Bracelets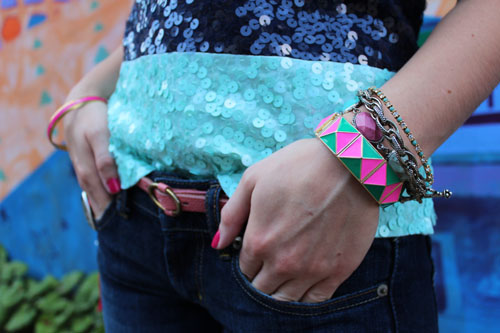 Meaghann's intentionally uncoordinated stack of bracelets really make the look her own. Things don't have to be exactly the same matching hue to work.
3. Pops of Pink
The pink accents added in Meaghann's nails, bag, bracelets and lip color are both bright and polished, tying her look together instead of breaking it up.
4. Boyfriend Crop Jeans
It's not easy to pull off hot pink, heels and sequins without feeling like Barbie, but Meaghann balanced them all out perfectly with her boyfit cropped jeans. The casual cut made her look versatile for class or a day out with friends and can easily be swapped with dressier bottoms to change up the look.
5. Color Block Heels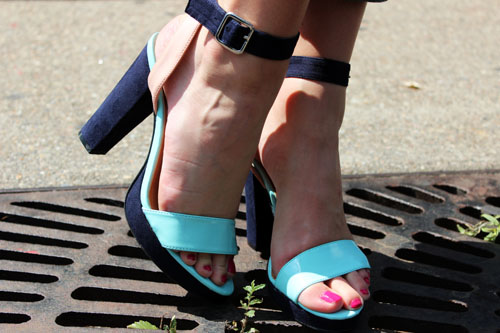 I know I've had my eye on these babies from H&M, too. Their simple structure and on-trend colors are sure to add a few extra inches (five perhaps?) to any outfit's wow factor.
What do you think?
Do you love Meaghann's look as much as we do? What color do you like to throw in as an outfit accent? Do you have a personal style blog or are you thinking of starting one?Let us know in a comment!