I ran into Maya while walking to my philosophy class the other day, and was instantly swooning over her effortlessly collegiate style and long ombré hair. Besides the fact that she is absolutely gorgeous, Maya always happens to look very put-together for class without being overdressed. She has mastered the art of simple style, and her look below is no exception.
Maya 101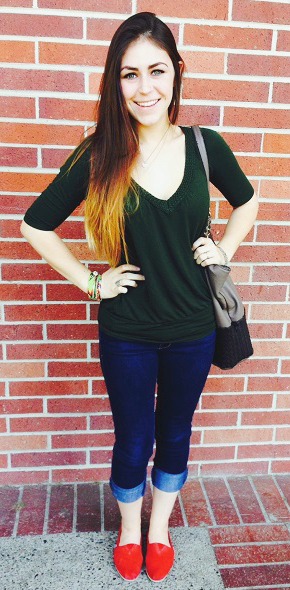 College: Sonoma State University
Year: Sophomore
Hometown: Santa Rosa, California
Major: Undecided
Hobbies/Interests: Traveling, hiking, swimming, rock climbing, hanging out with friends
Let's Talk Fashion
Who or what inspires your style? "My friends, my sister, and the weather!"
Where do you like to shop? "As I have gotten older, the less I shop. I find myself trying to make new outfits out of the clothes I have or I raid my sister's closet. But, of course, I don't always have what I need, and who doesn't love buying new clothes?
I spend most of my money on jeans. I can spend hundreds of dollars on one pair of jeans, but find it very hard to spend $20 on a shirt. I love little boutiques mostly. My favorites are Liv, Ooh La Loft, Punch, and other little shops."
How would you describe your sense of style? "I don't have a set style. I wear how I feel that day: girly and light, dark and sharp, tree-hugger and flowly, tight and sexy. But most of the time I like to be comfortable."
Why did you choose this particular outfit? "I chose this outfit because I was running late for class, so I needed something comfy and easy. I needed something that was simple but had some pops of color. I also needed something a bit cooler because it was hot. Like I said, the weather is my inspiration!"
What fashion advice would you give other college students? "I would say to be yourself and feel comfortable and confident. As you walk out of your house you should not be thinking about your clothes, but [instead think about] what you're going to do for the day. Your outfit should be an expression of your feelings and they shouldn't hold you back. Go through your closet and mix and match things; reuse all your clothes! You'd be surprised how many different outfits you can find."
What are your favorite trends? "Trends are something I don't go out of my way or even mean to follow. I just tend to look at the people around me and when I notice something I like, I remember it and often find myself creating a similar look! I love flowy shirts with tight jeans and boots with a scarf and lots of jewelry."
Who are your favorite fashion designers? "I honestly don't know many designers expect for jeans! Being a broke college student I can't really afford to look at them! And when I do find myself flipping through channels on the TV and come across a fashion station, I think most of the outfits the girls are wearing as ugly!"
What do you do for fun? "I love to eat amazing food with my friends [and] go down to the river or to the ocean. I love to go up to my family ranch with my dog and go on hikes."
If you could raid anyone's closet who would it be and why? "I would raid the owner of Ooh La Loft's closet because she has access to so many different clothes!"
Elements of Maya's Look
1. Deep Green Braided Top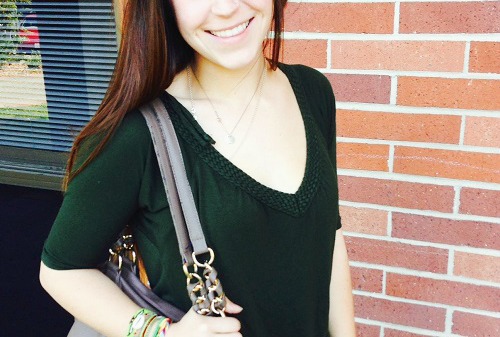 The first thing I noticed about Maya's top was the way the beautiful dark green hue brought out her gorgeous green eyes. Her shirt also has a stylish little braided detail around the neckline – it made an otherwise casual top really stand out.
2. Stacked Bracelets and Two-Toned Purse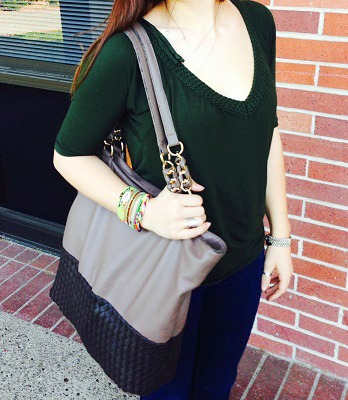 Here in Northern California, funky jewelry is a very popular way to tie an outfit together. Maya was telling me how she loves to go to the little boutiques near campus and pick up inexpensive jewelry to layer and stack.
Maya's purse is the perfect size for hauling books, a laptop, and all of her classroom essentials The combination of gray and black makes this bag ultra-versatile, while the mixed textures add interest.
3. Ombré Hair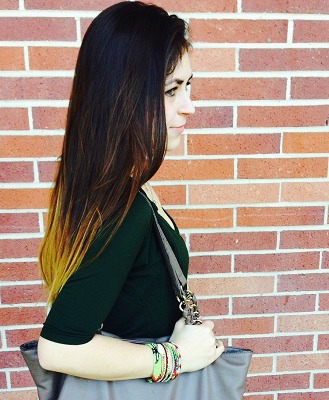 It's impossible not to notice Maya's gorgeous and healthy ombré hair. Maya attributes her luscious locks to Pureology's shampoo and deep conditioner, which she uses once a week for twenty minutes. She also occasionally uses warm coconut oil to deep condition those beautiful ends!
What do you think of Maya's on-the-go look?
Too casual, or just right for a casual day of class? Do you love her ombré hair? Do you wear bright TOMS? Let us know what you think by leaving a comment below!