I caught Matt heading to a live outdoor music event at St. Louis's Botanical Gardens. I was drawn to his bold pink backpack and use of bright colors. I loved that he wasn't afraid to wear floral, which really stood out on this rainy day.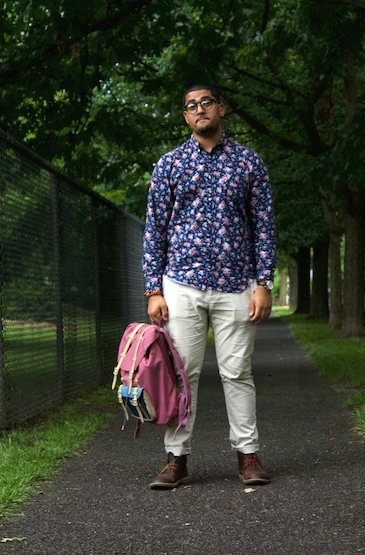 Matt 101
Name: Matt
School: South Western Illinois College (SWIC)
Major: English
Let's Talk Fashion
Who inspires your style? "Kayne West."
Where do you like to shop? "Gap, J. Crew, Clarks, and H&M."
How would you describe your sense of style? "Soft menswear [and] preppy."
Why did you choose this particular outfit? "I love florals and it went well with the off-white pants. The watch and bracelets are usually a staple of mine."
What fashion advice would you give to other students looking to improve their style? "Try new things!"
What are your favorite trends right now? "Florals and colorful pants. R.I.P., my favorite red pants."
Do you have any favorite fashion designers? "Rick Owens and Kitsuné."
What do you do for fun? Do you have any unique hobbies or interests? "Reading and hanging out with friends."
If you could raid anyone's closet, who would it be? "Kanye!"
Elements of Matt's Outfit
1. Backpack + Classic Clarks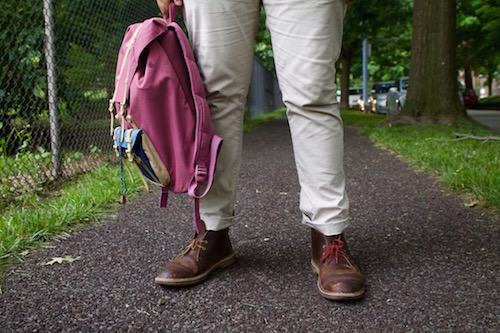 Matt's salmon-colored Herschel bag plays up his already vibrant outfit. You'd assume the pink would be too much for this look, but Matt dons it with style. His footwear choice is flawless; he sticks to his professional roots by wearing neutral-colored Clarks.
2. Glasses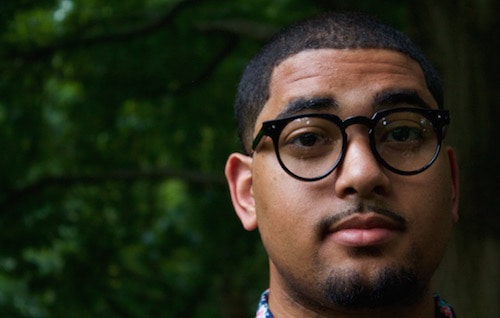 These circular, dark-rimmed glasses add a trendy flair to Matt's prep-inspired style. These frames are hip and refined, and there's no doubt about it: Matt really pulls them off.
3. Floral Print Button-Up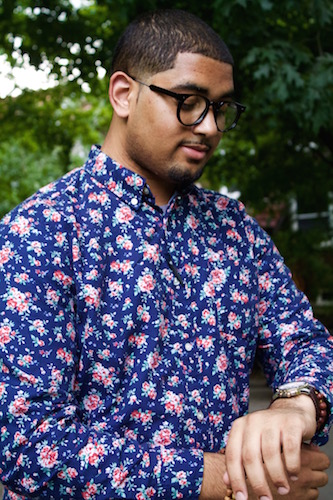 I'd be amiss if I didn't mention the most fabulous part of Matt's look. This energetic and bright floral print really amps up a classic oxford shirt. He rocks this bold pattern like a pro.
What do you think of Matt's style?
Do you love his pink backpack and floral shirt? Comment below and let us know!