Marissa and I are in the same sorority pledge class and each time I see her at an event, she always looks so stylish and put together. Today when I ran into her wearing this adorable and fashion forward '90s-inspired outfit, I knew she would be perfect candidate to be featured for Looks on Campus.
Marissa 101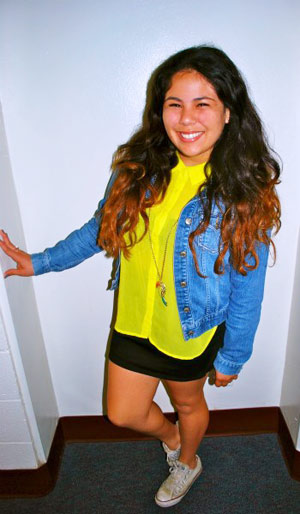 Name: Marissa
Age: 18
College: Loyola Marymount University
Year: Freshman
Major: Undecided
Hometown: Los Angeles, CA
Let's Talk Fashion
Where do you like to shop? "I don't like to spend too much money so I stick to places like H&M, Forever 21, Target, and Old Navy. Also, Downtown LA has a really cool fashion district, especially Santee Alley where the clothes are really cute with a huge variety but super cheap."
How would you describe your sense of style? "For 12 years, I wore a uniform and I would always try to show my individuality by wearing statement accessories. Now that I can wear whatever I want, I like to stick with comfortable outfits, especially when I go to class. But for the most part, I would say I'm a mix of preppy/boho/classic. I love neutral colors and classic pieces which gives me a real simple vibe but I love to mix things up with a cool necklace or ring."
What fashion advice would you give to other students looking to improve their style? "I think the most important thing to have while wearing any outfit is confidence. If you think you look great and you walk with a sense of poise, you'll exude that vibe to everyone who sees you. You can't please everyone with every outfit but if you like what you're wearing and how you look then other people's opinions shouldn't matter."
What are your favorite trends right now? "For spring, I'm really loving neon colors, especially when color-blocked. After a long fall, it's nice to see all the pops of color. I'm also kind of in love with peter pan collars – they're so classic and preppy."
If you could raid anyone's closet, who would it be and why? "Definitely Lauren Conrad or Ashley Madekwe. Lauren is always on point with every trend and has an impeccable style from head to toe. Ashley is just adorable – I love that her outfits always look so effortless, yet perfectly put together. It's a real talent. I'm absolutely in love with her blog, Ring My Bell. She even looks great in her show Revenge!"
Who or what do you take fashion advice from? "I love People Style Watch. The magazine is so practical and tells you exactly what you need to know about trends! I'm absolutely obsessed with it. I also keep up with blogs such as Cupcakes and Cashmere and Sincerely, Jules."
Elements of Marissa's Outfit
1. Sheer Neon Blouse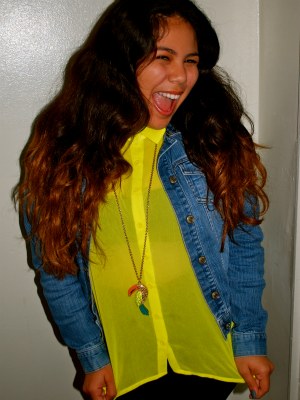 I love how Marissa rocks neon yellow, because it really lights up her face and mimics her fun personality. In addition, neon is really popular for spring and because Marissa's blouse is in a classic style, the fun color isn't overwhelming.
2. Statement Necklace and Matte Nails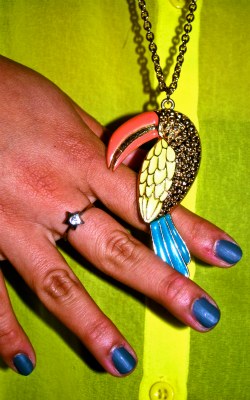 Marissa's bird necklace is so cool! Bird-themed accessories are super trendy right now, and her necklace matches perfectly with her bright top and adds something extra to her outfit. By pairing such a bold piece with some matte nails and a simple ring, Marissa looks polished and put together – not tacky.
3. White Converse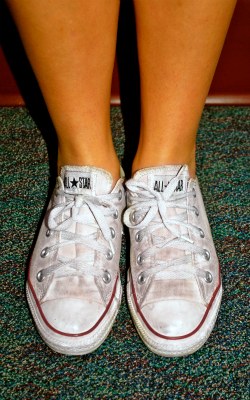 Marissa's white Converse bring back an element of retro cool into her outfit. They're a total classic, and when paired with her denim jacket, they allow her to own this summer's '90s revival trend. White sneakers are also super comfortable and can be worn in so many ways!
What do you think?
What do you think of Marissa's outfit? Have you incorporated neon into your spring wardrobe? What unique accessories do you wear? Let us know with a comment!