The weather is starting to warm up here in San Luis Obispo and many students are breaking out their favorite summer pieces. Marissa was definitely taking advantage of the sunny weather with her cute shorts-and-t-shirt combo. She made a casual outfit look so put-together and made it perfectly appropriate for the changing weather. This look is the best of both worlds: it blends the comfort of jeans and a tee, with the style of a fashionista!
Marissa 101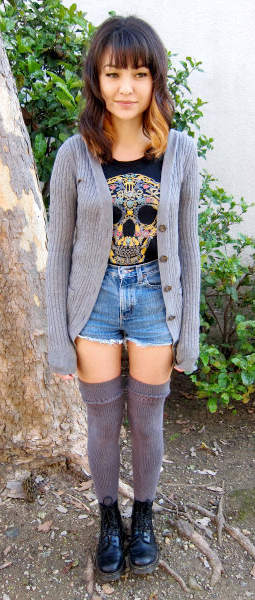 Name: Marissa
School: California Polytechnic State University at San Luis Obispo
Major: English
Year: Sophomore
Let's Talk Fashion
Who or what inspires your style? "My style is rocker-inspired. I don't usually wear very bright colors; I've always worn more of the darker shades."
Where do you like to shop? "Lately, I've been doing a lot of thrifting just because I don't have that much money. But ideally, H&M because they have cool stuff and it's reasonably priced. I also like Urban Outfitters, but it is way too expensive so I try to avoid it. I also like shopping at all of the boutiques downtown."
How would you describe your sense of style? "It's kind of…messy? But I think it works. In the past I haven't had the greatest sense of style. But I've started to figure out what works on me, what I like, and how to put it together in a way that is flattering."
Why did you choose this particular outfit? "I really wanted to wear these shorts because it's been nicer out. But I didn't want to be too cold so I wore the thigh-highs. I haven't worn this shirt in a long time and I really like it so I decided to wear it, too. And I literally wear these boots every day. They are like my favorite thing in the world!"
What fashion advice would you give to other students looking to improve their style? "I think you just need to learn how to dress to your best potential. Dress for your body type, no matter what it is. I used to have a hard time with that in the past. But once you get into that zone where you know what looks good on you, it's pretty easy."
What are your favorite trends right now? "I like thigh-highs a lot and I've always loved boots. I've gone through so many pairs of boots! I think they are essentials."
Do you have any favorite fashion designers? "I love Alexander McQueen's dresses. Obviously, I don't own anything similar, but I love looking at them. I found this book at Urban Outfitters that has pictures of all of his dresses! I love the colors and how cool they look."
If you could raid anyone's closet, who would it be and why? "Alexa Chung. I like her style a lot. She wears lots of button-ups, nice collars, cardigans, shorts, and dresses. I don't wear dresses that often but I still think it looks cool."
What do you do for fun? Any hobbies or interests? "I am a very avid TV show-watcher. I like New Girl, Parks and Recreation, The Office, Sons of Anarchy, and Game of Thrones. I also like to paint and play violin."
Elements of Marissa's Outfit
1. Jean Cutoffs

Marissa's thrifted shorts are very on-trend with their high waist. This silhouette is flattering for many different body types since it cinches the waist and creates an hourglass shape. Because of the classic denim material, these shorts are comfortable and can be used to create many different looks.
2. Thigh-High Socks and Combat Boots

Marissa's socks are a fun statement accessory that allow her to wear shorts while still keeping her legs warm. The cool combat boots complete her rocker chic look and are perfect for navigating the school's hilly campus.
3. T-Shirt and Cardigan

Marissa uses her knit cardigan to make her t-shirt more winter-appropriate. The printed skull on her shirt adds a pop of color and pattern to her outfit.
What do you think?
What do you think of Marissa's outfit? Do you find great pieces while thrifting? How do you feel about thigh- or knee-high socks? Let us know with a comment!