Although here at Duke, it is right after Fall Break, most people are still running around as frenzied as ever. Not only that, but Durham had a typical wishy-washy weather day recently: cold and rainy one hour and warm and partly cloudy the next.
However, college fashionista Marisol's fresh look was a bright ray of sunshine amongst the dreary crowd of sweatpants, Uggs, and leggings on campus. I had to ask her about her chic yet comfortable-looking style and here is what she had to say.
Marisol 101
Name: Marisol
Class: Sophomore
Major: Psychology
How do you stay stylish during fickle weather? "Well first of all, I refuse to wear rain boots. So I have my sturdy shoes on that work well. I also wear lots of layers. If need be, I can strip down to my tanks and be comfy."
Where do you shop? "In particular I like Charlotte Russe for accessories, Forever 21 for trendy pieces, and Express for good jeans. I also make many of my clothes. This cardigan used to be a shirt! When it was a shirt I thought it was a tad too short and awkward, but the color and patterns were too nice to throw away, so I cut it down the middle!"
Why did you choose this particular outfit? "A good outfit is always a little risky. My fear of combining patterns was a huge hurdle for me to jump over, but I like doing it now, so I did it today. I also now like to pair my fall colors with other things in my closet to get more wear out of them. I have peach in both of my tank tops – it is subtle, but it warms up my outfit."
Elements of Marisol's Style
Statement Accessories: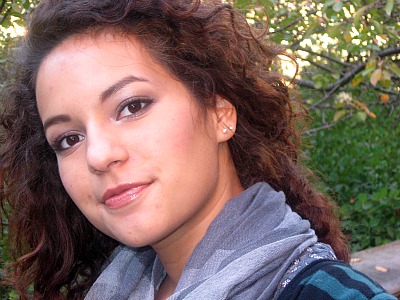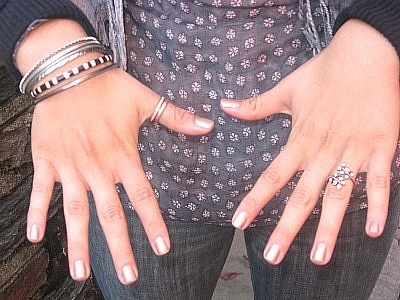 Marisol made a statement by adding simple makeup and some key accessories to her basic ensemble of jeans, layered tank tops, and a cardigan. Her studded earrings added more pop to her face and highlighted her natural-looking makeup, while her wallet, rings, bracelets, and nail polish added more color, shimmer, and shine to her mostly dark ensemble.
Mixed Prints: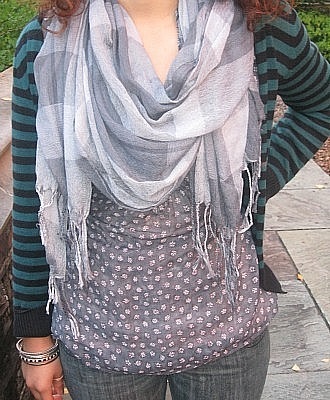 I loved that Marisol was brave enough to rock mixed prints, one of the latest fashion trends for fall. Her checked scarf and outer tank top both incorporate shades of gray which made them go together. And, as said before in the previous CF article on the mixed prints trend, Stripes + Florals = Love. Although her cardigan and tank top didn't match in color, they still looked fabulous together.
Alternative Rain Boots: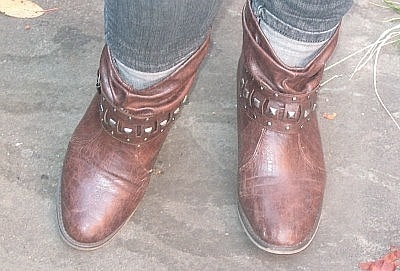 I loved Marisol's studded leather ankle boots as an alternative to your typical neon rain boots because they not only looked great with her outfit, but they were functional too, keeping her dry all day.
Share Your Thoughts!
Do you like the way that Marisol dresses for crazy weather days? Would you rather wear rain boots or normal water-resistant shoes on rainy days? Are you brave enough to mix prints? Share your thoughts and let us know with your comments below!