Meet Marina! Spotted in the student center after a long day of classes, her bright attire caught my eye. Although she claims she doesn't pay much attention to fashion and trends, it is clear she cares a lot about looking great. Marina presents a very positive, well-dressed image to her peers.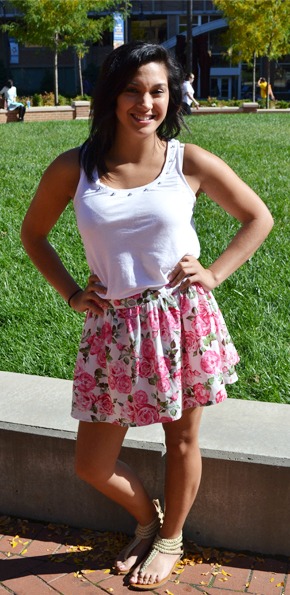 Marina 101
Name: Marina
Year: Junior
Major: Occupational Therapy
Let's Talk Fashion
Who or what inspires your style? "My roommate, because she majors in Fashion Merchandising and I love her style."
Where do you like to shop? "Forever 21 and Express."
What do you do for fun? Do you have any unique hobbies? "I like to hang out with friends, [go] running, and go to the movies."
What are your favorite trends right now? "I am really into skater skirts right now."
What fashion advice would you give to other students looking to improve their style? "Don't think too much! Just go with what you like and that's all that matters."
Do you have any favorite designers? If so, who? "I honestly don't know much about designers specifically; I just like certain styles of clothes."
How would you describe your style? "Very typical girly! I love pink dresses and skirts. Dressing up is always my favorite."
Why did you choose this particular outfit? "The weather was nice and I really love this skirt."
If you could raid anyone's closet, who would it be and why? "Kim Kardashian, because I love the clothes she wears."
Elements of Marina's Outfit
1. Floral Print Skirt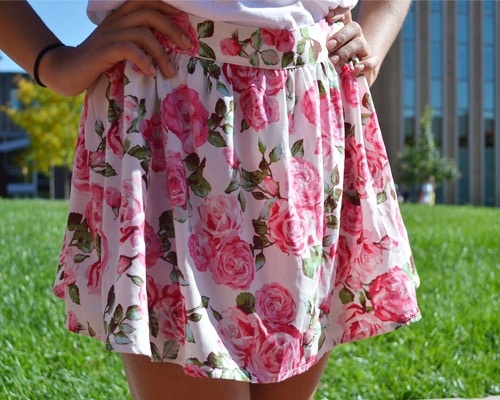 The weather on campus for the past few days has been cold and dreary, but today's warmth was a pleasant surprise. Marina took full advantage by rocking a bright pink floral skater skirt. The length was perfect for a day around campus and the girly print made quite the stylish statement.
2. Studded Top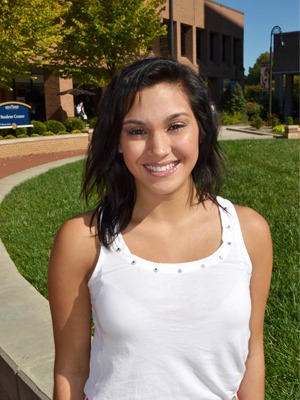 Marina's casual white tank looked great tucked into her bold skirt. The studded detailing around the collar adds additional flair without competing with her skirt.
3. Gladiator Sandals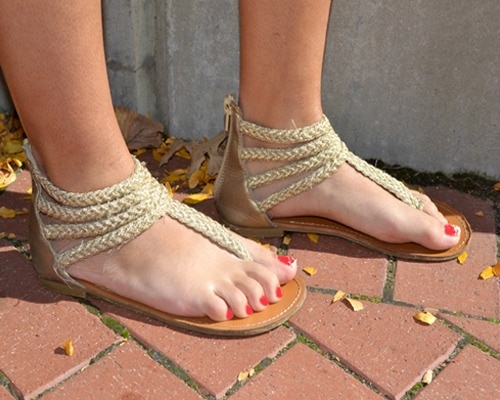 These golden gladiator sandals brought Marina's entire look together. The braided straps look so chic. In fact, these sandals look more like accessories than footwear!
We want to know what you think:
Do you like Marina's warm weather style? What do you think about her bold floral print skater skirt? Are you loving those sandals as much as we are? Let us know your thoughts in the comments!