According to Mariana, who attends college in Rio de Janeiro, "People go to class in shorts and flip-flops, and bikini straps are a common sight," because students are ready to leave for the beach as soon as class is done. However, when I met with her in our hometown, São Paulo, where the weather is a little cooler, she rocked a very classy, business-like outfit that rings true to her personality.
Pairing her black-and-white blazer with a black satin blouse and burgundy trousers, Mariana's outfit serves as inspiration for those looking for a polished ensemble. Whether it's an internship, a job interview, or a business day at school, there are many opportunities for college students to dress up.
Mariana 101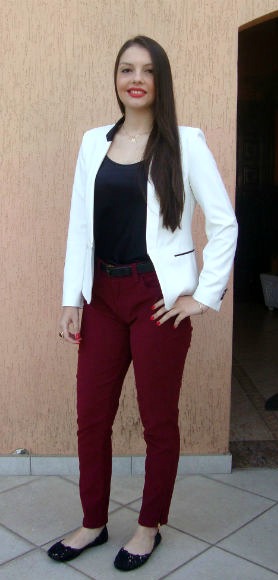 Name: Mariana
College: Universidade Federal do Rio de Janeiro (Federal University of Rio de Janeiro)
Hometown: São Paulo, Brazil
Major: Law
Age: 20
Year: Sophomore
Let's Talk Fashion
Who or what inspires your style? "Actors and actresses in movies."
Where do you like to shop? "A Brazilian store called Handbook."
How would you describe your sense of style? "[I have a] classic sense of style."
Why did you choose this particular outfit? "For my mother's birthday celebration."
What fashion advice would you give other college students? "Always [have] good fashion sense and wear what makes you feel comfortable."
What are your favorite trends? "Colorful pants!"
What do you do for fun? "I play sports for fun. My favorite one is basketball."
If you could raid anyone's closet who would it be and why? "I would have Angelina Jolie's closet because she is always elegant and always looks comfortable with what she wears."
Elements of Mariana's Outfit
1. Gold Jewelry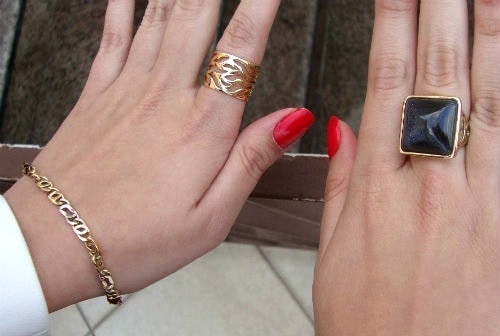 The gold jewelry Mariana chose adds a touch of glamor and sophistication to her look. She paired the gorgeous patterned bracelet and ring with a faux stone ring for a mix of bohemian and cosmopolitan styles.
2. Cutout Shoes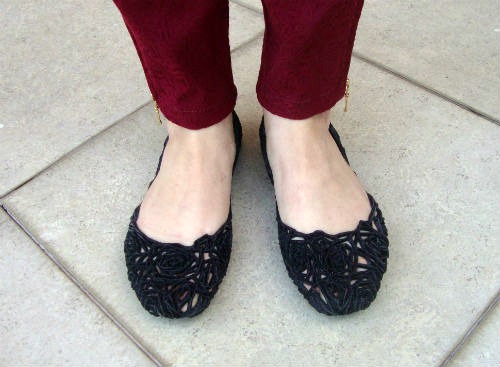 Mariana kept her look grounded with these dainty black flats. Despite their color, they are a far cry from the classic black flat! This pair has a delicate floral cutout pattern, which adds a feminine vibe to her outfit.
What do you think of Mariana's business look?
Would you wear this outfit to an internship? Do you love her pretty flats and delicate jewelry? What do you wear to keep professional during summer? Let us know what you think!