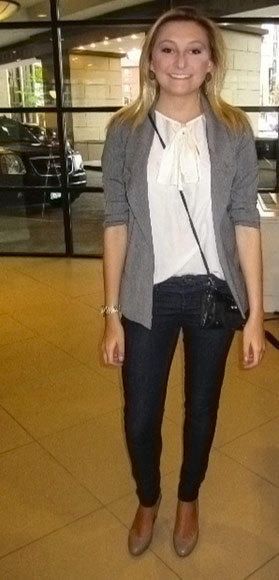 What first grabbed my attention about Mari's outfit was her footwear. Then slowly, I began noticing other great details about her outfit. I knew I had to talk to her after I spent the entire class wondering how she pieced together her look. Fashion is all about making your outfit choices unique to you and Mari certainly accomplishes this.
Mari 101
Name: Mari
College: University of Iowa
Class Standing: Junior
Major: Communication Studies with a minor in Japanese
Let's Talk Fashion
First and foremost, where did you get your shoes? "I love Rachel Comey boots, but I wanted to find something cheaper. I used Zappos to find these Dolce Vita boots."
Where are your favorite places to shop? "I am obsessed with the website Need Supply. I love everything on it. I also like H&M, Urban Outfitters, and Forever 21."
What inspires your style? "I really love street fashion. I use Google Reader to keep up with fashion blogs. My favorite one is Blushing Ambition."
Elements of Mari's Outfit
1. Grey Suede Boots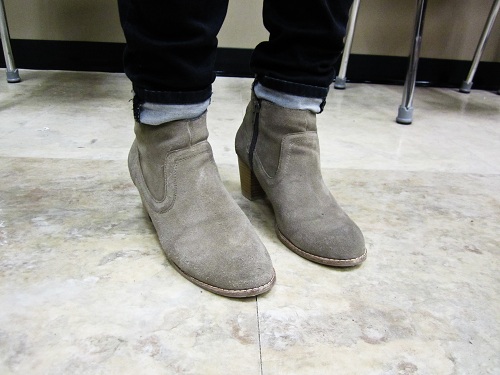 I love the small heel on these Dole Vita boots. Because we go to school in Iowa, you practically have to be a daredevil to wear heels to class with the extreme amount of ice around, so she gets even more fashion credit. Not to mention how Mari made her outfit unique by doing a small cuff instead of the standard large cuff with her jeans.
2. Layering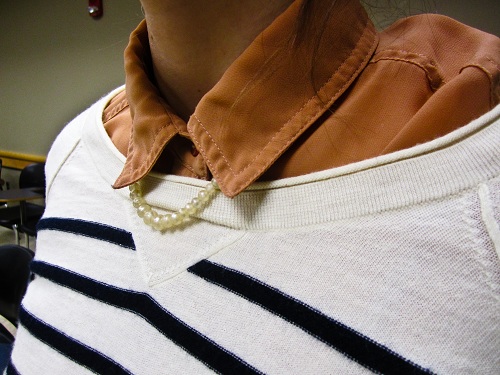 Iowa is not only cold, but the weather tends to change quickly. So layering is the perfect way to keep up with the crazy Iowan climate. I love how Mari not only used layering to stay warm, but also to add major style to her look: By mixing a burnt orange button-down with a classic striped sweater and a strand of pearls, she creates a preppy yet fashion-forward aesthetic; very J.Crew.
3. Mix Your Metals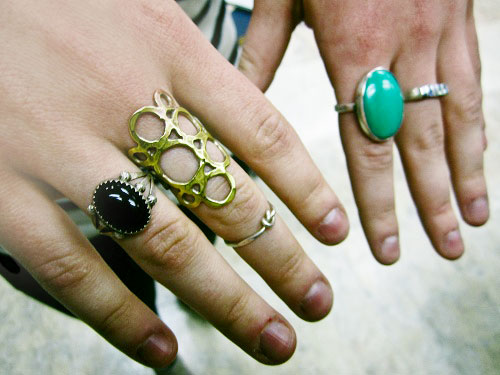 Mari's rings are perhaps my favorite element of her look. Rings are my favorite type of jewelry and Mari has combined all sorts of rings to really personalize her look.
Take a cue from her and don't be afraid to mix gold and silver. (The "no mixed metals" fashion rule is so 1950s!) Also, why not try doubling up on rings, like Mari did? As you can see, she also made the creative choice to place a pinky ring above another on her middle finger. We love it!
What do you think?
Do you like Mari's outfit? Do you love her boots as much as we do? How have you been layering this winter? Do you wear rings? Do you ever double up on your rings? Let us know with a comment!