While walking to one of my last classes of the day, I ran into Margaux getting off the shuttle. Margaux has a funky chic look that fits right in with the UM campus. I grabbed a latte with her for a quick chat about her style.

Margaux 101
Name: Margaux
Class Standing: Junior
Hometown: Washington, DC
Major: Pre-Veterinary Studies
Let's Talk Fashion
Who or what inspires your style? "A lot of my stuff comes from my mom. She was very fashionable in the '70s and '80s. When I was growing up I liked to wear things that other people didn't have."
Where do you like to shop? "Little boutiques, Bloomingdales, Nordstrom, Macy's, Urban Outfitters, Anthropologie."
How would you describe your sense of style? "Different and funky; I basically wear whatever I feel like wearing."
Why did you choose this particular outfit? "I like wearing comfortable things to class. I love neutrals like gray and black and I also like the details in this outfit."
What fashion advice would you give to other students looking to improve their style? "Basically wear whatever you think looks good on you and don't care what others think."
What are your favorite trends right now? "I like wearing oversize things that have a silhouette. I also love tassels and wedges."
Do you have any favorite fashion designers? If so, who? "YSL, Christian Louboutin, Betsey Johnson, Gautier, Rachel Roy."
If you could raid anyone's closet, who would it be and why? "Khloe Kardashian because out of the three sisters I think she's the most fashionable and I like her the most."
Elements of Margaux's Outfit
Margaux's outfit is a perfect example of what a stylish Miami girl wears to class. The dark neutrals have been in this semester, despite the heat, and the oversized accessories are perfect for comfort.
1. Fringe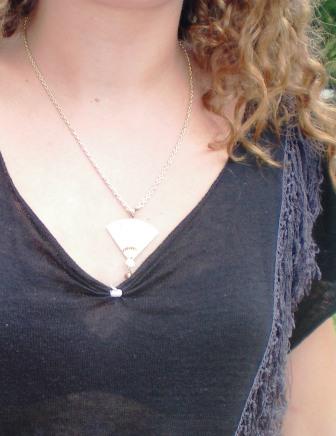 Oversize silhouettes are one of the latest trends on the Miami campus. Girls are seen everywhere from the library to the student center sporting oversize pocket tees and graphic tanks. I like how Margaux is following the trend but also included a unique detail with the fringe. The black and gray is also a great color combo going into the winter months and accentuates her accessories.
2. Far East-Inspired Accessories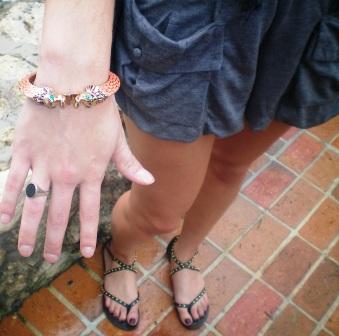 I like how Margaux's Asian accessories add interest to a casual class look. The bracelet's coral color pops against the dark neutrals and the Fan necklace brings the whole look together.
Share Your Thoughts
What do you think about Margaux's look (and amazingly unique name)? Do you wear fringe or far east accessories? Let me know with a comment!