I spotted Margarita sitting at the library as she prepared for finals in a incredibly stylish
and equally cute ensemble. Her ability to incorporate metallics into a daytime
look, while also wearing a t-shirt from her vacation in Prague, hinted at her unique opinions
on fashion.
I had to pick her brain to see why she put together this futuristic look.
Margarita 101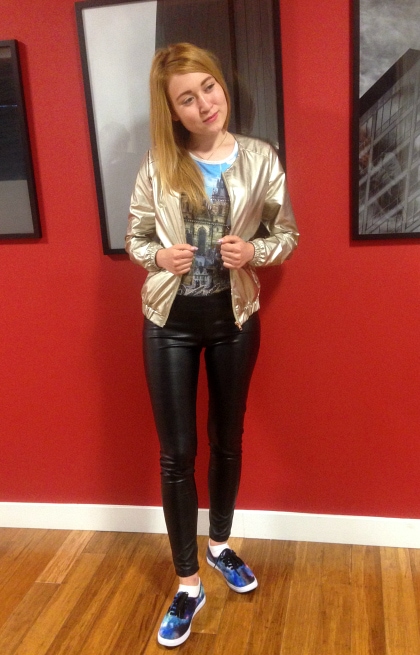 Name: Margarita
Home Country: Russia
School: New York Film Academy, Los Angeles
Major: Acting for Film
Year: Freshman
Let's Talk Fashion

Who or what inspires your style?
"My mood and the city I grew up in. I can see that people
from Russia dress quite differently from Americans. Also,
when I feel good and positive I like wearing brighter outfits
and when I feel a little more mellow I will go for darker, more
matte tones."
Where do you like to shop? "I believe that you can find whatever you want almost
everywhere. If you know your style and know what you are
looking for, you will find pieces anywhere, from Forever 21 to
Ted Baker."
Describe your style in three words. "Bright, unusual, and Russian."
What advice would you give to other students looking to improve their style? "If you really want to be fashionable and comfort is not a priority, just watch some YouTube and
look at high fashion magazines. Find something interesting and wear it, even if it feels weird and
uncomfortable. I feel that after recreating other people's outfits, you will naturally develop the
skills to create your own ensembles."
Do you have a favorite fashion designer? "I like Vera Wang. Her wedding dresses are simply gorgeous. I could go through her Instagram
and website for hours."
What do you like to do for fun? "Acting! I study it in school and although it is work, it is a lot of things for me. It's not just fun, but
it is my favorite thing to do."
If you could raid anyone's closet, who would it be and why?
"Doutzen [Kroes] and Candice Swanepoel, because they have a lot of dresses and outfits straight off the runway. Plus, they get to wear all the cute VS underwear, which I believe is a whole other level
of fashion! No matter how casual they dress, it still looks stylish. I wish I could wear just leggings
and a t-shirt and make it look fashionable."
Elements of Margarita's Outfit

1. Tourist T-Shirt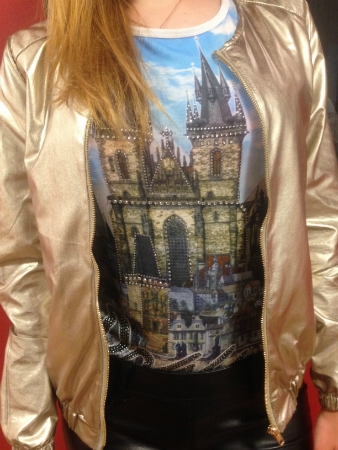 You know those t-shirts your grandma bought you the last time she went on a trip? Well, if you
thought you could never wear it without looking like a tourist, you haven't met Margarita! The
way she incorporated this t-shirt she got in Prague makes it seem like something you would buy
at a store that carries the latest trends.
2. Galaxy Print Sneakers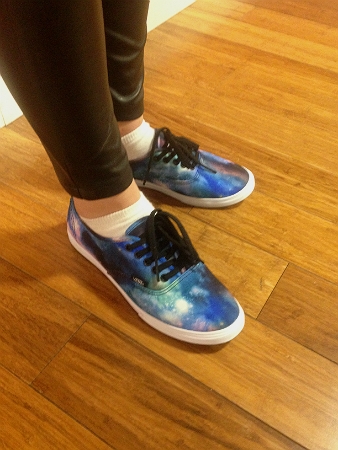 In order to tie in the colors of her t-shirt, she wore these super-cool sneakers with an edgy
galaxy pattern. This print has been everywhere lately, from leggings to t-shirts, and it really transforms these otherwise casual kicks.
What do you think of Margarita's bold look?
Would you rock this style? Would you ever buy sneakers with a galaxy print? How do you style your tourist tees? Comment below and share your thoughts with us!