Marcela's breezy, preppy style was a breath of fresh air on a hot Louisiana day. Her color combo of mint and neutrals felt very mint julep, while her staple accessories made her look easy for any girl to replicate.
Marcela 101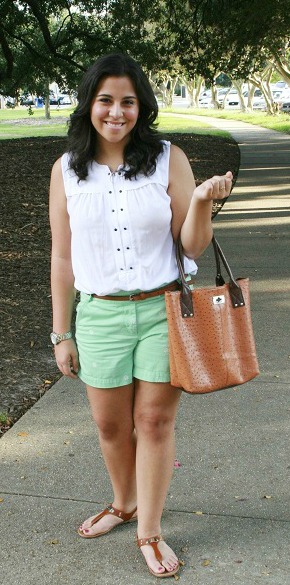 Name: Marcela
School: Southeastern Louisiana University
Major: Spanish
Year: Senior
Let's Talk Fashion
Who or what inspires your style? "Emma Watson and Blair Eadie. I like getting ideas from movies and street style blogs. They always inspire me to hunt down things for less. I'm always amazed when Blair Eadie wears something from Old Navy!"
Where do you like to shop? "Anthropologie, J. Crew, TJ Maxx. I like a mix of prep and girly, and TJ Maxx has everything."
How would you describe your sense of style? "A little bit of hipster and a little bit of preppy—a prepster!"
Why did you choose this particular outfit? "I wanted to coordinate but not over-coordinate. My shorts make a statement, but I plan everything else around that statement."
What fashion advice would you give to other students looking to improve their style? "Do not wear what you're not comfortable in—people can tell. Be true to who you want to portray and others will respond to that."
What are your favorite trends right now? "I like turban headbands, high-waisted shorts, and the boyfriend/tomboy vibe. Olivia Palermo does the tomboy/girly mix really well."
Do you have any favorite fashion designers? "I always like Chanel, but Karl scares me a little!"
What do you do for fun? Do you have any unique hobbies? "I Netflix a lot. Yep."
What movie or music artist would you say describes your style? "500 Days of Summer and Billy Joel. Relaxed and classic."
Which cities do you think reflect your style the most? "NYC & San Francisco."
Elements of Marcela's Outfit
1. Everyday Bag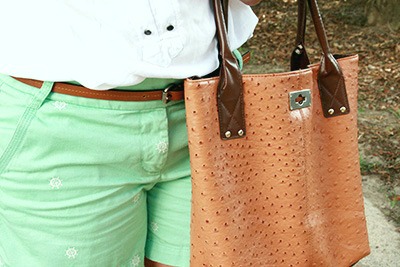 A basic yet awesome bag is what every on-the-go college gal needs! Marcela's tote has both texture and various neutral tones, which allows it to work with every outfit while still being super functional.
2. Blouse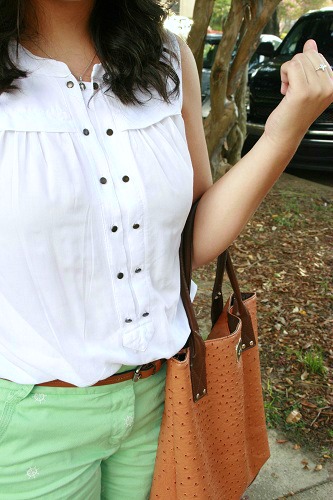 In these late summer months, staying cool is essential. Marcela's top is sleeveless, lightweight, and neutral-toned, meaning it pretty much goes with everything. The perfect top? I think so!
What do you think?
What do you think of Marcela's outfit? Is it difficult to balance looking cute for class and beating the heat? Do you love Marcela's color combo here? Let us know in the comments!