As temperatures rise in the summer, I start to lose the motivation to dress up. I seek out inspiration on campus for outfits that beat the heat, so I was thrilled to bump into Manvi today at the town commons.
She went to my high school and I remember she always looked so put-together whenever I saw her in the hallways. This outfit was no different; she looked chic, unique, and cool in the heat.
Manvi 101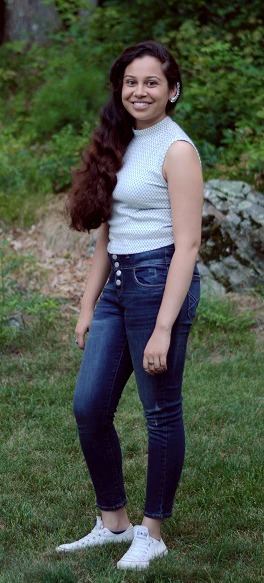 Name: Manvi
Year: Freshman
School: Rutgers University New Brunswick
Major: Pharm. D
Hometown: Westford, MA
Let's Talk Fashion
Who or what inspires your style? "Mostly friends and TV shows. Sometimes magazines, but for example, it's really hard for me to copy things I see in Vogue, because everything is so avant-garde. I don't particularly follow any blogs, but sometimes I stumble upon things. If I get a new piece, I'll look up people who [have] worn it before for inspiration."
Where do you like to shop? "Urban Outfitters, Free People, H&M, and Forever 21."
How would you describe your sense of style? "Kind of a mix of street style and boho. It depends on the season; more boho in the summer and more street style in the winter."
Why did you choose this particular outfit? "It was practical, yet fashionable!"
What fashion advice would you give to other students looking to improve their style? "Wear whatever you want and don't care about what other people think."
What are your favorite trends right now? "Definitely high-waisted pants and crop tops. I love small, dainty jewelry too. Also ombré hair, if that counts."
Do you have any favorite designers? If so, who? "Michael Kors has really nice bags and I love Zac Posen!"
If you could raid anyone's closet, who would it be? "Probably Alexa Chung or Lauren Conrad."
Do you have any unique hobbies or interests? "I've been doing Indian dance most of my life and I read a lot."
Elements of Manvi's Outfit
1. Classic White Converse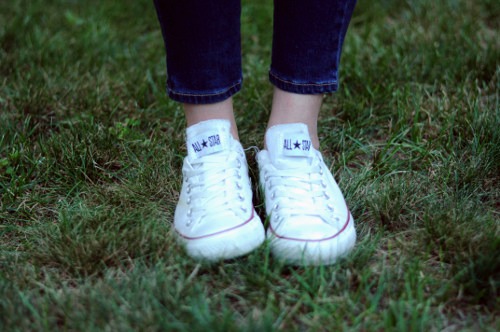 Sneakers are huge right now, and that works for Manvi! She adores her white Converse, since they are the perfect shoes for hanging out at the town center and running errands. Sneakers are both comfortable and stylish, which is as good as it gets when it comes to fashion.
2. Bold Ear Cuff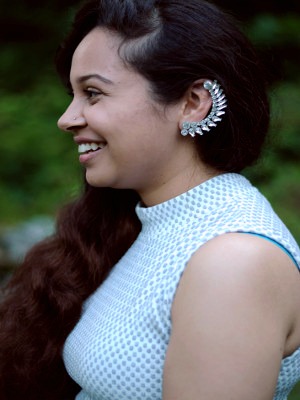 One of the first things I noticed about Manvi's outfit was her rhinestoned ear cuff. There is something to be admired about the way it stands out against her otherwise low-key look. As Manvi proves here, statement jewelry is a fantastic way to amp up a basic outfit.
3. Dainty Jewelry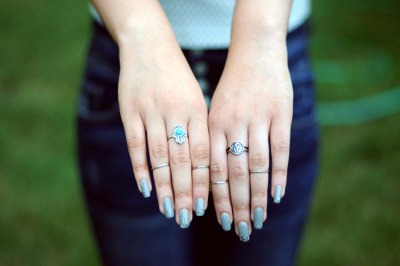 Manvi also accessorized her look with various rings, but made sure to keep it simple to balance out the bold cuff. Dainty jewelry is having a big moment in the fashion world. Manvi mentioned that she owns a lot of rings, and stocks up on them at Forever 21 and H&M.
What do you think of Manvi's look?
Do you love her bold ear cuff? What do you think of her white Converse? Are you into dainty jewelry, statement pieces, or both? Let us know what you think by leaving a comment below!