I spotted Mallory in Mizzou's infamous Speaker's Circle, the only area on campus where speakers need not get permits. Mallory was headed to volunteer at Coyote Hill, a foster home for at-risk children. Her style mirrors her personality perfectly; easy-going and quirky.
Mallory 101
Name: Mallory
Year: Freshman
College: University of Missouri
Major: Social work major, religious studies minor
Hometown: Jefferson City, Missouri
Let's Talk Fashion
Who or what inspires your style? "Really, I just like to be comfortable and find fun things from local places."
Where do you like to shop? "I like little, weird places. Altar'd State is one of my favorites."
How would you describe your sense of style? "I don't have one! I don't really match… ever."
Why did you choose this particular outfit? "I hate to wear leggings in humid weather, so jeans seemed like the right idea."
What are your favorite fashion trends right now? "I like thick headbands. I'm glad they're back in style, but I'd wear them anyways. I'm also glad Chacos are back– and large t-shirts."
What do you do for fun? "I'm a Young Life leader at Battle High School. It's a ministry that aims to reach un-churched and disinterested kids; the ones that no one is specifically trying to find. I also like to hammock and craft."
If you could raid anyone's closet, who would it be and why? "Joanna Gaines from Fixer Upper on HGTV; I like her style. She gets her clothes from fair trade or they go back to a bigger cause."
Elements of Mallory's Outfit
1. Meaningful Bracelets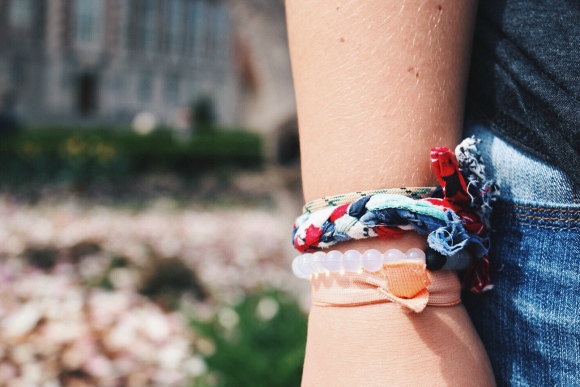 Mallory's colorful bands are from Young Life camp. Started in 1941, Young Life is a non-denominational Christian ministry that has become a large part of her life.
She is also wearing a Lokai bracelet, which Mallory and her friends all received for their high school graduation. These bracelets contain water from Mount Everest and mud from the Dead Sea to encourage a balanced life.
2. Headband & Chaco Sandals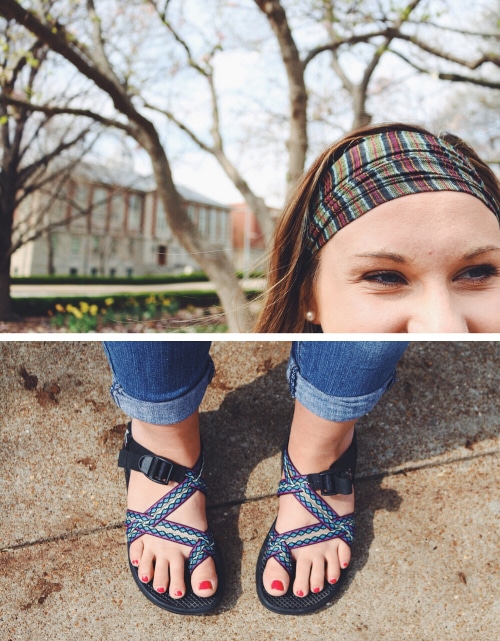 Mallory's headband adds a pop of color and shows off her style trademark of mismatched elements, as they contrast with her patterned sandals. These Chacos are a versatile option for the constantly shifting spring weather. It doesn't hurt that they're ultra-comfy, too!
3. Monogrammed Necklace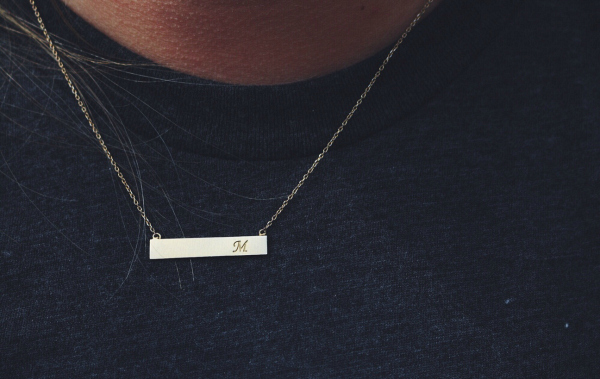 Bar necklaces are currently a popular trend and Mallory's "M" adds a personalized touch to her look. It is dainty, simple, and can be worn with anything.
4. Missouri T-Shirt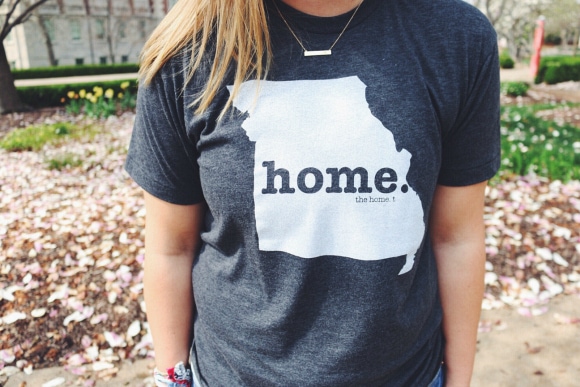 Mallory shows off her home state pride with a Missouri "Home T," as seen on Shark Tank, which are available for every state. This top makes her look casual, yet perfect for running around on a busy spring day.
What do you think of Mallory's look?
Are you a fan of Mallory's laid-back style? Would you wear her bracelets? How about a monogrammed necklace? Comment below and share your thoughts – we want to know what you think!