Mallory is one of those girls whose smile immediately attracts your attention and it reflects her sparkling, bright personality. Her style also really caught my eye – I adore her clean, classic, and comfortable style that proves you can dress comfy in college and still look adorable!
Who's That Girl?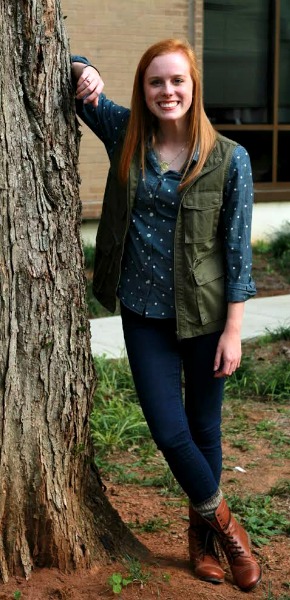 Name: Mallory
School: University of Georgia
Class Standing: Sophomore, Class of 2017
Major: Nutrition Science, Pre-Pharmacy
Hometown: Winder, GA
Let's Talk Fashion
Who or what inspires your style? "I follow a lot of fashion bloggers on Instagram and Pinterest and I like the way that they dress. Essentially, I try to emulate their styles. I will notice pieces that they wear and compare them to what I already have in my wardrobe to see if I have anything similar to emulate them."
Where do you like to shop? "J. Crew and Anthropologie are my favorites, but I like to shop their clearance sections. J. Crew is very timeless and you can wear it forever without it going out of style. I love their jewelry, too! Anthropologie's selection is so different to me and you wouldn't really see it at other places. Also, I really like T.J. Maxx."
Why did you choose this particular outfit? "I like fall clothes and this outfit gives off warm, fall vibes. It's one of my favorite outfits that I brought here and the chambray shirt is my favorite piece. Its polka dots help it stand out from other chambrays and the rest of the outfit, and I love how versatile it is."
What fashion advice would you give to other students looking to improve their style? "Wear things that you like and are comfortable in. Be classy and presentable because you need to respect yourself and your body. Dress for success and don't just throw on another T-shirt and pair of shorts for class. I'm going to dress up if I have a test coming up because I think if I look good and feel good I'm going to do well."
What are your favorite trends right now? "I like ponchos! All the people I follow on Instagram and Pinterest are wearing them and I even just ordered one. I really like scarves and big jewelry, too, because they add a lot to whatever outfit you're wearing and really make a statement."
How do you like to spend your free time? "I really love going to my family's lake house and skiing. I slalom and have always wanted to compete, but never got around to it. Also, I spend a lot of time hiking and taking pictures of landscapes and other settings, because I love being outdoors. My family just went to Utah and Arches National Park and it was amazing!"
If you could raid anyone's closet who would it be and why? "Sarah Vickers – sarahkjp on Instagram. I love all of her clothes. All of her outfits are so perfect, well put-together, and always on point."
Elements of Mallory's Outfit
1. Monogrammed Necklace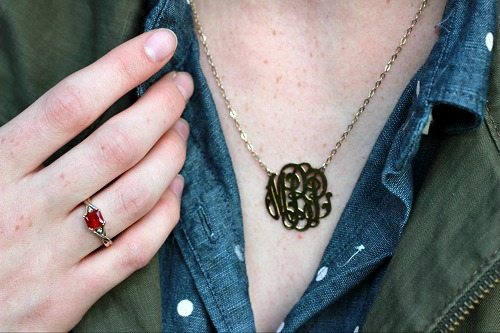 Mallory's red ring and gold monogrammed necklace from Etsy bring out the warmer fall tones that are peeking through the many trees on campus. These little details look classic and sophisticated, and do not overwhelm her on-trend ensemble.
2. Fall Layers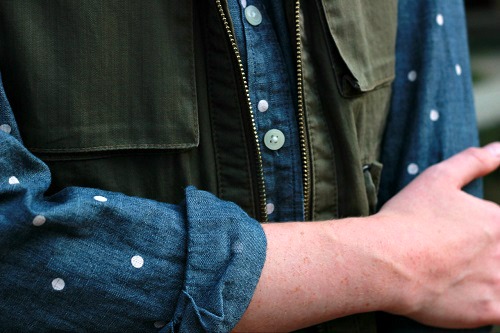 Mallory wore warmer layers to protect herself from the fast-approaching chill, and we love how she mixed cooler shades of blue and green. The zippered vest and dotted button-down create a streamlined look that draws the eye from head to toe.
3. Boots & Socks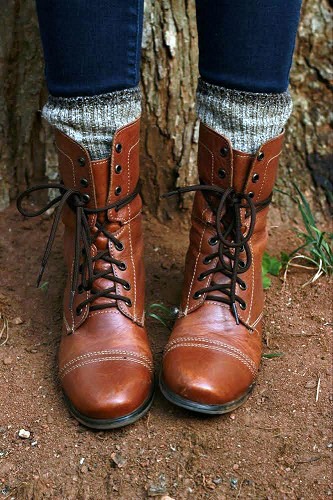 These cozy G.H. Bass & Co. socks peek out of Mallory's boots and make her entire look a little bit comfier. Combined with her Steve Madden boots, purchased at DSW, the whole outfit takes on a rustic tone.
Do you love Mallory's fall outfit?
What do you think of combat boots with knit socks peeking out? Do you love her vest and cool tones? What are you wearing to class this fall? Let us know what you think by leaving a comment below!