"Looks on Campus" is a new weekly feature where we showcase real college students and their style. After all, what better way to gain fashion inspiration then from our fellow peers? You never know, we might take your picture next!
This week, I caught up with Maitri when I couldn't help but notice her amazing attire!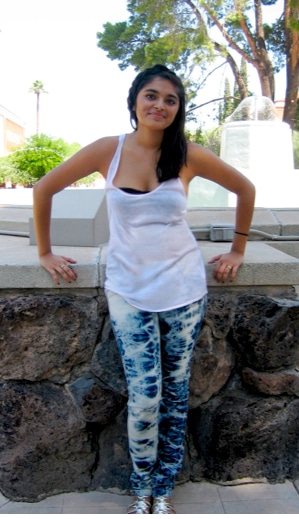 Who We Spotted:
Name: Maitri
Hometown: Phoenix, Arizona
Age: 19
Year in college: Sophomore
Major: Creative Writing
Hobbies & Interests: "Reading, drawing, painting, writing, and baking!"
Describe your style: "I'm simple…edgy/hard, but still girly."
Who or what inspires your style? "The designer Balmain, looking at the Sartorialist, and fashion blogs."
Where do you like to shop? "Urban Outfitters, Gap, Forever 21, American Apparel, and occasionally, J. Crew."
Why did you choose this particular outfit? "I got these jeans in the mail yesterday, so I was excited to wear them!"
Elements of Maitri's Outfit:

Bandeaus look great under semi-sheer tanks, or tanks that have a lower arm cut. I like how Maitri paired a black bandeau with a white tank – contrasting colors are very eye-catching!

Bleached jeans are very popular this season and are a great alternative to the traditional blue jean!

Mixing in metallic pieces (like Maitri did with her gold sandals) can take the place of gold or silver jewelry. No need for extra accessories when your shoes grab this much attention!
Look Inspired by Maitri:
Get a similar look yourself with these pieces, all available to buy online right now!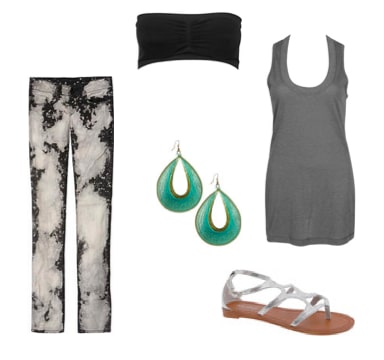 Product Information (clockwise from top): Black Seamless Bandeau- Charlotte Russe, Dark Gray Knit Tank- Forever 21, Silver Sandal- Aldo, Turquoise Earrings- Forever 21, Bleached Jean- Chickdowntown
What do you think?
Do you love Maitri's look as much as we do? Would you wear something similar? What other variations of Maitri's look do you think you could adopt into your own style? Tell us in the comments!