With fall break approaching, classes are getting more difficult and coffee shop study sessions are becoming a must. While I was working on some photos for class, I saw Macy walk into my favorite coffee shop by campus, Kaldi's. She looked so comfortable, yet so classy. She went on to explain that she didn't have to put any effort in her look, which I found amazing.
I never have time to find something trendy to wear, but Macy's shows us that it's not about effort; it's about having the right pieces. She shares her strategy below.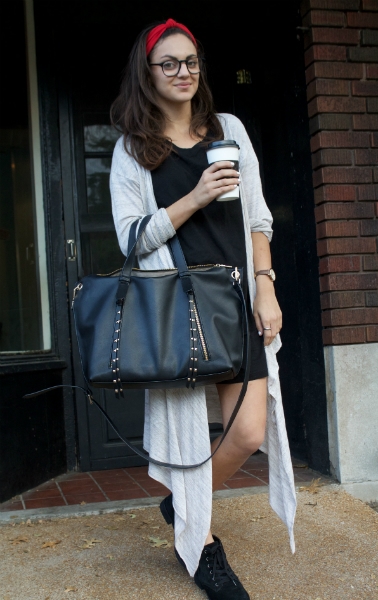 Macy 101
Name: Macy
School: Webster University
Major: Senior Journalism Major and Graphic Design Minor
Let's Talk Fashion
Who inspires your style? "So, I think of fashion as a way to express yourself, so my inspiration comes from my mood. However I feel that morning inspires what I wear."
Where do you like to shop? "I like [Forever] 21, which is totally underrated, and H&M, but my favorite[s are] discount stores like Ross and Nordstrom Rack."
How would you describe your sense of style? "Neutral colors. When I pick out an outfit, I try to think of how I would like it 20 years from now and if I still like it, I wear it. So, timeless but original."
Why did you choose this particular outfit? "I woke up 10 minutes before I had to leave so this is what was on my floor. And the headband is because I didn't have time to shower."
What fashion advice would you give to other students looking to improve their style? "Never look at trends and always be yourself."
What are your favorite trends right now? "Boots with dresses and dark lipstick."
Do you have any favorite fashion designers? "I think Alexander McQueen is pretty amazing, but my favourite is Comme Des Garçons because it's so playful, yet so different and easy to wear."
What do you do for fun? Do you have any unique hobbies or interests? "Creating is my hobby; Anything from painting to graphic design to writing to taking wedding photos on weekends."
If you could raid anyone's closet, who would it be and why? "Nicole Richie because she's so chic and always has a very relaxed vibe – but I could never pull it off."
Elements of Macy's Outfit
1. Dress with Boots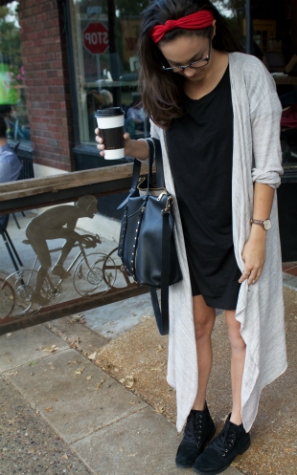 I absolutely adore this combo right now! Like Macy said, wearing dresses with boots is a hot trend. Almost everyone already has the pieces for this comfy duo. The best part is that anyone can pull it off, no matter your body type. Macy said she wears this combination to work all the time, and I don't blame her! You could definitely dress this one up or down.
2. Oversized Bag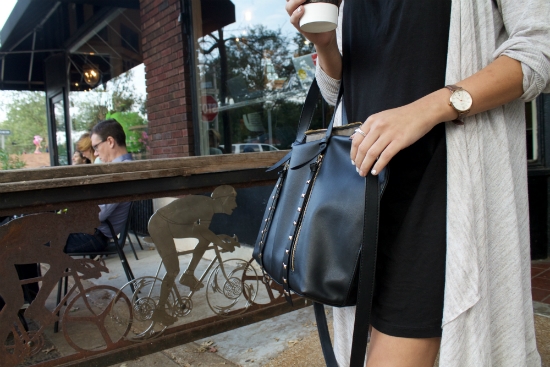 Oversized bags are perfect for someone as busy as Macy – i.e. all of us. From work to internships to school, we have to keep everything in one place and big bags are essential. As a journalist, Macy also has to be prepared to write a story, so plenty of space for notebooks is a must. She can pair her black bag with almost any outfit. The slight touches of gold give it a hint of character.
3. Subtle Accents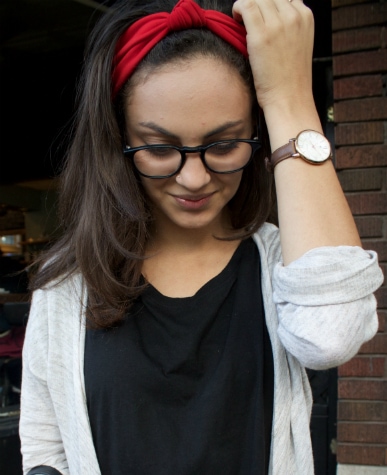 Macy has a knack for subtle accents with her clothes. Her secret? She only ever buys accessories in colors. Everything else in her closet is neutral. She adds pop to her outfit without drawing too much attention by accessorizing! The red headband that Macy wears works perfectly with her neutral outfit.
What do you think of Macy's simple, yet fashion-forward style?
Comment below and share your thoughts with us! Do you ever wear boots with dresses? What do you think of her long sweater and bold headband?