This post may contain affiliate links, which means we may receive a commission if you purchase through our links. Please
read our full disclosure here
.
In every college class, there's always that one girl who pushes the envelope and truly steps up her style on campus. At my school, Mackenzie is that girl – each week, she shows up at class in a fantastic outfit that any girl would want to copy. When I spotted her recently in these neon yellow jeans, I knew I had to take her picture for Looks on Campus! Read on to meet her.
Mackenzie 101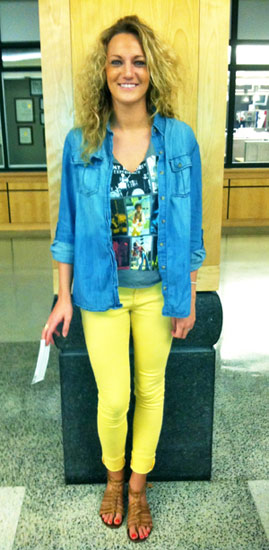 Name: Mackenzie
College: University of Iowa
Class Standing: Senior
Major: Communication Studies with a minor in Human Relations
Let's Talk Fashion
What inspired your outfit today? "I'm into the L.A. rocker-ish style. I've been waiting to try it out. Plus, I really wanted to wear these jeans!"
Who is your fashion inspiration? "Rihanna! Especially for this summer because she does really out-there things. I admire her ability to be experimental. She can do vintage, classic, rocker, anything! Her style varies and I try to do the same with my own outfit choices."
What are your favorite items to wear? "I'm a huge fan of snap back hats. I also have lots of different pairs of Converse and Vans shoes. They can make any outfit casual. I'm sort of a tomboy, but I guess you wouldn't really be able to tell [from this outfit]."
What are your hobbies? "I like to work out and do mostly outdoorsy things. I love water sports like water skiing, tubing, and wake boarding. But I love to go home so I can ride my four wheeler."
Elements of Mackenzie's Outfit
1. Graphic Tee and Denim Shirt
Mackenzie chose the perfect graphic tee featuring rock n' roll icon Jimmy Hendrix. The addition of a long-sleeved denim shirt brings a bit more style and dimension to the look. For more styling ideas, make sure to check out post on ways to style a graphic tee.
2. Neon Yellow Jeans
We're loving the colored denim trend for spring, and are therefore obsessed with Mackenzie's bold yellow skinnies. Her choice to cuff the bottom of her jeans added just a tad of extra uniqueness to the outfit, while showing off her fabulous footwear.
3. Brown Gladiators
Here in Iowa, it's officially warm enough to break the sandals! I love the way Mackenzie chose these light brown gladiators to complete the look. You can't tell these sandals have a mini heel, which makes them perfect for girls who want to add a little bit of height, but still remain comfortable during the summer.
What do you think?
Do you like Mackenzie's outfit? Have you worn a pair of colored jeans yet? How are you incorporating summer elements into your outfits this May? Let us know with a comment!