I met Mackenzie at a dinner held by Lehigh's Global Village program. For several years, Mackenzie has been involved with the program, which provides cultural and leadership training to over 100 international students each summer. Her style struck me as polished and mature, yet still fun enough to stand out among the rich variety of global fashions.
Mackenzie 101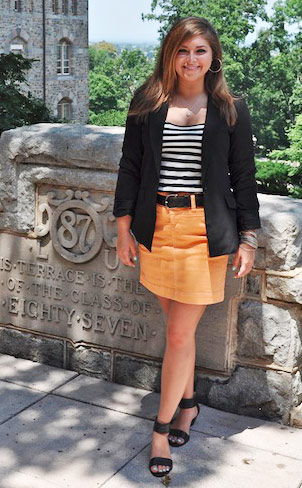 Name: Mackenzie
College: Lehigh University
Hometown: Bethlehem, PA
Major: International Relations with minors in Journalism and Russian
Activities on Campus: Alpha Phi Sorority, Writer for The Brown & White (school paper)
Hobbies: Traveling, reading, writing
Year: Senior
Let's Talk Fashion
Where do you shop? "All over the place. Anything from H&M and Zara to Michael Kors. As for online shopping, Lulus and Tobi are great websites for inexpensive finds. And if you're ever in the area, I've found lots of nice little boutiques in Doylestown, PA on Main Street."
What inspires your style? "My mom is one of my biggest fashion influences. She's always been quite stylish, and I like to think I've inherited a bit of that. I shop with her all the time, and she always encourages me to finish my outfits with accessories. We both admire classic looks, but we each take different styling approaches when it comes to the extras."
Describe your personal style: "Classic meets modern, with a bit of a European twist. Anytime I'm traveling, I like to pick up little trends I observe and incorporate them in my own outfits. I spent the semester abroad in London, but visited Sweden, Barcelona, Rome, and Scotland – each place had its own trends. A big UK trend in general was denim shorts with patterned tights and ankle boots."
How did you choose today's outfit? "All the pieces are from different shops – I always tend to mix and match. This season we are seeing a lot of pops and colors and colorblocking, and that's what inspired my skirt. I like the striped top because it is part nautical, part Parisian-chic. And blazers are a great way to polish off any look."
Favorite trends this summer? "Besides colorblocking, I am still a fan of the pastels that were big this spring. They make an outfit look very fresh. I love bright nail polish as well, as you can see with my Tiffany blue polish today! As for accessories, I've been seeing a lot of chain link necklaces and bracelets, so that's on my shopping list."
What is the biggest fashion faux pas you've committed? "Trying to mix too many trends at once. I notice when others do this, but I'm certain I've done it myself!"
What is your favorite item in your jewelry box right now? "I was recently in SoHo, NYC, where I picked up a brown leather cuff bracelet with gold dome studs and aqua stones – I'm obsessed."
If you had a blank check to buy one item today, what would you choose? "A Burberry trench coat. I could picture myself wearing it on the streets of London, but it's such a classic piece that you could wear it anywhere."
Any advice for other fashion-minded students? "When you are finding your personal style, it is important to stay true to what you like. You can find a lot of trends in magazines, TV, movies, and even traveling, but it's important to determine which trends really suit you."
Elements of Mackenzie's Outfit
1. Silver Bangles & Tiffany Blue Nail Polish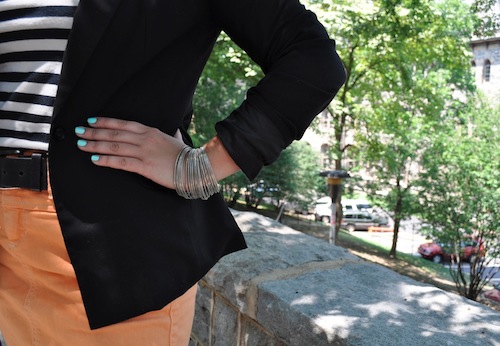 Accessory-loving Mackenzie kept her jewelry in the silver family, from her hoop earrings and heart pendant necklace to these bangles. We love a thick armful of bracelets! The silver tone is a great complement to her Tiffany blue manicure, which in turn contrasts nicely with her orange skirt.
2. Black Leather Sandals
Designers are constantly conceiving new sandal designs – last summer's gladiator sandal has evolved into the chic, minimalistic ankle-strap sandal. We've certainly come a long way from the flip flop!
Share Your Thoughts!
What do you think of Mackenzie's style? Would you wear a brightly-colored skirt? How much do you love her nail polish? Let us know with some comments!