It's all too easy here in snow-laden Indiana to resort to the usual uniform of rain boots and a hoodie. But it's people such as Lydia whose consistently chic and effortless outfits give me inspiration on even the bleakest of days. I always see her around the halls of our music school, so today I finally stopped to ask about her style. Lydia definitely has fun with fashion, and I love her fearless sensibility – read on to learn more about her!
Lydia 101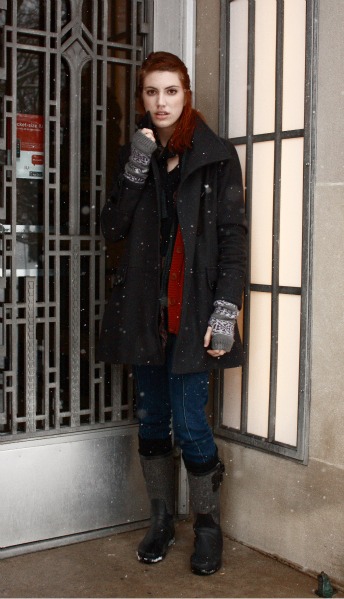 Name: Lydia
School: Indiana University, Jacobs School of Music
Class Standing: Freshman
Major: Violin Performance
What do you do for fun? "I am really into photography and I also love knitting!"
Let's Talk Fashion
Who or what inspires your style? "I love seeing the people featured on 'The Sartorialist,' and I am inspired by the 'hipster' crowd as well as old English countryside fashion."
Where do you like to shop? "I love Vera Wang at Kohl's, Marshalls, TJ Maxx, Polo Ralph Lauren, and Plato's Closet."
Why did you choose this particular outfit? "I chose the boots because it's snowing, and I love mixing rustic colors together for a darker color palette. The gloves are from Target and I actually got them because I loved the colors and because they make it easier to do some photography in the winter and still stay warm."
What fashion advice would you give to other students looking to improve their style? "Choose clothes that look right for you and are age-appropriate. Also, go for classic pieces."
What are your favorite trends right now? "I love the short jeans with socks underneath, scarves, oxfords, and tweed!"
Do you have any favorite fashion designers? "Vera Wang, Ralph Lauren, Marc Jacobs, DKNY, and Dolce & Gabbana."
If you could raid anyone's closet, who would it be and why? "I want to raid Lady Gaga's closet for her leather stuff, her sunglasses and some of her shoes – also, her wigs."
Elements of Lydia's Outfit
I love that Lydia's look is fashion- forward while still remaining relaxed and comfy. She is obviously a master at layering, and I love how she picked a cardigan that perfectly complements her stunning hair! Lydia understands color and texture, and I think this is an example of a perfectly pulled-together look for a day on campus. Just look at how the grays from her boots and gloves frame her ensemble – gorgeous!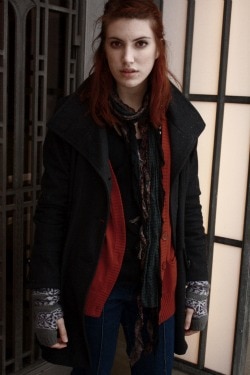 1. Scarf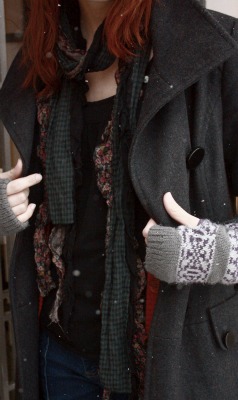 I love that Lydia was unafraid to mix this homespun scarf with the heavy texture of her overcoat. She said, "I got my scarf at Plato's Closet and I bought it for its ripped up look, dark muted colors and the mix of flowered and checkered patterns."
2. Boots and Knee-Highs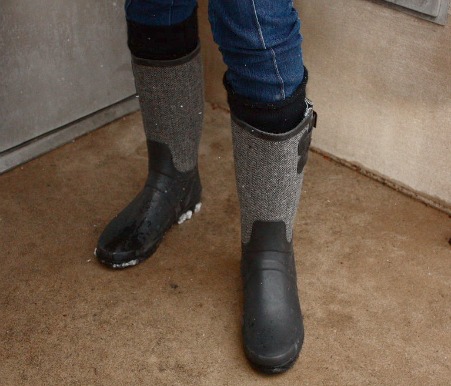 The subtle detail of her tall socks peeking over her tweed rain boots makes her look comfy but also polished – perfect for a snowy day on campus!
3. Gloves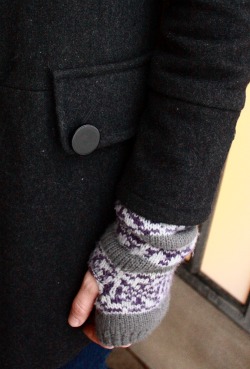 Lydia's gloves are both cute and functional. They offer just the right touch of color to balance out the grays from her boots.
Share Your Thoughts!
What do you think about Lydia's style? How do you stay fashionable and warm during the winter? What is your favorite winter accessory? What do you think of the tweed trend? Share your thoughts with a comment!