I was strolling around campus during my lunch break when I spotted Luiza hanging out on the grass with some of her friends. Her vibrant patterned dress caught my eye from a distance and I knew I had to feature her on College Fashion.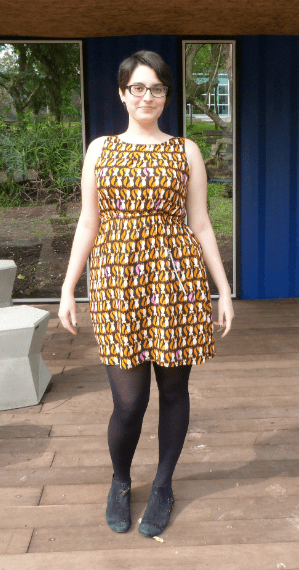 Luiza 101
Name: Luiza
School: Pontifícia Universidade Católica do Rio Grande do Sul
Major: Journalism
Let's Talk Fashion
Who or what inspires your style? "My best friend actually helps me out a lot with clothes. I think she has great taste, so I always take tips from her."
How would you describe your sense of style? "I've gone through a lot of phases, but at the moment I identify myself more with an indie, alternative kind of style, but I'm trying to learn to grab pieces from all sorts of styles and mix them up."
If you could raid anyone's closet, who would it be? "Mallu Magalhães, [a] Brazilian singer."
What are some of your favorite hobbies? "I like to sing! I sing in a choir. I also love to write; I like writing stories for myself."
Elements of Luiza's Outfit
1. Fox Print Dress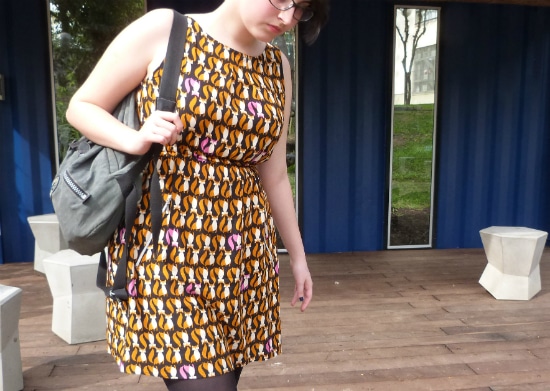 As my best friend knows, I have an unexplainable love for foxes. Fox key chains, socks, sweaters; if it has a fox on it, I like it already. Because of this, my opinion might be a bit biased, but I believe you'll agree with me that Luiza's dress was spot-on.
Besides the super-cute pattern, the A-line cut of the dress is very flattering. Like Luiza, I think dresses are a great choice for class simply because they are one piece; no need to decide what top goes better with what bottom. And if the weather is a bit chilly, take a style cue from Luiza and add a pair of tights.
2. Black Ankle Boots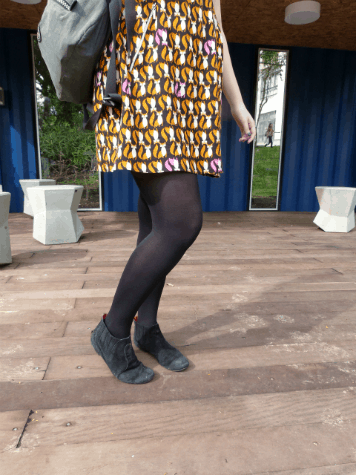 Luiza's choice of shoes is my favorite for campus: ankle boots. They look great with everything: dresses, shorts, skirts, jeans – you name it! As a bonus, they work in almost any kind of weather. They are short enough for spring or summer, but also warm enough for fall and winter.
What do you think of Luiza's style?
Comment below and let us know what you think of her fox print dress and darling ankle booties.