Louisianna's whimsical style caught my eye while we were both taking shelter from the cold in a cozy campus café. She was on the phone when I spotted her, so I was terrified she was going to leave before I got a chance to talk to her. Luckily, by the time I'd finished my latte she had finished her call and was ready to chat about her love for dance and her super comfy style.
Louisianna 101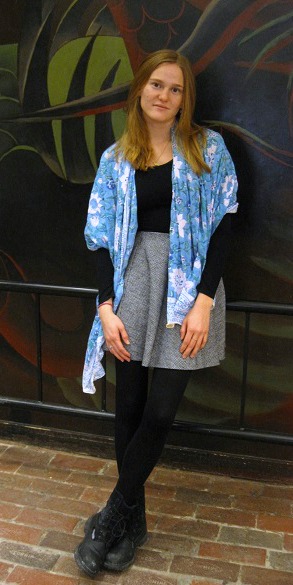 Name: Louisianna
Year: Freshman
Major: Undecided (School of Arts and Sciences)
Hometown: Los Angeles, CA
School: Cornell University
Let's Talk Fashion
What inspired this outfit today? "Well, I'm wearing heattech leggings and the skirt is wool. They're both from UNIQLO. I'm a California girl, so the cold usually inspires what I wear."
Is there anything that inspires your style on a day-to-day basis? "I just like being comfortable. I wear a lot of leggings, a lot of comfy t-shirts, things like that. And if it's not that, then it's usually just being confident in my body."
Is there anywhere in particular that you like to shop? "I love thrift stores. There's this really cool thrift store in LA called St. Vincent de Paul's, and it's huge. It has everything from furniture to clothing. It has a great collection and it's all cheap. And then I wear a lot of Lululemon, things like that, and then Urban Outfitters and Brandy Melville. Brandy Melville is cool; it's an interesting take on the same hipster style that is very present right now."
Do you have any favorite trends right now, if you follow trends? "I'm really bad at following trends; I got a pair of TOMS! I'm liking this trend in the Cornell community right now with like the sweaters that have like… a cartoon on them. I have one with this huge wolf on it, like a realistic cartoon. Yeah, I'm loving those sweaters."
Do you have any favorite fashion designers? "I don't really follow designers, but Alexander McQueen makes beautiful clothes. I like the designers that make things that are like a piece of art rather than something just to wear. So I mean, Giorgio Armani, I don't really know the names, but Alexander McQueen I really love."
Did you hear about the Metropolitan Museum of Art's exhibit on Alexander McQueen a few years back? "I did, I got to go to that. It was really beautiful. "
If you could raid anyone's closet, who would it be and why? "I'm trying to think of that one person that just has the cutest style. Oh, my friend who goes to Bard. She has really cute clothing and it's just very… it's not form-fitting. It looks comfortable, but it really looks good, and most of the clothing can just be accentuated by a scarf or you can be warm by just like putting on a sweatshirt and… I don't know, it's just really great and she always wears really light fabrics that flow with her body. It's simplistic but delicate for the most part. But also, I just love people who I'm like 'damn, that looks comfy!'"
What do you like to do for fun? Do you have any unique hobbies or interests? "I play piano and I dance a lot actually. I do a lot of modern. I took a modern class here last semester, but it wasn't what I was looking for in terms of my background, because I went to an arts school for a long time. So I didn't really like it. I love dance where it's just like a very expression-based vibe, whereas a dance class you are united with your class and your teacher is kind of on your level."
Elements of Louisianna's Outfit
1. Printed Shawl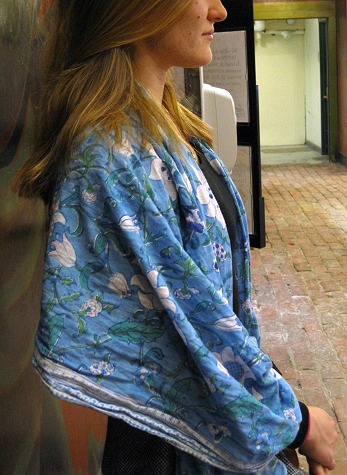 I fell in love with Louisianna's shawl the moment I saw it. The delicate pattern and soft blue color complemented the darker colors and heavier fabrics found throughout the rest of her look. It gave her outfit the perfect amount of movement and whimsy without sacrificing any warmth.
2. Subtle Jewelry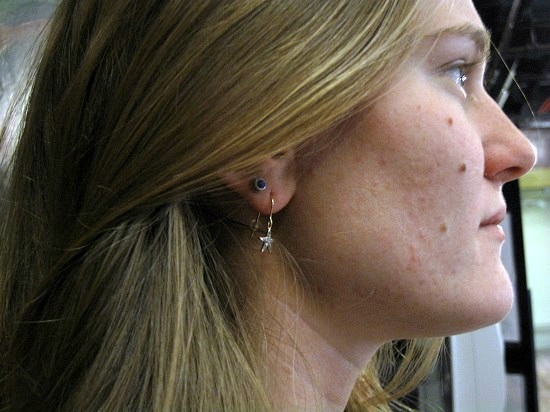 Louisianna's jewelry was very understated but still had loads of personality. The blue studs complemented her shawl nicely while the stars added another subtle touch of romance to her look.
What do you think of Louisianna's laid-back look?
Would you wear it? Do you ever rock a shawl? What do you think of her casual and comfy style? Comment below and share your thoughts with us!