This week I ran into Lizzeth on my way to class. I was really out-of-it and not paying attention, until her bright blue pants caught my eye. Another aspect that made me look twice at Lizzeth was the fact that she was wearing 5″ wedges! Needless to say, her legs and attire were amazing.
Who I Spotted: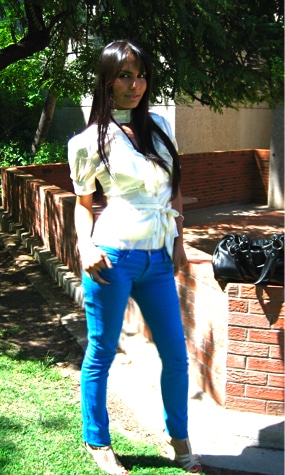 Name: Lizzeth
Hometown: Tucson, Arizona
Age: 23
Year in College: Junior
Major: International Business
Hobbies/Interests: "Opera, belly dancing, and work!"
Describe your style: "I'm retro, but sophisticated. I love back-in-the-day vintage."
Who/what inspires your style? "Edith Plaf, Coco Chanel, Alexander McQueen."
Where do you like to shop/find clothes? "I go to thrift and vintage stores. I hardly ever go to malls."
Why did you choose this particular outfit? "I think this blue is a good transition color between summer and fall. I wear heels every day, but these are my most comfortable pair to do a lot of walking in."
Elements of Lizzeth's Outfit
1. Bright Color + a Neutral
When wearing a bright or neon hue, pair it with black, white, or another neutral of your choice. Lizzeth chose cream to offset her cobalt blue pants.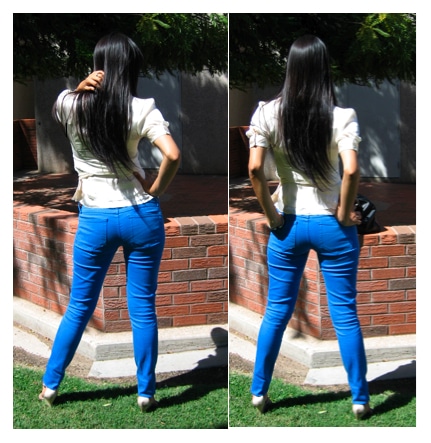 2. Sassy Wedges
If you are going to wear heels to school, wedges are a great option because they have a more casual feel than stilettos or pumps. They're also usually much more comfortable to walk in. Pretty details are a must – Lizzeth's shoe has a woven detail that's really simple but cute.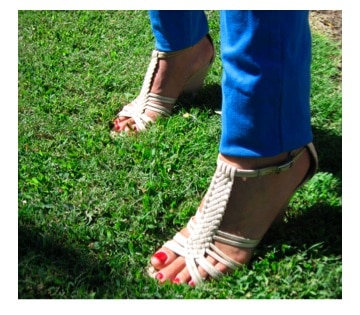 3. The Right Details
Lizzeth's blouse has ruffled detailing, and she topped off her outfit with a solid black bag to balance things out. When wearing a bright piece (like Lizzeth's pants), it's important to pick out accessories that complement your look without overpowering.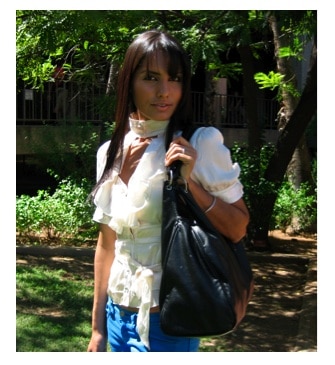 Looks Inspired by Lizzeth:
Now that we've gone over the elements of Lizzeth's outfit, let's check out some example ensembles to get her look!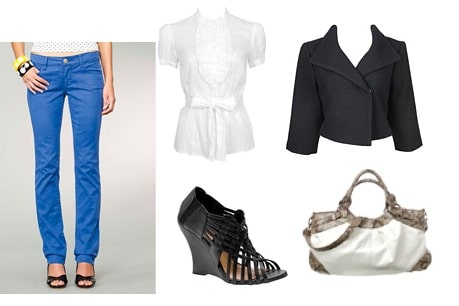 Product Information: Blue Pant- Delia*s, Blouse- Forever 21, Blazer- Forever 21, White Bag and Black Wedges- DSW
With the same concepts, we can create another outfit with some of the same pieces! How versatile. =)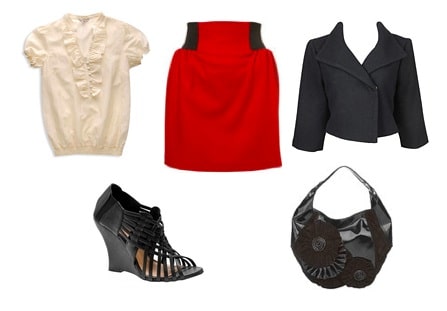 Product Information: Blouse- Forever 21, Skirt- TopShop, Blazer- Forever 21, Wedges- DSW, Purse- Nine West at Zappos
Wanna be featured in Looks on Campus?
We're always looking for new contributions from across the country. If you want your look featured, here's what we need:
Have a friend take photos of your outfit head to toe – don't forget to include your shoes!
Take a few detail shots of the pieces that make up your look – bag, shoes, accessories, etc.
Answer the interview questions listed above.
Send it all in an email to zephyr AT collegefashion DOT net with subject "Looks on Campus"
We'll pick our favorites to feature here in the Looks on Campus column. Can't wait to see your submissions! Please note that we can't feature everyone who submits due to volume, but we'll try to do as many as we can.