I caught Lindsay as she was on her way to a graduation party. I loved her dress because it was simple, yet I could envision it being easy to dress up or down. The drawstring waist was very flattering, while the halter neckline and cut-out back modernized the classic, nautical vibe.
Lindsay also rocked bright pops of color via her fingernails and accessories, which added plenty of personal flair to her look.
Lindsay 101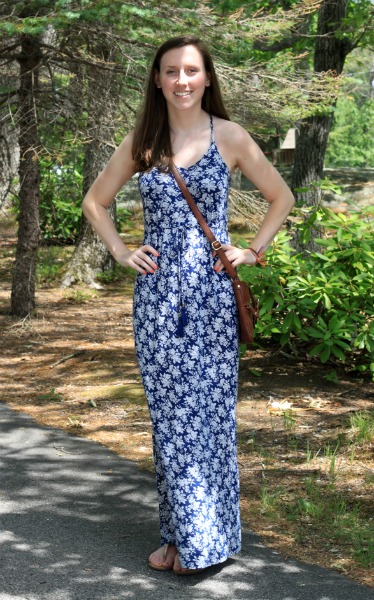 Name: Lindsay
School: University of Massachusetts, Boston
Major: Psychology
Let's Talk Fashion
Where do you like to shop? "I usually shop at H&M, T.J. Maxx, and Forever 21 because they are affordable."
How would you describe your sense of style? "I would describe my sense of style as comfortable. I like loose-fitting clothing. I usually stick to plain colors and don't wear anything too bright."
Why did you choose this particular outfit? "I just bought this dress a few days ago and it was finally warm enough outside to wear it. It's also very comfortable to wear, and when it gets colder at night I can also wear it with a jean jacket."
What fashion advice would you give to other students looking to improve their style? "Don't be afraid of what other people are going to think of you. Wear what you want and feel comfortable in."
What are your favorite trends right now? "I really like patterned harem pants and printed shorts for summer."
Do you have any favorite fashion designers? "I don't really know any designers. I don't usually shop for clothes based on who the designer is."
What do you do for fun? Do you have any unique hobbies or interests? "I like to go to the gym every day and I enjoy hiking in the summer. I like to try new restaurants and getting dinner with friends."
If you could raid anyone's closet, who would it be and why? "Hmm… I would probably raid Emma Roberts's closest. I usually love all of her outfits that she puts together. I feel like she has style similar to my own."
Elements of Lindsay's Outfit
1. Neon Nail Polish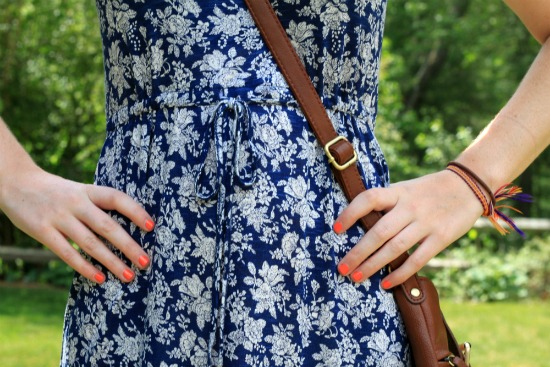 Lindsay brought some serious flair to her look with a bright pop of neon orange nail polish. What better way to feel fabulous and fresh than with a nail polish color that screams "summertime"?
2. Open Back Maxi Dress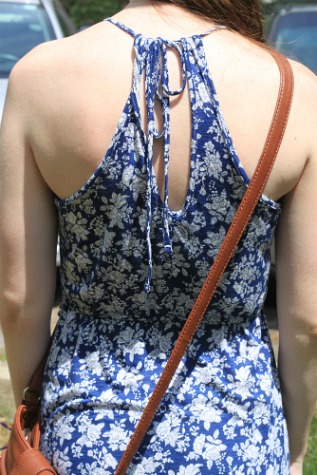 What caught my eye initially about Lindsay's dress is how flattering it is on her body. The dress hangs off of her perfectly and shows off her gorgeous shoulders. The open back also shows a bit of skin, which is ideal for hot summer days.
3. Messenger Bag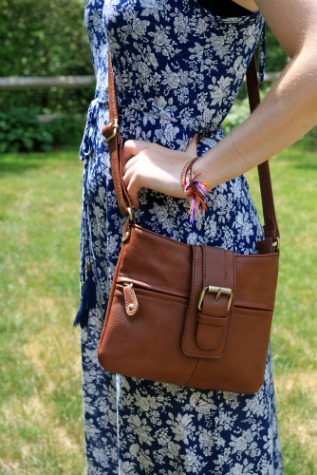 Lindsay kept her essentials tucked away in a little brown messenger bag that she easily threw across her shoulder. This grab-and-go satchel is the perfect size and worked flawlessly with her dress.
What do you think of Lindsay's summer style?
Would you rock this look? Do you wear a lot of maxi dresses in the heat? Comment below and let us know your thoughts!