In the dead of winter, amidst freezing temperatures, and only a few days after a snowstorm, students around campus were trekking through the ice, snow, and soggy grass wearing heavy-duty boots and bulky layers. So when I spotted Lindsay wearing a stylish outfit that was not only fashionable, but functional too, I knew I had to take her photo. Lindsay stayed warm with strategic layers, combining texture and color for an ensemble that looked both comfortable and unique. Read on to learn more about Lindsay's style!
Lindsay 101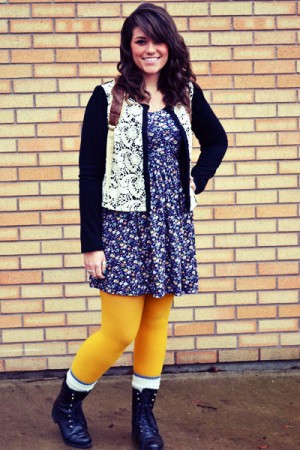 Name: Lindsay
School: Gonzaga University
Class Standing: Sophomore
Major: Special Education with a minor in Philosophy
Hometown: Dalton Gardens, Idaho
Hobbies/Interests: "I do something called cowboy mounted shooting – it's an equestrian sport. It's like barrel racing, where you shoot balloons with two guns."
Let's Talk Fashion
Who or what inspires your style? "Mostly other people. I don't pay a whole lot of attention to celebrity style or high-fashion. Just mostly street style."
Where do you like to shop? "I like shopping at Forever 21, Target, and thrift stores – anywhere that has inexpensive clothes. I have a general rule: other than jeans, I don't spend more than $20 on an item!"
What are your favorite trends right now? "I really like how people are combining florals and lace with more masculine items, like military inspired pieces."
What fashion advice would you give to other students looking to improve their style? "I'd say be really careful to dress for your body. Most people look better when they dress for their body type. And don't be afraid to combine things that aren't 'supposed' to be combined – like browns and blacks, patterns, etc."
Elements of Lindsay's Outfit
1. Rings & Nail Polish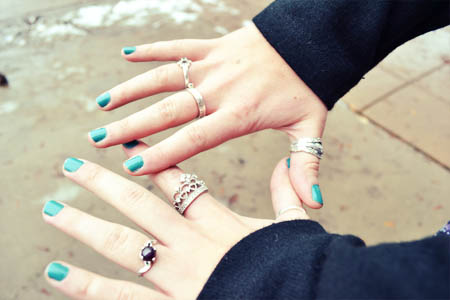 Lindsay's unique collection of silver rings complement her outfit and, since they are all different, really add interest to her look. They also draw attention to her icy blue nail polish, one of the hottest nail color trends this winter.
2. Backpack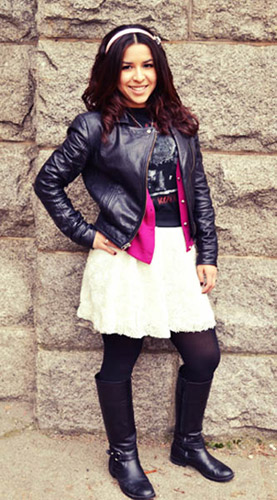 When you have four classes in a row and heavy textbooks to lug around all day, a tote is usually not a great option (shoulder pain – ouch!). The best way to save your shoulder from crying out in agony is to invest in a backpack – and whoever says backpacks are not stylish can think again! Lindsay's backpack is an example of a cute and functional way to carry books and other class essentials around campus without sacrificing style.
3. Boots, Tights, and Socks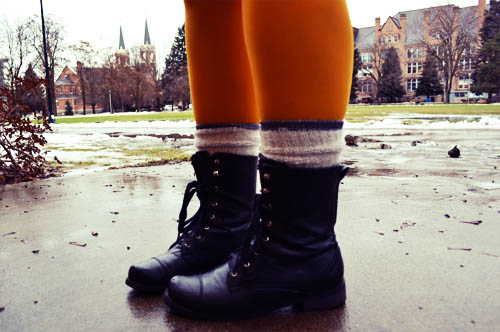 "I got my boots for only $9," Lindsay said about her trendy lace-up boots. Boots are a great winter staple because they keep your feet warm without letting snow and rain puddles leak into your shoes. Adding a pair of yellow tights creates contrast, and her cute knit socks break up the colors while adding another layer of warmth.
What do you think?
Do you like Lindsay's style? Would you wear mixed patterns? What are your tips for shopping on a budget? Let us know in the comments!